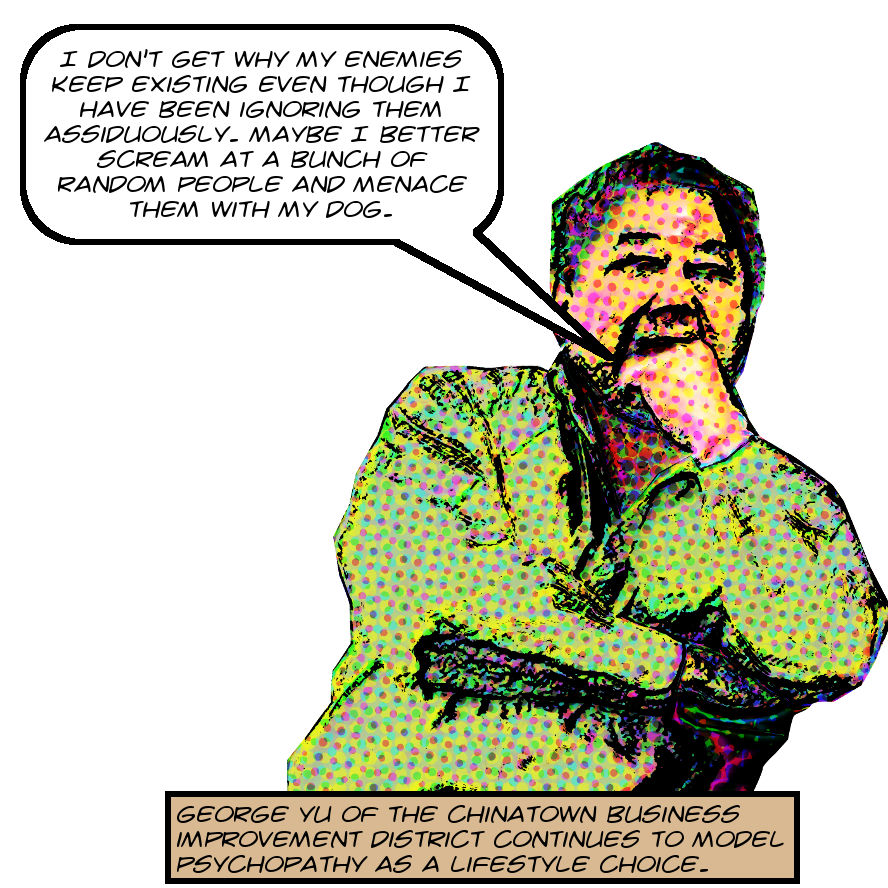 As you probably know, last year Katherine McNenny and I were forced by the unhinged intransigent refusal of psychopathic rageball George Yu to comply with the California Public Records Act to file a lawsuit against his Chinatown Business Improvement District. For reasons known only to himself, George Yu not only refused to comply with the statute, he refused to participate in the lawsuit at all.
We were seeking a writ of mandate from the judge ordering Yu to hand over the documents. It turns out that, in California at least, courts are not allowed to issue such orders merely because the respondents don't show up.1 It's still required that the petitioners prove their case. Which, of course, we were able to do, because it was righteous. So last Wednesday, July 24, 2019, the trial was held, before which the judge issued a tentative ruling granting us our every wish.
The whole trial lasted about 30 seconds and consisted of the judge asking our lawyer if he wished to be heard on the tentative. He said that he did not. The judge adopted the tentative as final and told the lawyer we could have our notebook back. You can get a copy of the tentative ruling here and a copy of the minute order showing that it was adopted as final here.
There are a bunch more steps before everything's done. We have to serve the final ruling on the BID, the judge has to sign the order, we have to file a motion to get paid, probably will have to file more stuff to enforce all that stuff. These wheels have been turning very slowly since August 2018 when we filed, and they continue to turn slowly, but they're crushing everything in their path as they turn.
Continue reading Katherine McNenny And I Prevail Against Chinatown BID In Our California Public Records Act Lawsuit — George Yu Didn't Participate At All — From Start To Finish No One From The BID Showed Up — Which Is Not Enough To Win This Kind Of Petition — We Still Had To Prove Our Case — Which We Did Of Course — But Yu's Ostrichism Also Led The Judge To Deem That All Our Requests For Admission Were Admitted To — Which May Have Drastic Long-Term Consequences For The BID — Far Beyond Those Directly Associated With Our Victory — Its Very Existence May Be Threatened — Let's Freaking Hope So, Eh? →