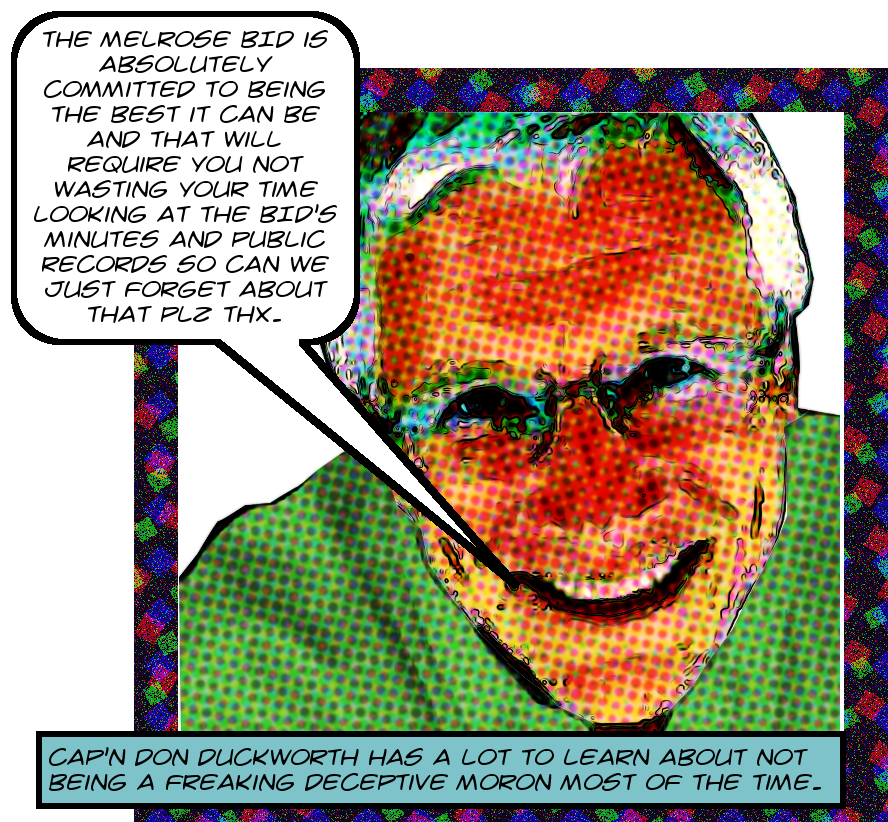 Sadly, for he is one of the most satirogenic figures in all of BIDlandia, we have not heard much from pirate king Donald Duckworth around these parts lately except, of course, for the fact that he, complacently steeped in his outlaw ways, forced me to file a pair of writ petitions against two of his baby BIDs because he, complacently steeped in his unhinged arrogance, flat-out and unaccountably refuses to comply with his statutory obligations under the California Public Records Act1 even though, if the past is prologue,2 it's very likely to cost his BIDs a lot of damn money that they can probably ill afford to waste.
But regardless of Cap'n Donald's law-flouting noncompliance it is occasionally possible to obtain records, or at least emails, involving him by the simple expedient of getting them from the other side of the correspondence.3 And recently a friend of this blog got a small pile of emails between Mr. Don Duckworth and Los Angeles City Clerk staff, and you can read the whole set here on Archive.Org.4 And there's pretty much interesting stuff in there, but tonight I'm focusing on just three items.
✷ June 9, 2018 email from Don Duckworth to Laura Aflalo about record inspection — Melrose property owners Laura Aflalo and Richard Jebejian want to come inspect records. Don Duckworth says sure you can but why would you want to, isn't it a waste of your time?
✷ June 9, 2018 emails between Duckworth and Aflalo about her questions about BID operation — Like why do the BID bylaws violate the Brown Act? And why can't she have the Board members' email addresses? And why won't Don Duckworth just answer the damn questions?!
✷ June 9, 2018 Duckworth to Aflalo with a detailed breakdown of how he spends the BID's money — It's detailed and evasive at the same time, a Duckworthian superpower, evidently.
And turn the page for some commentary, some mockery, and some highly selected transcriptions of at least the first two items. The third is going to have to wait till another time because it's getting late around here!
Continue reading Open Rebellion In The Melrose BID! Duckworth On The Defensive!! Refuses To Give Board Email Addresses To Property Owners!!! Even Though He Already Gave Them To Me!!!! And Don't Forget He And He Alone Got The Damn BID Sued!!!!! And For This They Are Paying Him $72,000 Per Year To Work 20 Hours Per Week???!? →