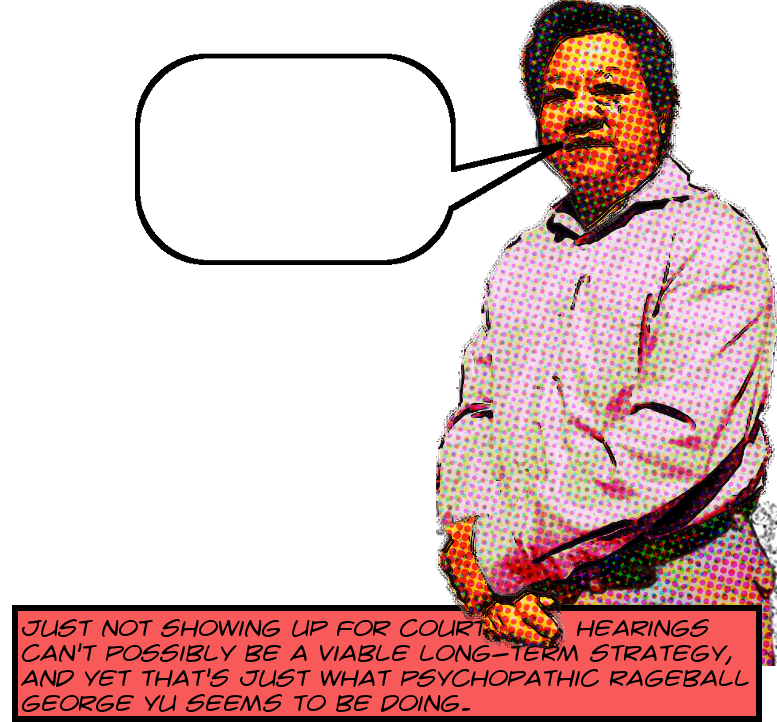 So you might recall that in August Katherine McNenny and I were forced by the unhinged intransigence of psychopathic rageball George Yu of the Chinatown BID to file a writ petition asking that the court compel him and his thuggish little weirdo henchies in the BID to obey the freaking law and hand over the records we asked for. And then you might recall that in September he and his damnable minions failed to even answer the petition.
Well, yesterday was the trial setting conference, way up north in the Stanley Mosk courthouse, in good old Department 86.1 And the Chinatown BID didn't change up its strategy at all. No one showed up. Neither George Yu nor minion nor henchie nor lawyer nor counselor nor advocate nor consigliere. Just nobody. And did the judge do anything to them? Punish them in any way for their continued failure to respond? Nope. He continued the hearing until December 26. If they don't get in trouble, how are they ever gonna learn? I guess we'll find out.2

Image of George Yu is ©2018 MichaelKohlhaas.Org and is six degrees of separation away from this lil George Yu here.

Which, if you're interested, is no longer inhabited by the Honorable Amy Hogue, who's transferred out to some other assignment over in the formerly federal Spring Street Courthouse, now leased by the Los Angeles County Superior Court. Her replacement in writs is Mitchell Beckloff.
Presenting as cynical for rhetorical effect here. Obviously at some point they'll either show up or the judge will have to issue an order against them. If neither of these things happened the whole CPRA would be meaningless because everyone would just be able to ignore it. No judge is going to let that happen, so there will be an order or an appearance. Once there's a court order, if the target ignores it then, there's contempt, there're sheriffs, there's other various species of pain in their future. And judges might be, even evidently are, willing to allow nonresponsive antisocial sociopaths to trample on the rights of the people of California, but they are certainly not willing to let these NASties trample on the rights of judges. Once there's contempt the mighty waters of judicial indignation will roll down on the miscreants like the deluge of old, and look out Chinatown, cause the law's gonna step on y'all! Waiting for the day is what we're doing now.