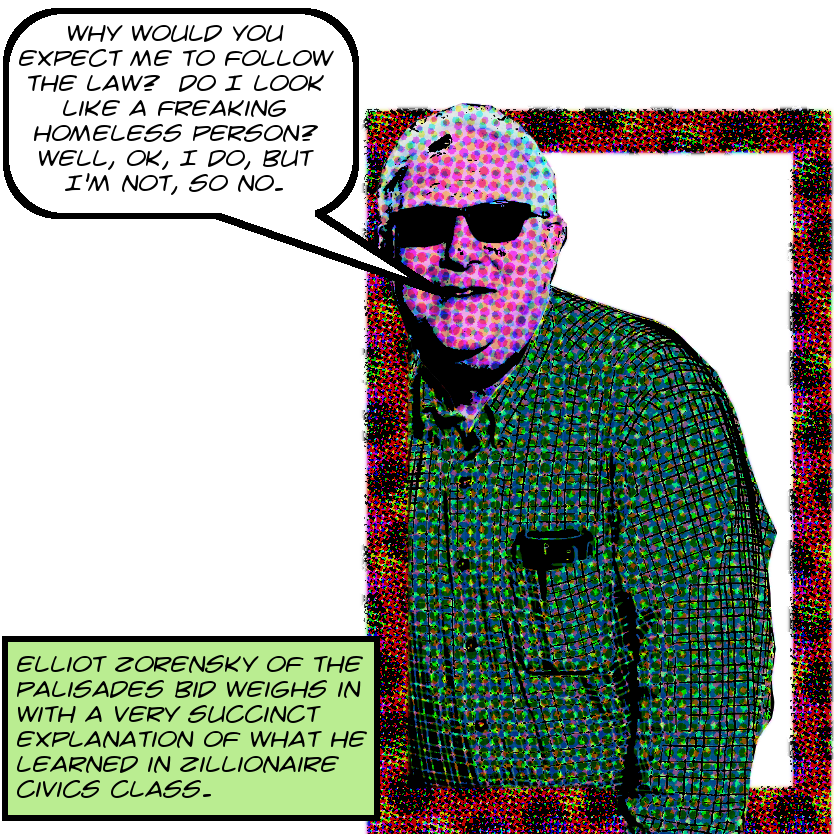 I know some of you out there have been remembering such classics as the story of the angry scary fat black homeless male man or the story of the gang members escaping the seething urban hellscape of Santa Freaking Monica and thereby wondering just why it is that it's been since March freaking 2017 since I last posted any full frontal mockery of the halfwits-by-the-sea out in Northwest Zillionaireville. I'm speaking of course of the Pacific Palisades Business Improvement District, Mike Freaking Bonin's platonic ideal of a good BID.
And it's certainly no coincidence that my last few posts about these coastal dimwits had to do with Laurie Freaking Sale's weirdo Humistonian CPRA aggression. For instance there was the incident of Ms. Laurie Sale's being too busy to follow the law, a theory which doesn't work so well for non-zillionaires.1 Then there was the case of board member Rick Freaking Lemmo explaining how they were going to spend 3% of their annual assessments on lawyers to keep records out of my hands.
Well, it turns out that that's not working out so well,2 because earlier this week I took a trek all the way out to the damn Palisades on public transit3 to finally inspect some records after fifteen tooth-pullingly painful months trying to talk some sense into Ms. Laurie Sale and then a few more months of my lawyer trying to talk some sense into the world's angriest CPRA attorney, Ms. Carol F. Humiston.4
And good lord, friends! The craziness in these records is beyond fever pitch! It's beyond Ebola pitch! Can't easily be measured by disease slash pitch comparisons is how crazy it is! For various technical reasons it's going to take a long time to prep this steaming pile o' puckey for publication, so I'll be dribbling it out a bit at a time. Today's installment consists of 44 pages of emails amongst the BID Board, which can be found here on Archive.Org.
And amongst the millionish sharp little shards of crazy to be found here is the single most egregious violation of the Brown Act that I've ever known to be committed by a BID.5 In January 2016 BID zeck dreck Laurie Sale6 emailed her board with a motion to approve a contract and one by one they all voted yes by reply-all. This is beyond bad, beyond obvious. Turn the page for a discussion of the section that this violates, of what can be done about it now,7 and transcriptions of and links to all the evidence.
Continue reading Pacific Palisades BID In 2016 — Newly Obtained Emails Reveal The Most Egregious Violation Of The Brown Act I Have Ever Seen In The Wild — Zeck Dreck Laurie Sale — Who Sadly Is Highly Unlikely To Be Prosecuted For Her Criminal Ways — Conducted An Actual Vote On An Actual Motion By Email — Not One Single Board Member Objected — The Statute Of Limitations Has Run So They're Not Going To Jail — But Obviously They're Still Going To Hell — Cause There Ain't No Statute That Can Limit The Freaking Wrath Of God! →