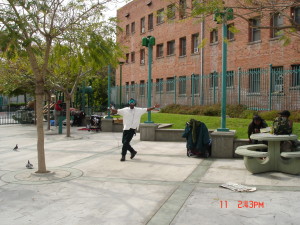 Long-time readers of this blog will recall that in late 2007 the HPOA put signs up in Selma Park in Hollywood which stated ominiously:

Children's Play Area Only
Adults Not Accompanying Children Prohibited
Sec 653b, subdivision a, CA Penal Code

We discovered in September 2015 that these signs were placed illegally, informed the LA Recreation and Parks Commission, and they were removed within 14 days of our communication with RAP. Read
here
for more background.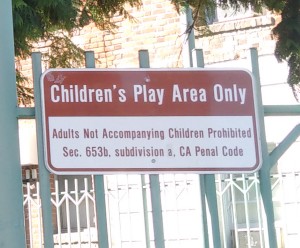 Our
correspondent, Mike
has made and continues to make innumerable requests for public records in order to help us sort out exactly what happened in that park. Today we're going to update you on some requests that did not result in the production of records, but whose outcomes yielded interesting information nevertheless.
First, on November 16, 2015, Kerry told our correspondent that "A/I says that after looking into this, it is unlikely that any arrests ever were made by A/I in Selma Park with specific regard to the signs and penal code section you recite (as opposed to public urination, drinking, and other reasons)…" While we have no doubts at all that that's what A/I (Andrews International) told Kerry Morrison, who on all evidence is a scrupulously honest person, their statement is flat-out not true, which to us indicates consciousness of guilt on their part. The details follow after the break.
Furthermore, in that same response, Kerry Morrison admitted that she has no records proving that the elements of the statute cited were ever met for anyone arrested for being in that park without children. If this is accurate, and we have no reason to doubt that it is, then even if the BID had had some authority for placing the signs, which they did not, any arrests made by the BID in the park for violating PC 653b(a) were false arrests. The explanation of this is a little wonkish, and can be found after the break.
Continue reading Update on Selma Park Situation: Kerry Morrison Makes Crucial Admission Against Interest, Andrews International Misleads Regarding Past Actions, Records Requests from LAUSD and Neighborhood Council Still Pending →