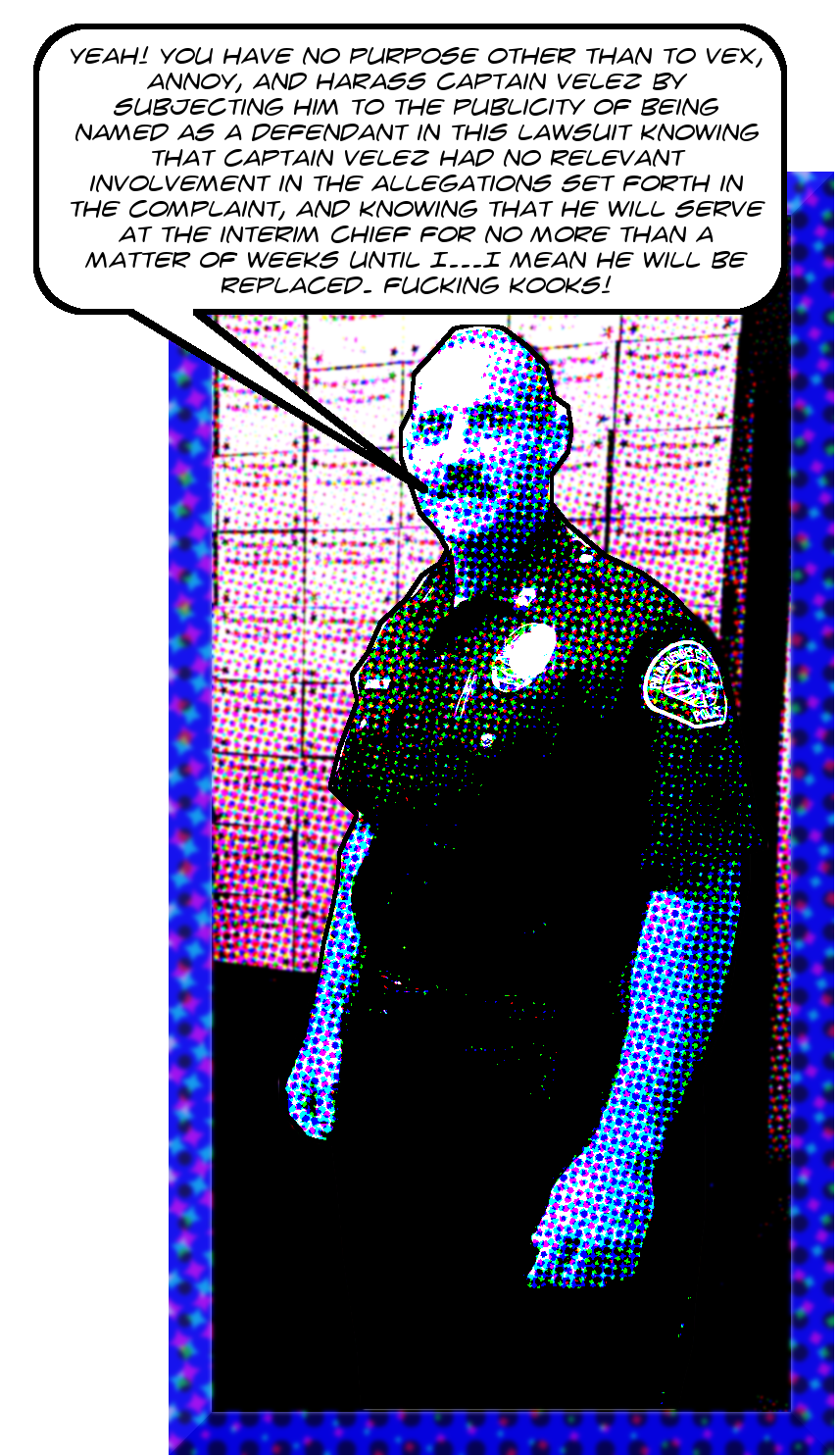 For background take a look at this excellent article from the Times on this lawsuit. Also see here to download all pleadings in this case.
A couple weeks ago the plaintiffs in this most Byzantine of cases filed "a suggestion" to the court, which evidently is a genuine type of pleading, noting that because Jeff Kepley was being sued in his official capacity and had resigned as chief of the PVEPD, Federal Rule of Civil Procedure 25(d) required that he be automatically dropped as a party to the suit and his successor, who is Mark Velez, acting chief of the PVEPD, be substituted in.
Well, on Tuesday, the City filed a response to the suggestion which, I think, claims that because FRCP 25(d) provides that Jeff Kepley was automatically substituted out and Mark Velez substituted in, the court need not do anything and therefore the suggestion "serves no purpose other than to harass Captain Velez by subjecting him to the publicity of being named as a defendant in this lawsuit" when he's going to be removed as chief in a few weeks.
I mean, I admit I'm not a lawyer and that I only have a tenuous grasp of what's going on in many of these papers, but this one seems particularly crazy to me. Everyone admits that Kepley is no longer a party and that Velez is now a party and that this happened automatically when Kepley resigned. Everyone admits that it doesn't matter what the judge does about it.
So why is it wrong to bring Jeff Kepley's resignation to the attention of the Judge? How's he supposed to find out about it if no one tells him? Why does mentioning Mark Velez's appearance as a defendent constitute harassment after it has already happened? Well, the answer is probably, as is often the case with these people, "who freaking knows?!" There's a transcription, as always, after the break.
Continue reading I Don't Know Much About The Law But This Latest Pleading Filed By The City Of PVE Seems Pretty Crackpot To Me — Are They Really Arguing That Mark Velez Was Automatically Named As A Party To The Case When Jeff Kepley Resigned And Therefore It Is Vexatious Harassment To Suggest To The Court That Mark Velez Be Named As A Party?! →