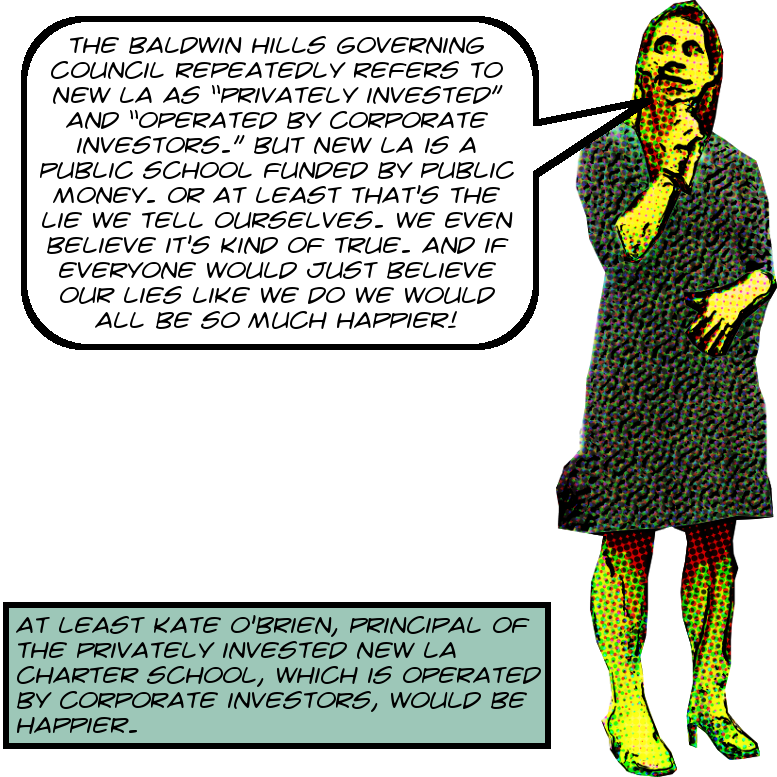 Super-short recap! New Los Angeles Charter Elementary School was forcibly co-located on the campus of the public Baldwin Hills Elementary School leading to a great deal of tension which came to a head during the UTLA strike in January and NLA boss Brooke Rios said that her school would try to find somewhere else to have their school but then they couldn't find another place so parents from the public school proposed an anti-charter-school resolution to the West Adams Neighborhood Council which approved it by a vote of 8 to 3 and you can read a copy of the resolution here.
And here's some video of the whole damn meeting, or at least the part where they're discussing the charter school stuff. And right here, just after the NLA elementary school principal, Kate O'Brien, comes on to speak her piece, she mentions that she's prepared a document that's "just a response to the resolution." The purpose of tonight's post is to provide a copy of that response, which I just recently obtained from the super-helpful president of the West Adams NC, Mr. Steven Meeks.
As I said in the title, though, the thing is self-refuting. So I won't insult you by commenting on or even mocking the damn thing. There is a transcription after the break so you can mock for your own self! OK, take it back! I can't help it! Just take a look at this one little bit:

The document the Baldwin Hills Governing Council submitted repeatedly refers to New LA as "privately invested" and "operated by corporate investors." New LA is a public school funded by public money.

The problem here is that even if what these privatizers at New LA is saying is technically true in some highly mediated fashion, the point they pretend to contradict, not to understand, that charter schools are "privately invested" and "operated by corporate investors" makes perfect unmediated sense. And no one has ever convinced anyone of anything ever by pretending not to understand what they're talking about.
It's an entirely true fact that charter schools in general were created by laws which exist only because zillionaires paid zillions to pass them. The laws are administered by school board members and other electeds who owe their seats to zillionaire payola. Without zillionaires there would be no charter schools in California. And zillionaires don't get to be zillionaires without being corporate investors, or at least their daddies were.
And when it comes to New LA in particular, well, just look at their board of directors. There are basically two kinds of people on there: corporate investors and people who work for other schools whose boards of directors are also full of corporate investors. There's no plausible sense in which it's false to say that New LA is operated by corporate investors.
And as for being a public school? Well, when people talk about public schools, or public anythings for that matter, what they generally mean is institutions every aspect of which is under public control by people chosen through a direct political process. Like LAUSD schools, which are controlled directly by an elected school board. Not at all like New LA, which is controlled by a board of directors chosen according to some opaque and non-political process, and staffed by staffers hired by the board. Not public.
And as far as the money being public? Well, obviously that's not what's meant by public. Public money supports all kinds of private institutions. Being supported by public money doesn't make an institution public. This statement is a disingenuous non sequitur. Anyway, turn the page for the transcription of the response.
Continue reading At The March 18, 2019 Meeting Of The West Adams Neighborhood Council When The Charter-Free Zone Resolution Was Considered — Kate O'Brien Of New Los Angeles Elementary School Distributed A Document To The NC Board Putatively Refuting The Position Of The Baldwin Hills Elementary School Parents Who Were Seeking The Resolution — Here's A Copy Of That Document! — And Here Is Not A Refutation Of The Refutation — Because It's Self-Refuting! →