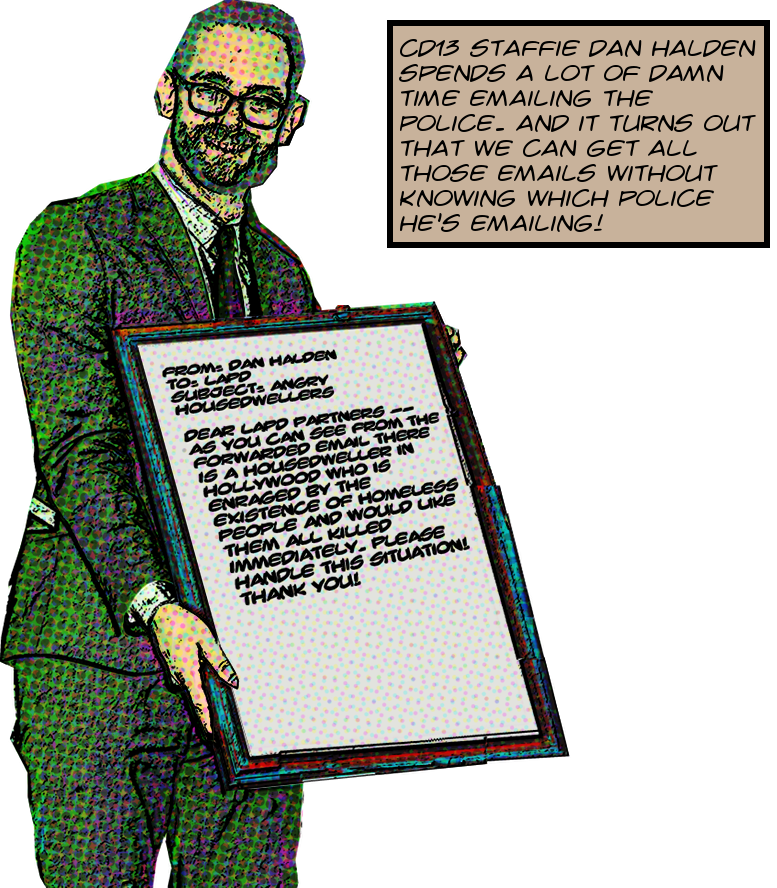 On January 13, 2019 I asked the Los Angeles Police Department for emails between CD13 staffer Dan Halden and any LAPD employee from January 1, 2016 through December 31, 2018. Yesterday, eight months later, they produced emails from October and November 2018 with the promise of more to come. How we got to this point is the subject of today's post.1 Here's what the request said exactly:

Per my rights under the California Public Records Act, please provide all correspondence between anyone who works in the Los Angeles Police Department AND daniel.halden@lacity.org, for the time period of January 1, 2016 to December 31, 2018. Correspondence is defined as all emails, texts or other communications.

To be honest, when I made this request in January 2019 I was expecting LAPD to refuse to produce the records on technical grounds,2 And on January 18, 2019 they did exactly that. They gave two separate and mutually contradictory reasons for refusing to produce.
First they told me that "[y[our request does not describe the records sought clearly enough to permit my staff to determine whether any responsive documents exist." This claim is based on the CPRA at §6253(b), which requires of requests that they "reasonably [describe] an identifiable record or records". LAPD's second reason for refusing to produce was that it would be too much work:

A search of email communications and correspondence for "anyone who works in the Department" would be unduly burdensome for the Department as interpreted in the "public interest" provision of section 6255 of the Act, and would require a separate search of each individual email account of approximately 14,400 Department email accounts.

Continue reading The Story Of A Request For Emails From LAPD — And All The Ridiculous Reasons They Propounded For Not Producing — And How They Then Produced! →