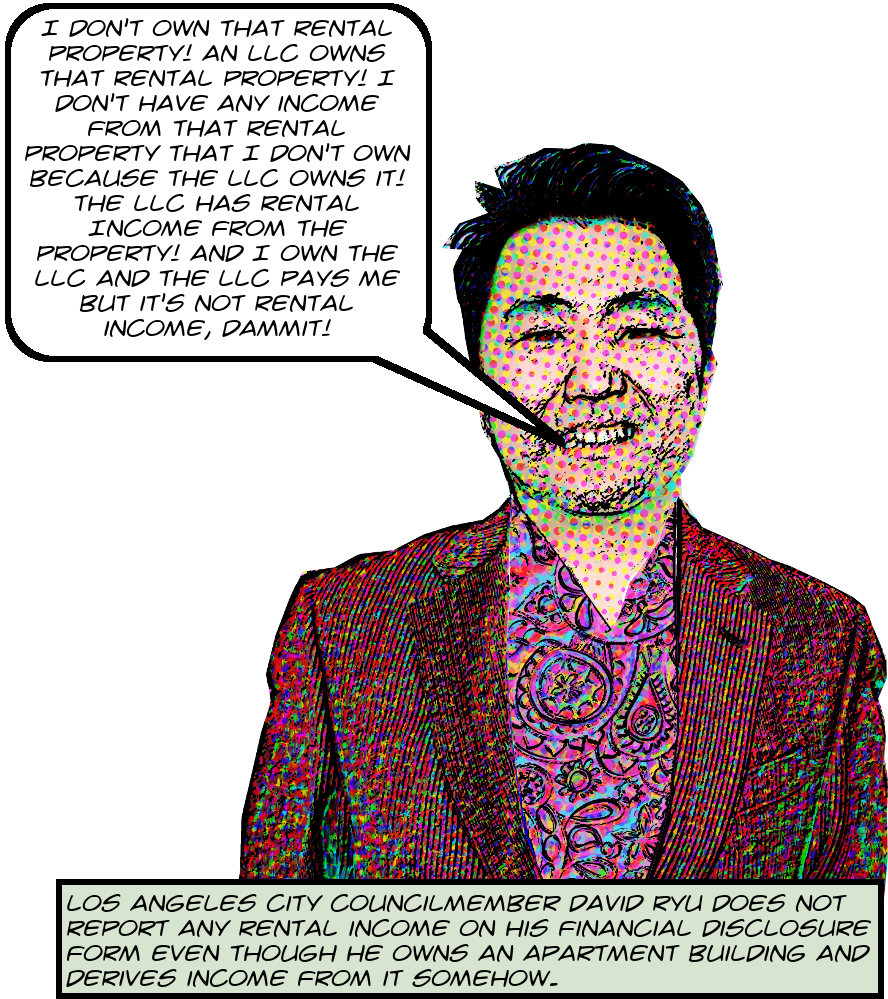 On Tuesday, March 17, 2020 the Los Angeles City Council considered an emergency ordinance to halt evictions and give renters 24 months to cover missed payments. Or at least that's what the original motion, introduced by CD11 rep Mike Bonin, called for. During the debate,1 though, various other councilmembers, notably Paul Krekorian, Paul Koretz, and Herb Wesson, argued passionately against the harm that such an ordinance would do to the proverbial mom and pop landlords by giving these deadbeat tenants so damn long to settle up.
Two years is far long, they said. Mom and pops can't afford to wait, they said. Will increase default rate, said they. They said all kinds of impassioned stuff in favor of reducing repayment time by a murderous 75%. But one of the things they didn't say was that all three of these councilmembers are themselves landlords. It's impossible to imagine that they weren't thinking of their own interests while arguing to amend this motion. I wrote a piece on this a few days ago, the research for which also revealed that they weren't the only three, by the way.
It turned out that Jose Huizar, Nury Martinez, and Curren Price are also landlords and also voted yes on the change to a 6 month grace period. My method of landlord discovery relied solely on Form 700s, which are annual financial disclosure forms required of elected officials in California. And rental income is a specific category which must be identified as such. For instance, consider the relevant section from Paul Krekorian's most recent filing.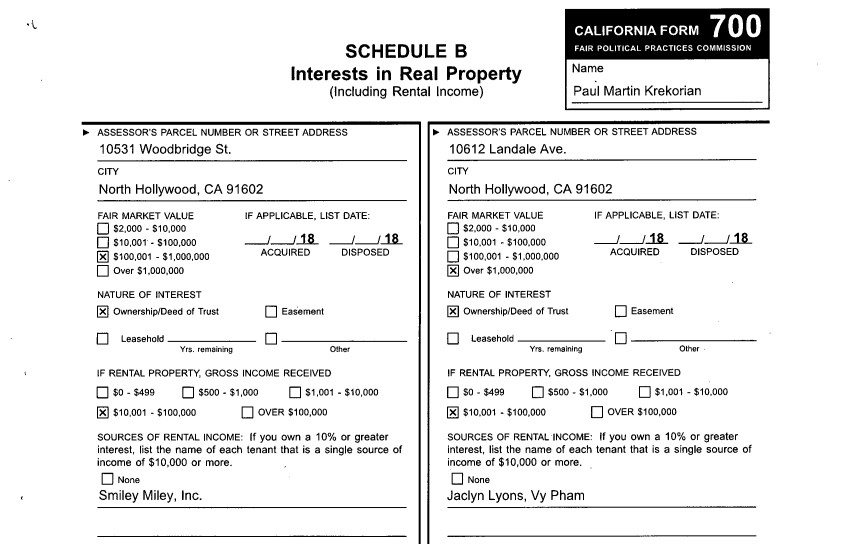 But it turned out that this method was flawed. Not flawed in the sense of producing false positives. The six that I identified are in fact landlords. Flawed, though, in the sense of producing false negatives based, as it is, on the disclosures being honest.2 And that's how I missed the fact that CD4 representative David Ryu is also a landlord,3 although it's certainly not obvious at all from his most recent Form 700. First, take a look at the relevant section: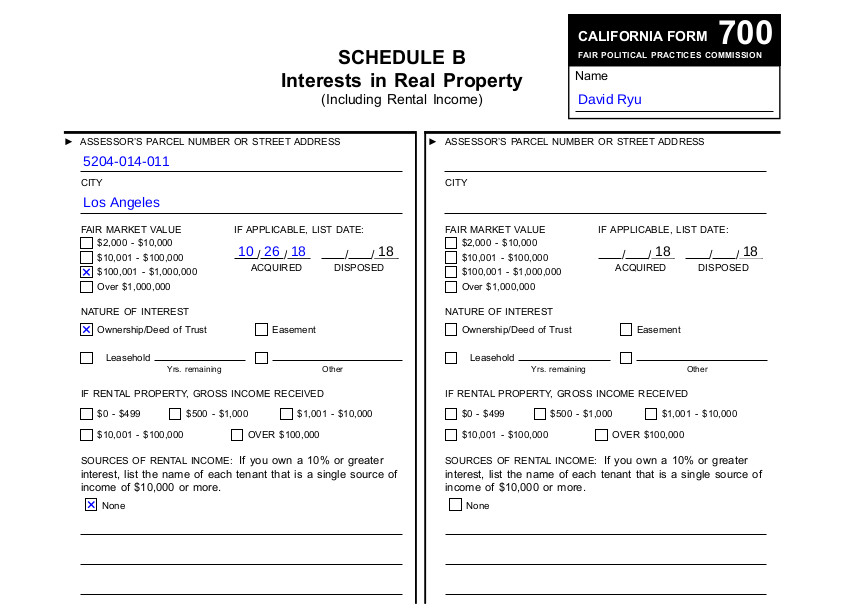 He lists an assessor's parcel number rather than an address. I didn't previously look up the property, though, because he checked off the box indicating that he'd received no rental income. It turns out, though, that skipping this was a huge mistake on my part. I finally did look into the matter and it turns out that I had previously missed everything! Read on for the whole astonishingly sordid story of David Ryu and this property!
Continue reading David Ryu Certainly Seems To Be Yet Another Landlord On The Los Angeles City Council — And Apparently Perfectly Comfortable Voting On Various Tenants' Rights Issues Without Recusing Himself Or Even Mentioning It — He And His Sister Esther Bought A Four Unit Apartment Building In 2018 — And Immediately Signed It Over To A Shady Entity Called Daejopia LLC — Controlled By Their Brother Joseph — Ryu Acknowledged On His Form 700 That He Owns The Building — Although He Lists It By Parcel Number Rather Than Address — But Denies Receiving Any Rental Income From It — Which Seems Really Highly Unlikely Given That It Appears To Be Fully Occupied — But Maybe He'll Explain Himself If For Some Unknown Reason It Is True — Did I Mention That Kenneth Yoon — Who Sold The Building To David And Esther Ryu — Turned Around And Gave Ryu An $800 Contribution A Month After The Deal Closed? — And That The Ryus Only Needed To Borrow $460K On What Was Apparently A $840K Transaction? →