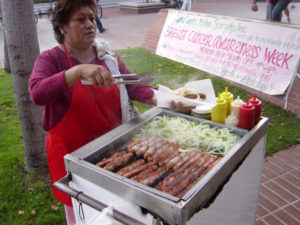 So today the City Council moved forward with
CF 13-1493
, which, of course, is the famed
street vending thing
. For a good, objective,
1
discussion of today's developments, take a look at
this article in today's Times
by the incomparable Emily Alpert Reyes.
2
This is just a brief post to note the fact that the various anti-human opponents of legalized street vending won a major, seemingly unnoticed by anyone but me, victory via amendment in the current version of the motion.
Today's motion doesn't actually legalize street vending. What it does is direct the City Attorney, the Chief Legislative Analyst, and the City Administrative Officer to put together a proposed ordinance. This was to be based on this detailed set of recommendations from the Public Works and Gang Reduction Committee report. This report was amended in Council today before being adopted, and at least two of the amended recommendations are quite sneaky, and, I predict, will undermine the future ordinance in quite underhanded ways that will please business improvement districts and other business interests who have been working tirelessly to keep street vending illegal for years now. See the details and some3 predictions after the break.
Continue reading Sneaky Shit-Sneakers Sneakily Sneak Sneaky Shit Into Current Version Of Street Vending Legalization Process, Setting The Stage For Continued Persecution of Vendors in Business Improvement Districts →