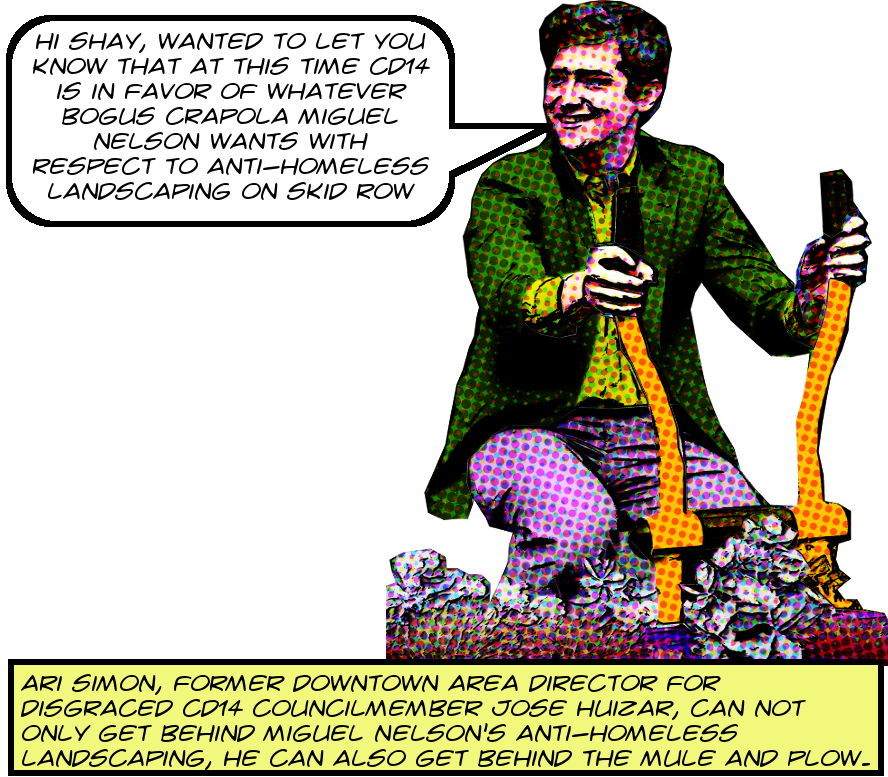 A couple days ago, based on a huge release of emails, I wrote about collusion between the LAPD, LA Sanitation, and property owner Miguel Nelson, which facilitated his installation of the hostile anti-homeless landscaping project known as "North Sea" in Skid Row. It's axiomatic, of course, that something as controversial and on such a broad scale could never ever in a million years be approved in Los Angeles without the support of the Councilmember in whose district the project situates,in this case that is José Huizar, disgraced CD14 repster.
And yet it seems that no evidence has yet been adduced to support this notion, at least not until now! But it turns out that as part of its investigation into Nelson's anti-homeless planters, KCRW got copies of all the permits from the City, which I uploaded to Archive.Org for the sake of stable access, and you can get a copy right here. It's a huge file, more than 400 pages, and as part of the permitting process for such projects it's required to obtain letters of support from various City departments, among them the Council Office.
So right in there, among the proofs of insurance and detailed diagrams and so on, is an email from erstwhile Huizar staffer Ari Simon to Bureau of Engineering staff supporting the project:

On Wed, Mar 29, 2017 at 2:29 PM, Ari Simon <ari.simon@lacity.org> wrote:
Hi Shay,
Wanted to let you know that at this time, Council District 14 is in support of moving forward with an application for R-permits to do beautification work around the area of 4th / Towne as requested by Miguel Nelson.
As the project moves forward, we ask that BOE adhere to the requests made by BSS, asking that a full plan of what exactly will be planted where is included, that any areas of planting are contained by concrete, and that plans comply with BOE's determination of a clear and generally straight path of pedestrian travel.
Let me know if you have any further questions.
Warmly,
Ari

Continue reading Emails Reveal Breadth Of Support Among City Agencies For Miguel Nelson's Hostile Landscape Architecture In Skid Row — North Sea — Most Crucially CD14 Supported It — LADOT — Even Department Of Cultural Affairs — However Urban Forestry / Bureau Of Street Services Refused To Support But Also — Sadly — Refused To Oppose →