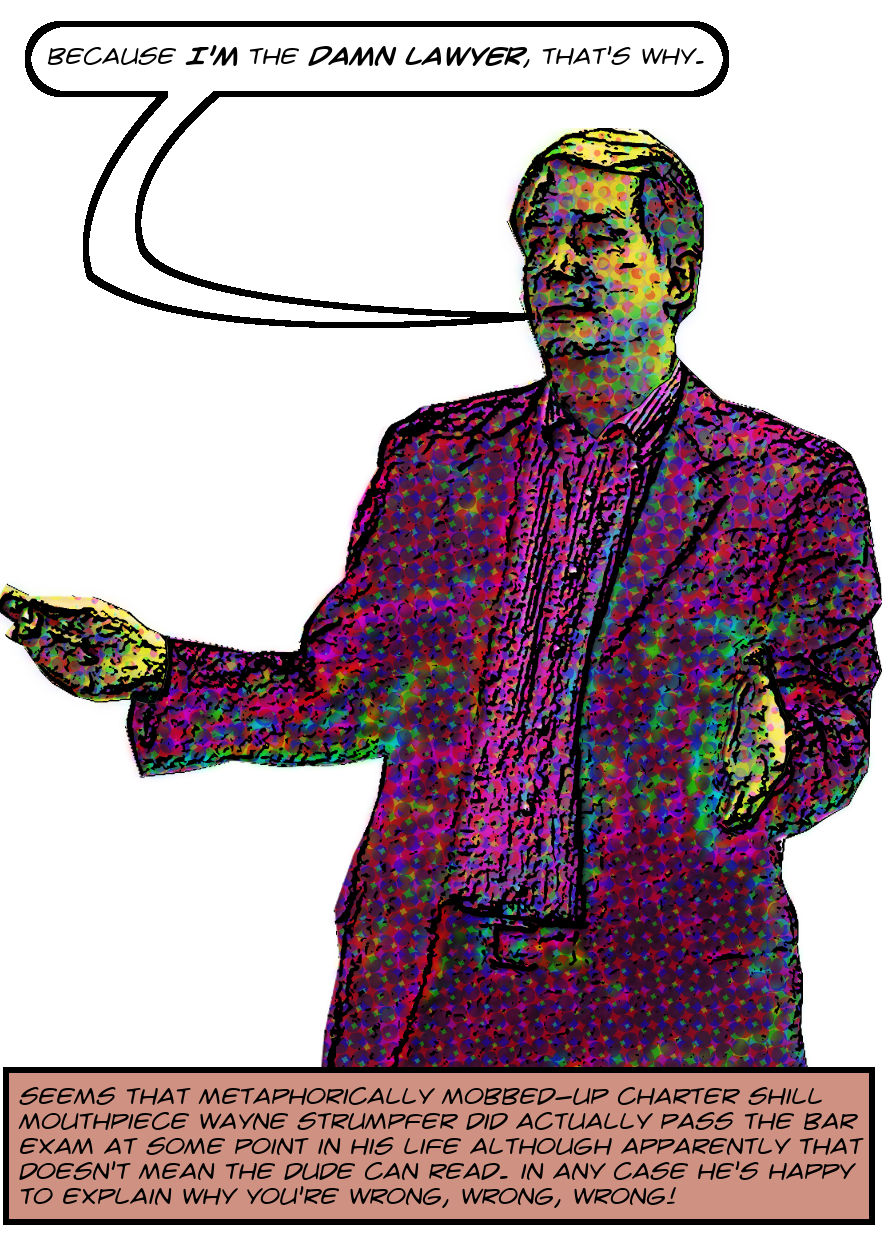 The Brown Act, California's open meetings law, imposes a long list of requirements on local government agencies and among these are a duty to send copies of meeting agendas to members of the public who request this service.1 Both I and heroic public education activist Hilda Rodriguez-Guzman have asked this of that local white savior charter conspiracy known as The Accelerated Schools ("TAS").
And on June 16, 2020 the TAS Board's Finance Committee held a meeting2 but notified neither Hilda nor me in advance. A couple days later I sent an inquiry via email to Wayne Strumpfer, one of TAS's many lawyers,3 this one in particular of counsel4 to California charter school law powerhouse Young Minney Corr, basically asking "hey friends, what the freaking heck?!"
And five days later, certainly long enough so that we can discount impulsivity as an explanation, Strumpfer sent me his response. In this remarkably idiotic document Strumpfer argues that while the Brown Act may indeed require agencies to send copies of Board agendas to members of the public it imposes no such requirement with respect to committee meetings. In particular, thus spake Strumpfer: "This code section relates to any meeting of a legislative body — i.e., The Accelerated Schools Board. There is nothing in the code section that mentions committee meetings."
Which is an interesting statement. Strumpfer is correct in the sense that the word "committee" does not appear in the Brown Act at §54954.1. But he's about as wrong as can be when he equates "legislative bodies" with "The Accelerated Schools Board." The term "legislative body" is a term of art in the Brown Act. Whatever it may mean in a naive sense is overridden by the law's extensive definition, found at §54952(b), which states in part that:

"legislative body" means [among other things]:
…
A commission, committee, board, or other body of a local agency, whether permanent or temporary, decisionmaking or advisory, created by charter, ordinance, resolution, or formal action of a legislative body. … standing committees of a legislative body, irrespective of their composition, which have a continuing subject matter jurisdiction, or a meeting schedule fixed by charter, ordinance, resolution, or formal action of a legislative body are legislative bodies for purposes of this chapter.

In other words, committees are legislative bodies. Therefore the Brown Act requires TAS to send copies of committee agendas to members of the public who so request. Also TAS violated the Brown Act by not sending agendas for the June 16, 2020 meeting of the Finance Committee. And Wayne Strumpfer, despite the big bucks he's paid, apparently didn't bother to read the law before advising his clients on a course of action.5
One of the tragic aspects of the Brown Act, though, is that essentially the only way its enforced is via litigation. And while county district attorneys have standing to file such suits, at least here in Los Angeles County they rarely if ever do. But private citizens also have standing to challenge violations. According to §54960.2 such a suit must be preceded by a demand letter giving the local agency a chance to "unconditionally commit" not to violate the law in the specified manner ever again.6
I send these letters out from time to time when an agency violates the law egregiously enough. The last one I sent was in December 2019, also to TAS, which did at that time7 capitulate to my demand and unconditionally agree not to violate the law in the specified manner ever again. But that violation was very different from the current one. These shenanigans with the Finance Committee don't violate their earlier unconditional commitment.
And thus another demand letter is in order, which is why I sent one this morning via email to Strumpfer and TAS Supreme Commander Dr. Grace Lee Chang.8 A transcription follows and now we wait to see whether they capitulate!
Continue reading The Latest Episode In My Sporadic Brown Act Demand Letter Project! — The White Savior Charter Conspiracy Known As The Accelerated Schools — Hired A Self-Proclaimed Lawyer — Name Of Wayne Strumpfer — Who Apparently Never Learned In Law School That You Gotta Read The Damn Statute Before You Go Advising Your Clients On A Course Of Action — But Fortunately For All — Even Though I Never Went To Law School — I Do In Fact Know How And When To Read — So When Strumpfer Says Something Super-Crazy Like That The Brown Act Doesn't Apply To Committees — Here I Am To Save The Doggone Day — With Yet Another Brown Act Demand Letter — Read It Here! →