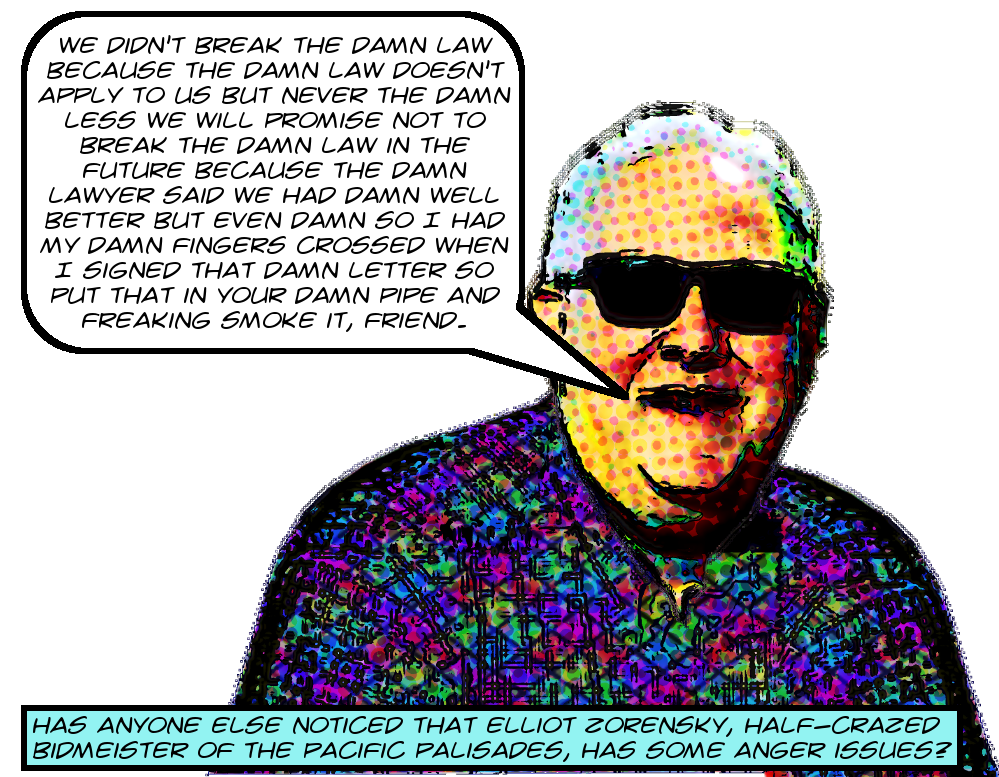 Of course you remember my ongoing Brown Act enforcement project, whereby I use threats of imminent lawsuits to try to get our City's various business improvement districts to just follow the damn law for once. And a few weeks ago I sent the Pacific Palisades BID a sternly-worded demand letter outlining an egregious violation of the Brown Act involving illegal meetings via email and insisting, per statute, that they unconditionally commit to never breaking that particular requirement of the law again.
Well, they got the letter, and then they had two closed sessions and an open session to figure out what to do about it. You can read the agendas here. No doubt they had to have so many discussions because Elliot Zorensky is the second ragiest rageball in all of BIDlandia1 and probably had to have his oversized head wrapped in pressure bandages to keep it from exploding during the discussions and a mummy-style noggin and an impending privilege-violation-induced aneurysm are not elements highly congenial to rational, reasoned, efficient discussion.
But whatever the circumstances, it seems that reason did in fact ultimately prevail, and, them not having any other reasonable option, they decided to send me the required letter. And thus it was that, after many a twixt-lip-slip involving USPS protocols for receiving certified mail, I did finally lay my hands on a copy of said letter. And it says all the stuff it's supposed to say. In other words, it's another great victory for the rule of law and a great defeat for those parochial weirdo zillionaires out in the Palisades.
There is nothing like a little cheerful gravedancing on a Friday afternoon, friends! I can recommend it highly! And not only that, but there's a transcription of their letter of capitulation after the break so you can read it too. And if you want to do a little gravedancing of your own I can highly recommend this little number right here as the soundtrack!
Continue reading Palisades BID Brown Act Demand Letter Leads To Complete And Total Victory! — Elliot "Cabeza De Calabaza" Zorensky And His Merry Gang Of Freaks Out In Northwest Zillionaireville Issue An Unconditional Commitment To Stop Breaking The Damn Law! →