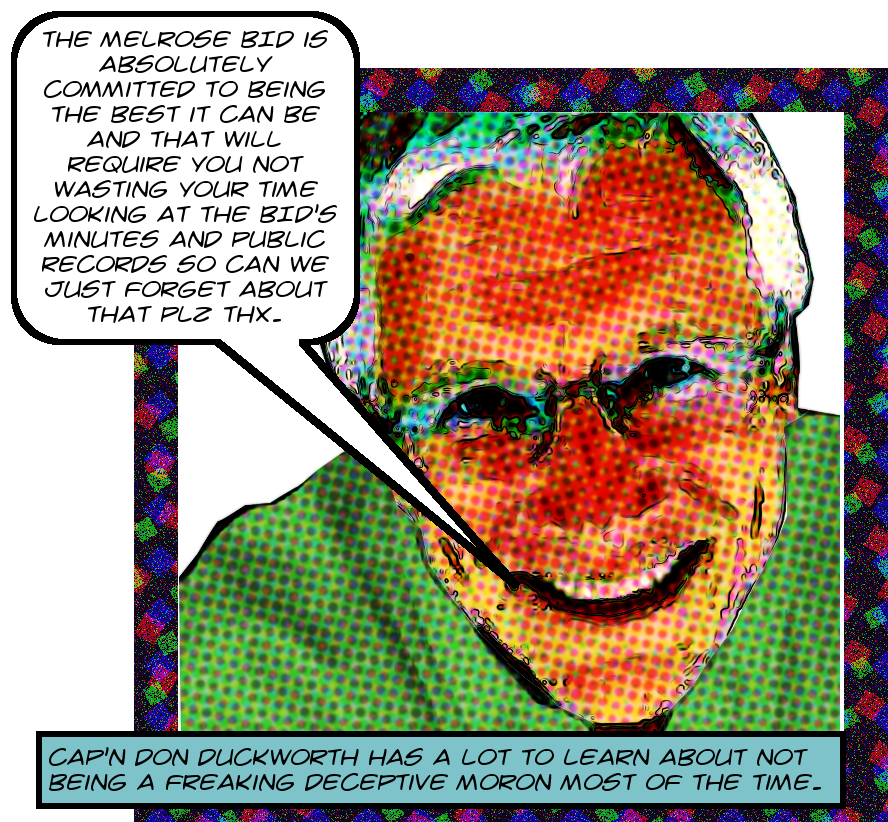 Sadly, for he is one of the most satirogenic figures in all of BIDlandia, we have not heard much from pirate king Donald Duckworth around these parts lately except, of course, for the fact that he, complacently steeped in his outlaw ways, forced me to file a pair of writ petitions against two of his baby BIDs because he, complacently steeped in his unhinged arrogance, flat-out and unaccountably refuses to comply with his statutory obligations under the California Public Records Act1 even though, if the past is prologue,2 it's very likely to cost his BIDs a lot of damn money that they can probably ill afford to waste.
But regardless of Cap'n Donald's law-flouting noncompliance it is occasionally possible to obtain records, or at least emails, involving him by the simple expedient of getting them from the other side of the correspondence.3 And recently a friend of this blog got a small pile of emails between Mr. Don Duckworth and Los Angeles City Clerk staff, and you can read the whole set here on Archive.Org.4 And there's pretty much interesting stuff in there, but tonight I'm focusing on just three items.
✷ June 9, 2018 email from Don Duckworth to Laura Aflalo about record inspection — Melrose property owners Laura Aflalo and Richard Jebejian want to come inspect records. Don Duckworth says sure you can but why would you want to, isn't it a waste of your time?
✷ June 9, 2018 emails between Duckworth and Aflalo about her questions about BID operation — Like why do the BID bylaws violate the Brown Act? And why can't she have the Board members' email addresses? And why won't Don Duckworth just answer the damn questions?!
✷ June 9, 2018 Duckworth to Aflalo with a detailed breakdown of how he spends the BID's money — It's detailed and evasive at the same time, a Duckworthian superpower, evidently.
And turn the page for some commentary, some mockery, and some highly selected transcriptions of at least the first two items. The third is going to have to wait till another time because it's getting late around here!

So let's start with the record inspection emails, because obviously that's a special interest of this blog. First, on June 7, 2018, property owner Laura Aflalo wrote to Donald Duckworth thus:

On Thu, Jun 7, 2018 at 11:44 PM, Laura Aflalo <lauraaflalo@gmail.com> wrote:
Mr Duckworth & all Board Of Directors
As a member of the Melrose BID, we'd like to review the BID records and make photocopies as needed. I plan to inspect the records at your office with Mr. Richard Jebejian.
Once again, I want to remind you that all BIDS need to be in compliance with the Brown Act and they must be transparent for all property owners and BID members.
As you know, this is a time sensitive matter. Please let me know of a date and time, ASAP, as to when I can come to your office with Mr. Jebejian. We will bring our own photo-copy machine.
As a reminder, please forward this e-mail to all Board members, as well.
Thank you.
Laura

This, of course, is a totally reasonable request. The Property and Business Improvement District Law, which authorizes the existence of BIDs, requires them at §36612 to be subject to the Public Records Act, which gives every person the absolute right to look at the damn records, whether they're a property owner or not. Also, the BID's contract with the City of Los Angeles gives property owners in the BID some other rights to inspect records.5
Of course, Donald Duckworth is famous for not wanting people to look at his damn records. He's so opposed to people looking at his records that I had to file a damn writ petition against him because he ignored my requests for over a year, contrary to law, to morality, and to any shred of human decency left to him by a life dedicated to BIDdie-ism. But he's not willing to be so, at least, openly opposed to Laura Aflalo and Richard Jebejian looking at his records, because they're property owners rather than upstart crows. Hence the Duckworth wrote back less than 48 hours later:

From: Donald Duckworth <duckworth.donald@gmail.com> Sat, Jun 9, 2018 at 9:28 PM
To: Laura Aflalo <lauraaflalo@gmail.com>
Cc: Richard Jebejian <RichardJEnt@yahoo.com>
Bcc: rita.moreno@lacity.org
Good Evening Laura…
We are happy to arrange an opportunity for you to review Melrose Business Improvement Association "books and records." I'm not sure if you still want to do this or not after Friday's meeting. I will be out of town next week through June 15. It seems to me like a big and unnecessary time investment on your part to look at Minutes, Board Members names & addresses, and budget expenditure report such as you already have. Nonetheless we are happy to accommodate your request. Or if there is anything specific you want, just tell me and I'll try to make it easy for you.
I look forward to talking with you when I return. Thank you.

He still doesn't want her to do it, you see. Otherwise why go on about how It seems to me like a big and unnecessary time investment on your part to look at Minutes, Board Members names & addresses, and budget expenditure report such as you already have. Why is the guy so nervous about her looking at the records? And the biggest mystery of all, really, is why did he BCC Rita Freaking Moreno on this? Clearly he's trying to prove something, but what?
Well, obviously we're never gonna know, so let's move on to the next of these Aflalo emails. This is the one with the questions and answers. It seems that on May 30, 2018, Laura Aflalo wrote to Don Duckworth thusly:

Laura Aflalo <lauraaflalo@gmail.com> wrote:
Attn: Deny Weintraub, Silvia Weintraub, Julian Chicha, Pierson Blaetz, Isack Fadlon, Daniel Farasat & Fred Rosenthal ( Please forward to the Board Members, I do not have their contact info )
1) Is the BID posting public notice for annual election of board members? If so, where is it posted?
2) Bylaws state that action can be taken without a meeting. This is a violation of the Brown Act.
3) The bylaws state that no notice is required for regular and annual meetings. The Bylaws as written violate the Brown Act.
4) It's not a good practice to have Board Members who are related.
5) Property owners who are in the BID should be given a business email address for all Board Members.
6) Lastly, I am requesting contact info for all BID members.
thank you
Laura Aflalo

And finally, on June 9, Don Duckworth answered. And he BCCed Rita Moreno yet again. And his answers were as irritating and evasive as any student of BIDology would expect. Basically he says that the bylaws don't contradict the Brown Act, and if they do the Brown Act would override them anyway, and by the way, just tell me the section so we can change it. His copy paste responses obviously show that the whole thing was written by a lawyer anyway but he just doesn't have the nerve to say so. Also, we reported on this Brown Act violating set of bylaws last year, so it's not like it's news to El Duckworth.
Oh, and her request for contact information for the Board members? Well, here's what the Duckworth has to say about that one:

All property owners have been provided with the Executive Director's contact information (telephone and email). He is charged with day-to-day administration of the organization and keeping Board Members appropriately informed. The Board is composed of part-time volunteers and depends upon the Executive Director for on-going, effective communication, which has been established. By doing so, the Board has avoided the potential for ex parte communications dysfunctions outside off [sic] Brown Act covered meetings and streamlined the flow of BID business.

Friends, give me a fricking break. Obviously Laura Aflalo's request for board member email addresses is a request under the California Public Records Act. You may well recall, and it is the stone ground truth, that requests do not have to mention the act in order to fall under its sway. So basically what happened here is that, contrary to the explicit mandate of the law,6 Donald Duckworth is refusing to hand over records without claiming exemptions. All his nonsense about how no one's allowed to contact the board members to the contrary, if he's not going to hand over records containing the requested information, he's got to cite an exemption.
And, even more interestingly, even if he could cite an exemption here, which he can't, it wouldn't matter. Famously, the CPRA states that if records are released to one member of the public then all exemptions are waived henceforth.7 And the sad, for El Duckworth anyway, fact is that he's released any number of records to me in the past that would answer Laura Aflalo's tacit CPRA request.
For instance, take a look at this little slab of class warfare from 2016. Right there are all those email addresses Laura Aflalo was looking for. Shame, shame on Donald Duckworth, eh? Oh, and in case you want to exercise your right under the First Amendment to petition your government officials for redress of grievances, here for your pleasure and utility are the email addresses themselves:
Denis Weintraub <drdenisweintraub@yahoo.com>
DANIEL FARASAT <DF@tigerwestcapital.com>
Isack Fadlon <isackf@sportiela.com>
Denis Weintraub & Sylvia <misssyl@yahoo.com>
Pierson Blaetz <pierson@greenwayarts.org>
Julian Chicha <jchicha@brightongroup.net>
Fred Rosenthal <fredr@ametron.com>
And friends, there is so much more in there, not kidding, but I have to call it a night. And I didn't even get around to the third of these interesting seditious emails. I plan to write about it, obviously, but I can already feel my damn intention ganging agley, so if you're interested probably best to read it yourself. And that, as they say in the journo racket, is freaking -30-!

Image of Don Duckworth ducking his duties is ©2018 MichaelKohlhaas.Org.