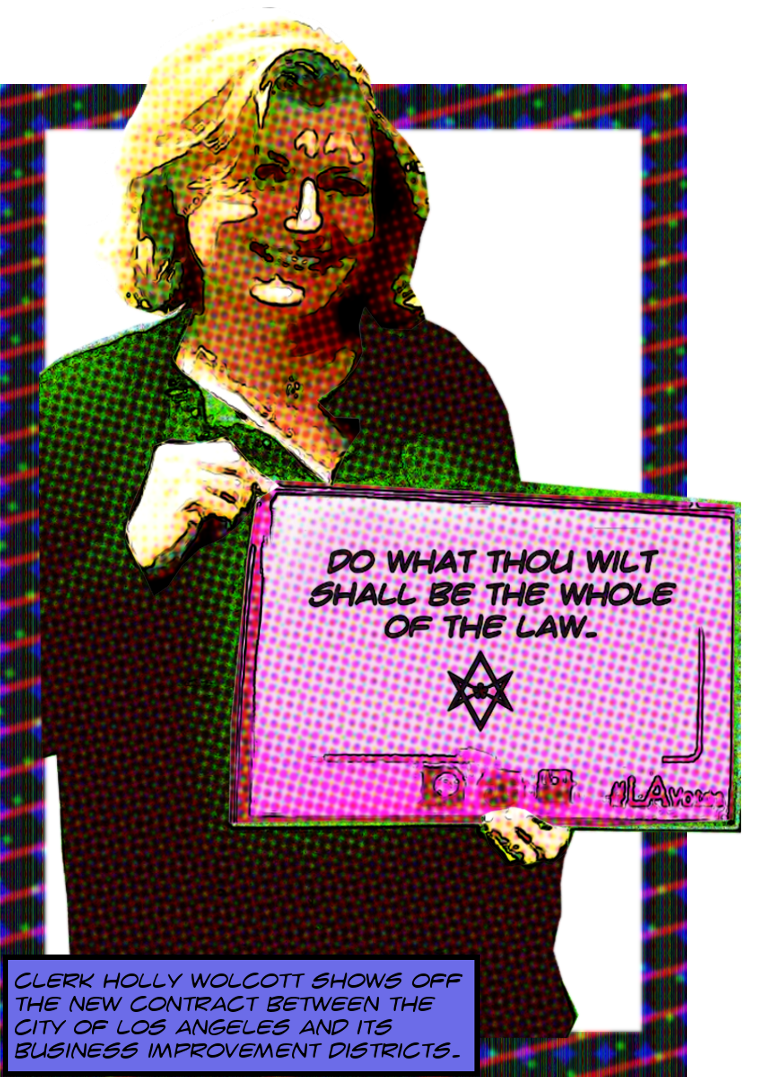 Regular readers of this blog are well aware that business improvement districts in California are subject to the California Public Records Act and to the Brown Act by virtue of the Property and Business Improvement District Law at §36612, which states explicitly that BIDS … shall comply with the Ralph M. Brown Act … at all times when matters within the subject matter of the district are heard, discussed, or deliberated, and with the California Public Records Act … for all records relating to activities of the district.1
Also, maybe you recall that the standard contract that BIDs sign with the City of Los Angeles contains2 a clause basically repeating this requirement. There's a transcription of this section after the break. So in March 2016, faced with blatant disregard of the CPRA by the Downtown Center BID, I wrote to the City Clerk, Holly Wolcott, asking her to enforce the terms of the City's contract with this obstructionist BID.
And on March 14, 2016, she wrote back to me, stating pretty clearly that she wasn't going to make sure that BIDs complied with the Public Records Act. Again, there's a transcription of her response after the break, but her main argument was that the City wasn't obligated by the contract to consider whether a given BID was complying with the CPRA.
And I thought that was the end of it, but I just recently discovered that actually, it's likely that the City took my argument much more seriously than anyone was letting on. So seriously, in fact, that in April 2016 the City Attorney completely rewrote the standard contract between BIDs and the City to eliminate all language about CPRA and the Brown Act!
Continue reading In 2016 The City Of Los Angeles Revised Its Standard BID Administration Contract To Remove Language About Complying With CPRA And The Brown Act — Which Is Yet Another Example Of The City Refusing To Hold BIDs Responsible For Complying With Any Laws Whatsoever — It's Not Clear What Effect This Will Have On Anything — They Certainly Did It In Response To My Activities, Though, For What That's Worth →