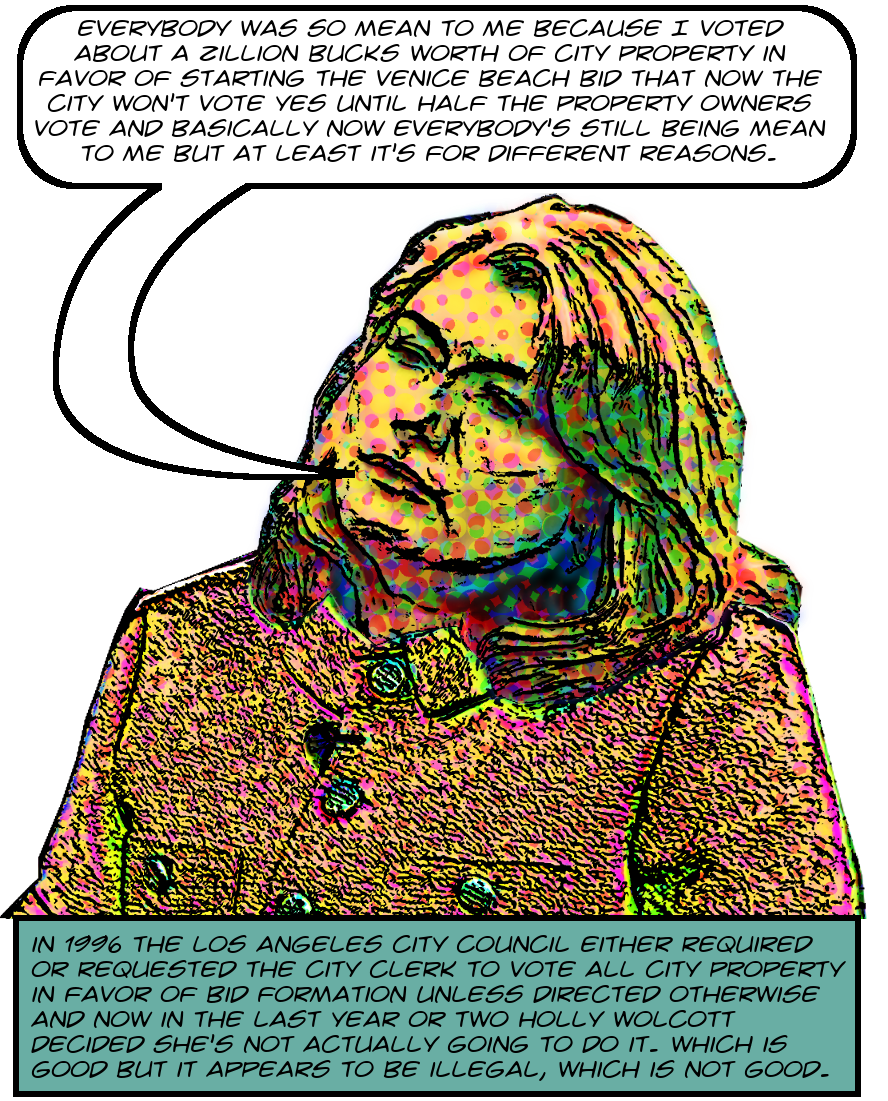 This is a quick update on a technical but highly consequential issue regarding City of Los Angeles property included in business improvement districts. The state law is very clear that BID assessments apply equally to public property, which means that the City of LA gets to vote on BID formation and renewal. Furthermore, in 1996, when the modern era of California BIDs began, the City Council told the City Clerk to always vote yes unless specifically directed otherwise.
Which of course led BID proponents to include as much City property as possible within their boundaries since it made establishment very significantly easier given the guaranteed favorable votes from the City. This strategy reached a hitherto unseen level of absurdity in 2016 with the Venice Beach BID establishment process, in which City property constituted 25.05% of the assessed value and the non-City property owners who signed pro-BID petitions for only 27.26%. The BID would never have been established without the automatic yes from the City.
This already absurd outcome was surpassed in 2017 with the renewal of the San Pedro Historic Waterfront BID. The proponents in that case included huge tracts of essentially empty parcels belonging to the Port of Los Angeles. They brought the City's proportion of assessed value to 37.24%, which left only 26.04% non-City property owners in favor of the BID. The case of the San Pedro BID seems not to have been widely noticed at the time, but of course the outcry over the Venice Beach BID was monumental, and the City's role in ensuring its existence was discussed at great length.
It hadn't been clear exactly what was going on, but something regarding the voting of City property changed over at the City Clerk's office after the San Pedro BID fiasco. I first heard about it in 2018 in relation to the Byzantine Latino Quarter BID when Donald Duckworth, BIDdological freak show specimen and BID establishment consultant, told his clients that the City of Los Angeles would no longer vote its petitions in favor of formation until 50% of the private property owners had already voted in favor.
As we've seen above, this would be a major change. If this policy had been in place in 2016 neither the Venice Beach BID nor the San Pedro Historic Waterfront BID would exist. But Duckworth is a liar and a fabulist and exceedingly unreliable, so while his testimony did in fact convince me that something was happening, it's not really safe to assume that he's telling his clients the full story or even accurately relating part of it.
Continue reading Here's Actual Proof That Los Angeles City Clerk Holly Wolcott Is Refusing To Sign BID Establishment Petitions For LA City Property Until Half The Other Property Owners In The Proposed District Have Signed — This Is Not Exactly A Policy But Her "Preference" — According To Clerk Staff Anyway — Also See The Extraordinary Petulance Of Gil Cedillo's Weirdo Flunky Jose Rodriguez When He Learns About It — And Turns Around And Covertly Threatens Clerk Staffer Rick Scott For Bearing The Bad News →