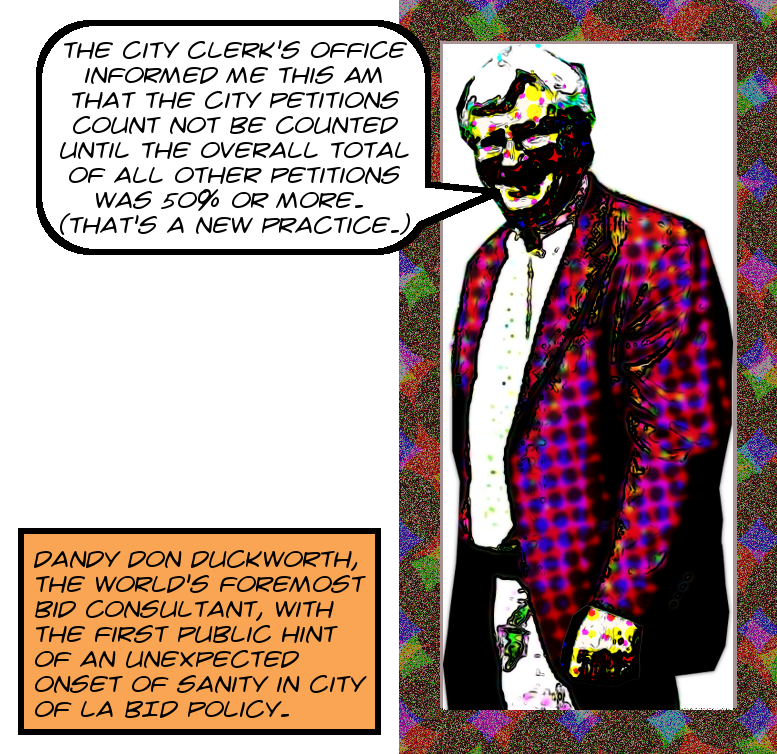 I just wrote this morning on the surprising fact that it seems the LAUSD will no longer automatically approve BID establishment/renewal petitions. This in itself is a monumental development, which may make it somewhat more difficult for BID establishment to happen. The emails on which that earlier post were based, between staffers at the Byzantine Latino Quarter BID and various parties including their renewal consultant Don Duckworth, are available here on Archive.Org, are an extremely rich set, and there is much of interest in there.
Now, recall that in order for the City to move forward with the BID renewal process it's required by the Property and Business Improvement District Act of 1994 for the proponents to collect petitions in favor of renewal signed by property owners holding more than 50% of the proposed assessed value, which is known in the jargon as 50%+.1 Hitherto, in accordance with an ordinance adopted by the City Council in 1996, the City of Los Angeles would always sign petitions for establishment.
However, at least according to what is clearly the most consequential item in this release, and one of the most consequential records in my entire collection, which is this May 1, 2018 email from BID consultant Don Duckworth to BLQ BID staffers Moises Gomez and Rebecca Drapper, that policy may no longer apply. Therein Duckworth is informing his clients of the status of their ongoing petition drive. Up until May 1, Don Duckworth and the staffers working with him had taken the City's support for granted, as would be expected. However, that morning, says Duckworth, everything changed:

The City Clerk's Office informed me this AM that the City Petitions count [sic] not be counted until the overall total of all other Petitions was 50% or more. (That's a new practice.) This does affect our methodology for completion of the Petition Drive as shown below. We still have some work to do!

If this is accurate, and I don't know why it wouldn't be, it raises two monumental questions. First of all, how is it legal for the Clerk to adopt a policy like this without City Council approval given that it seems to contradict the 1996 policy, which was approved by the City Council? I am in the process of investigating this and I'll get back to you on it if I learn anything.
Second, what will happen to BIDs with extraordinarily high proportions of City property, included by BID proponents to take advantage of the City's automatic approval policy? The BLQ BID only has around 2.5% City property in it, so it wasn't hard for the proponents to get to 50%+ without the City's petitions.
However, some BIDs, and the Venice Beach BID and the San Pedro Historic Waterfront BID are two of the most egregious examples, don't seem to have any hope at all of hitting 50% approval without the City's petitions. What will happen to BIDs like this when they come up for renewal? Turn the page for more detailed analysis and some speculation!
Continue reading It Appears That The City Of Los Angeles Will No Longer Sign Petitions For BID Establishment Or Renewal Until 50% Of Non-City Petitions Have Come In — If True This Would Be A Radical Change In The City's BIDscape — Just For Instance The Venice Beach BID Would Never Have Been Established — San Pedro Would Never Have Been Renewed — If This Is True It Would Seem To Be Impossible For Venice Or San Pedro To Renew Again In Their Present Forms →