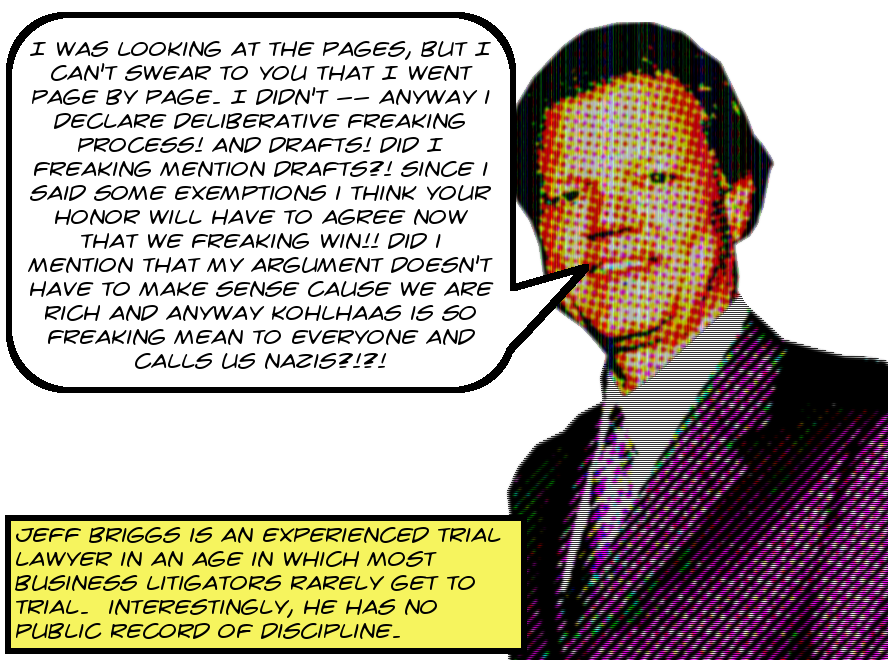 One of the biggest flaws in California's Public Records Act is that the various local agencies that constitute our government are trusted to search their own records, decide without oversight what's responsive to requests and, worst of all, decide what's exempt from production. My general feeling about BIDs and record searches is that they purposely don't find everything, about their exemption claims that they're mostly lying.
Unfortunately, without a lawsuit, it's not realistically possible to get a look at records for which they've claimed exemptions.1 Hence it's not usually possible to check how closely this feeling corresponds to reality. However, due to an interesting confluence of events, I recently obtained a number of emails between various people at the Hollywood Media District BID for which their lawyer, Jeffrey Charles Briggs,2 had claimed exemptions, thus making it possible to compare his claims with the actual records. Unsurprisingly the exemption claims turned out to be
pure and unadulterated nonsense. You can find the emails and some analysis after the break, but first I'm going to ramble on a little about some tangentially related issues.
Like many policies, this default assumption of honesty on the part of local agencies no doubt works when it works, but when it comes to the BIDs of Los Angeles, who are staffed, for the most part, with the most unscrupulous bunch of pusillanimous chiselers ever to engorge their bloated reeking tummies at the public piggie trough, it doesn't work at all.3 They lie, they confabulate, they delude themselves and others, and generally display utter and overweening contempt for the rule of law.4
And nowhere does their misbehavior reach a more fevered pitch than in the use of the so-called "deliberative process" exemption to the CPRA. In short, this is an exemption that courts have built up out of the "catch-all" exemption to CPRA, found at §6255(a), which says:
Continue reading An Unforced Error By Self-Proclaimed Hollywood Superlawyer Jeffrey Charles Briggs Provides Unique Insight Into The Thoroughly Cynical, Thoroughly Bogus Nature Of BIDs' Use Of The Deliberative Process Exemption To The California Public Records Act — They Even Used It In One Case To Cover Up A Blatant Brown Act Violation →