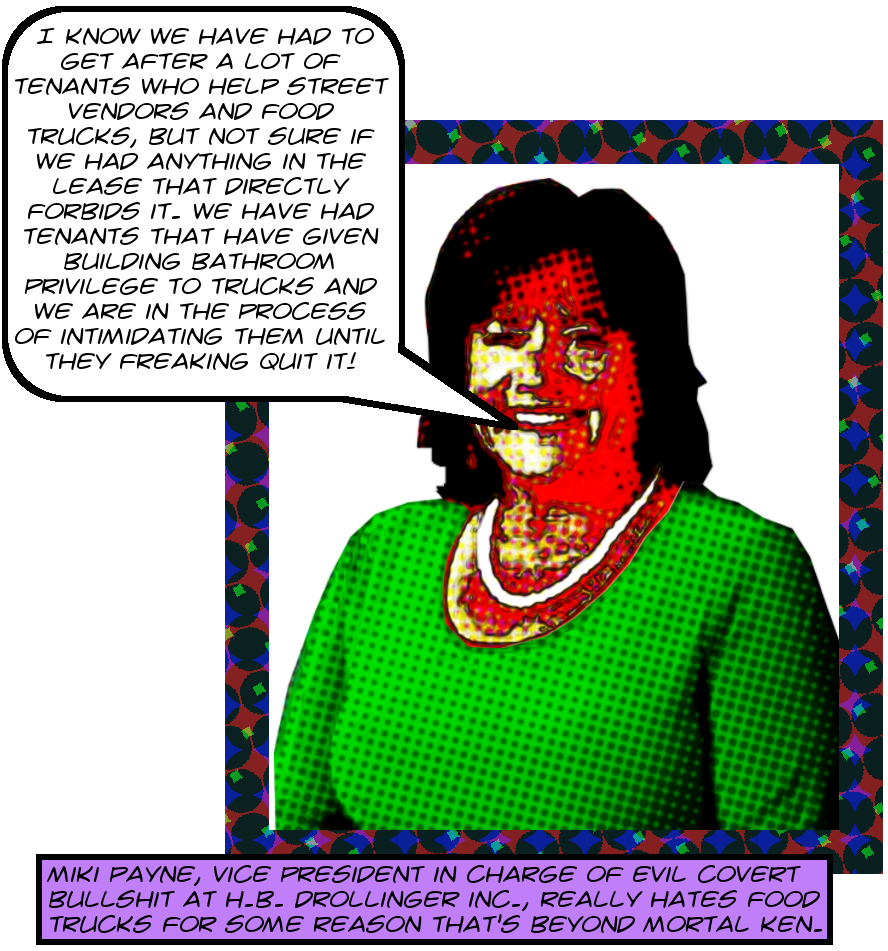 One of the most hotly contested components of the evolving street vending framework in Los Angeles over the last few years has been a clause requiring vendors to get permission from businesses that they operate near. BIDs and other organized gangs of zillionaire-identified minions have pushed, and pushed hard, for such a requirement.1 And, as usual, their public-facing reasons are exceedingly altruistic. They're looking out for the small business owners or whatever.
This requirement, greatly desired by BIDdies of all stripes, was heavily promoted by their spokescreepers at the Central City Association. Their position on this issue was described in a set of talking points propagated by the CCALA in March 2018, where the BIDdies talk about how such consent is necessary for the success of the program, but don't worry cause e.g. "Property or business owner consent should not be an unreasonable hurdle for vendors it is a much more straightforward process than a public notification process."
And maybe it should not be unreasonable, but don't forget that these businesses are situated in commercial buildings, and BIDs are made up of commercial property owners. That is, the very people who are pushing one anti-vendor initiative or another are, on the surface, trying to give their tenants, the business owners, power over the vendors, and it's presented as being for the good of the vendors. But some emails, newly obtained from Karen Dial's embarrassingly Freudian monument to Daddy AKA the Westchester Town Center BID, reveal how commercial property owners are likely to abuse such a requirement.2
The discussion, between BIDdological freak show specimen Donald Duckworth, zeck dreck of the WTCBID, and Karen Dial's consensual Svengali AKA Miki Payne, vice-president for gratuitously creepy zillionairitude at H.B. Drollinger Inc., took place in January 2017, right at the height of gratuitously creepy BID anti-vendor hysteria.
And the idea is as simple as it is deadly to street vendors, who are, don't ever forget, part of the heart and soul of our City. It is to convince commercial landlords to write clauses into their leases forbidding their tenants, the business owners, from granting permission to vendors both to use adjacent sidewalks and to use their bathrooms.
Turn the page for more ranting, along with links to and transcriptions of the emails, and also a special bonus item revealing an incident in 2011 when a businessman in Westchester allowed a food truck operator access to his restroom and was forced to publicly recant his permission and confess his sins after pressure from the BIDdies.
Continue reading If Street Vendors Are Required To Get Consent From Business Owners Commercial Landlords Will Coerce Businesses Into Withholding Both Permission And Bathroom Access — Maybe Even By Rewriting Leases — Actual Conspiracy In The Westchester BID Shows How This Will Work — Did I Mention That Zeck Dreck Donald Duckworth Is A Horrible Person Who Forced A Local Barber To Write A Quasi-Maoist Self-Denunciation For Helping Out A Food Truck Operator?? →