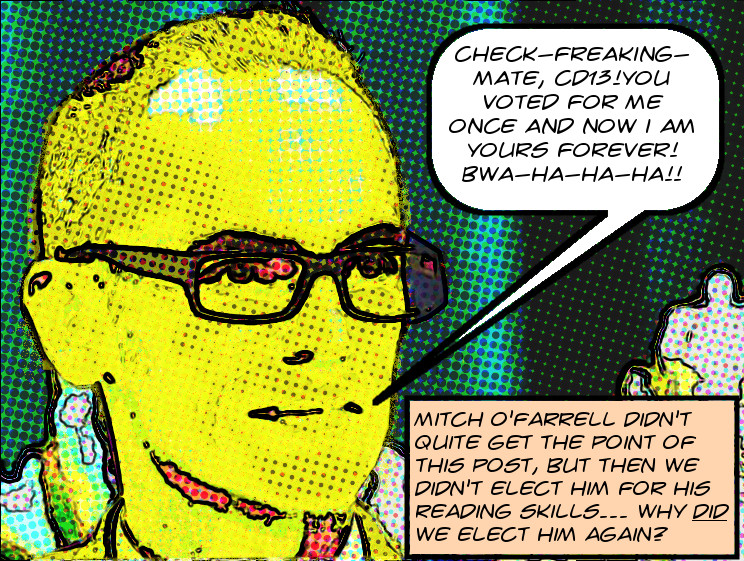 I'm presently working on a number of fairly involved projects which relate to the establishment and renewal processes for BIDs. There'll be more news on that later, but, tangentially, in the course of my research I've noticed that BIDs that are up for renewal tend to state the fact in their Annual Planning Reports ("APRs"). Just for instance, here's the Fashion District's 2017 APR. In there, on page 3, you can see BID renewal under the heading "Management/City Fees (Zones 1-9): $487,795.00 (10.67%)."
It's only recently that I've come to understand the importance of these APRs. First of all, BIDs in California are required by State law to produce them. According to the Streets and Highways Code at §36650(a):

The owners' association shall cause to be prepared a report for each fiscal year, except the first year, for which assessments are to be levied and collected to pay the costs of the improvements, maintenance, and activities described in the report.

In the laconic dialect of the law, this seems to say that assessments are to be spent on "improvements, maintenance, and activities" if and only if they are listed in the APR. This is one reason these APRs are essential to understanding the operations of BIDs. They're explicitly forbidden from spending money on matters not listed in the APR and they're explicitly required to carry out matters that are listed. This is possibly part of the reason why the City exercises hyperspecific control over the content of APRs even as they categorically refuse to exercise any control whatsoever even over overt malfeasance by BIDs.
And elsewhere in the law, specifically at §36622(k)(2), we find a statement of the infamous "special benefits" requirement for property-based BIDs:

In a property-based district, the proportionate special benefit derived by each identified parcel shall be determined exclusively in relationship to the entirety of the capital cost of a public improvement, the maintenance and operation expenses of a public improvement, or the cost of the activities. An assessment shall not be imposed on any parcel that exceeds the reasonable cost of the proportional special benefit conferred on that parcel. Only special benefits are assessable …

So BIDs are required to spend money on activities listed in the APR and all money they spend must be spent on special benefits to the property owners. Therefore the presence of BID renewal as a fundable activity in the APR implies that BID renewal in itself must be a special benefit to the property owners.
Continue reading Why Are BIDs In Los Angeles Allowed To Pay For Their Renewal Out Of Current Assessments? It Seems To Be Some Kind Of Pernicious Circular Reasoning And May Well Violate The Law →