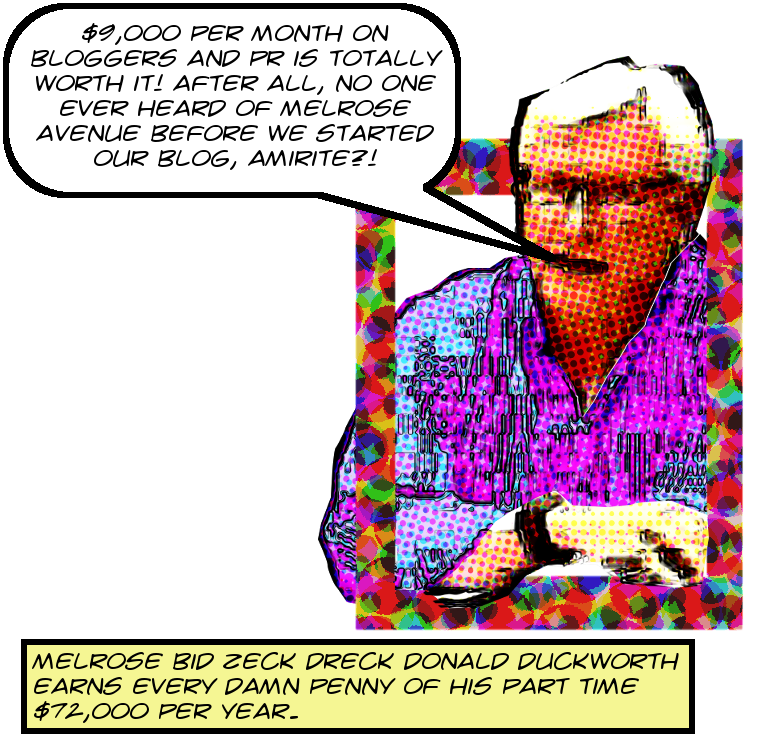 Turn over a rock and don't be surprised that crawlie lil creatures wiggle out, friends! As you probably recall, BIDdological freak show specimen Donald Duckworth in his guise as zeck dreck of the Melrose Avenue BID, stopped responding to my requests for public records early last year. So I lawyered up and filed a petition and now not only, I will deign to predict, is his BID gonna be on the hook for beaucoup de bucks but he actually started handing over goodies! One of these provides the text of today's sermon, which is this list of transactions of the MBID from 2013 through this June organized by payee.
And lord, there's a lot of weird stuff in there. For instance, note that in April and July 2017 Duckworth paid Hollywood Superlawyer and world famous Jeffrey Charles Briggs $1,000, presumably to ask his advice about the CPRA requests he had stopped responding to. Maybe Jeffrey Charles advised him to ignore me? Expensive advice, Mr. Superlawyer! Or maybe El Duckworth ignored his lawyer's advice? Expensive mistake, Mr. Duckworth!1
And of course there's a lot of normal stuff in there, like their security guard and their clean-up crew, and so on. But what really stands out is the money the BID is spending on social media content and blogging and public relations. Not only is the amount of money astonishing, many thousands of dollars per month, but the idiotic nonsense the BID is paying for is even more astonishing.
This cannot possibly be what all these property owners think they're paying extra property tax for, which is no doubt related to why they're fomenting revolution lately. It makes no sense at all. It's much more likely that Donald Duckworth, having cut himself a piece of cake to the tune of $6,000 per month to run the damn BID part time has to blow the rest of the money on something to justify his existence and he doesn't care what it is because it's not his money. Turn the page for examples and payments. Sheesh!

✰ David Abed ✰
Don Duckworth pays this social media hyperguru $1,500 per month to run the BID's social media, which I guess means their Facebook and their Twitter. The BID's total budget for 2018 is $564,373, so they're paying this genius 3.2% of their total money for the year.2 And what's he getting for it? Well, just for instance look at this, the world's best tweet ever: The greatest gift of life is friendship. The second greatest is coffee. #Melrose. Makes you want to run right out and drop 3.2% of the entire sum of money you're going to earn this year, does it not?
✰ Deborah Brosseau ✰
According to her official bio, Deborah Brosseau provides audience development services to arts & entertainment, lifestyle, and non-profit clients. She is a freelance writer, providing anything from local listicles to corporate profiles for various online publications. That's why Donald Duckworth is paying her $450 per month to generate blog posts for the BID's blog.
And here is just a sample of why El Duckworth is paying this genius about 1% of the BID's annual budget: Are you visiting Los Angeles and looking for the perfect memory to bring home? Maybe you live here and want to represent with a cool local-themed piece of art. Or, you just big heart our city and want a piece of it to show your love. No place in L.A. is more L.A. than Melrose Avenue. And here, of course, you'll find the most unique and endlessly cool gifts, clothes, and art pieces that reflect just how awesome it is.
Face it, you couldn't write that. Or if you could you're gonna continue to pretend that you couldn't. David Abed is getting 3.2% of the budget and Deborah Brosseau is getting 1%. That's 4.2% of the BID's annual budget accounted for to this point.
✰ Genie Davis ✰
According to her official bio, GENIE DAVIS is a multi-published novelist and journalist, and produced screen and television writer living in Los Angeles. Her novels range from suspense to romance, mystery, and literary fiction, with titles including mystery thriller Marathon, the noir Gun to the Head, and the romantic suspense of Executive Impulse, Between the Sheets and Animal Attraction. In between her busy career as a novelist and screenwriter3 she's getting $450 per month, another 1% of the BID's annual budget, to write blog posts.
And I know you're slavering for it, so here's a sample of what these lucky Melrose BID property owers are getting for their hard earned monies, which by the way we're up to 5.2% of the BID's annual budget by now:

Who doesn't love ice cream? And who doesn't love ice cream offered in a fresh, innovative style in a seemingly endless variety of possible flavor combinations? If you wish you could find exactly that, Cold Rolled Ice Cream Company offers delicious and cutting-edge ice cream treats that you just can't find anywhere else.

✰ Justo Diaz ✰
This guy is getting $1,500 per month from El Duckworth, a cool 3.2% of the BID's annual budget. It's not clear what he's getting it for, though. He only seems to have two blog posts so that's probably not it, but whatever it is, is it worth that much damn money? Unlikely. That brings us to 8.4% of the BID's annual budget.
✰ Kim Sudhalter ✰
Well, really, this money is going to Kim Sudhalter's PR firm, Urban Legend PR. I suppose for her more than $5,000 each month, which is a cool 10.7% of the BID's annual budget, Donald Duckworth is buying some public relations? Whatever it is, all this meshugganeh pork-barrel jive accounts for almost 20% of the BID's 2018 budget.
Those property owners are mad now they think? Wait till they become fully conscious of the fact that 20¢ out of every dollar they're forced to hand over to pirate king Don Duckworth is going to idiots tweeting about coffee? Does anyone think that there has ever been a single person in the entire history of the world who wakes up in the morning and announces that he was going to go to, I don't know, Disneyland, but that one tweet about the coffee and #Melrose was just so intriguing gonna go to Melrose and Formosa and get a tattoo and some ripped up riveted jeans instead!
And this whole story doesn't even take into account Dapper Donald Duckworth's $6,000 monthly haul, which is 12.8% of the budget. Got it, owners? 12¢ out of every dollar you pay in excess property taxes is going straight into Donald Duckworth's pirate chest. What's he doing to earn that money besides getting the damn BID sued due to his negligence? You've probably been wondering why one of Donald Duckworth's blog epithets is "the pirate king." Well, now you know.

Image of El Duckworth is ©2018 MichaelKohlhaas.Org.

Of course, even those who follow the advice of the superlawyer can end up paying some hefty bills, so maybe it doesn't matter in the end.
Check out their annual report for 2018, that shows their expected revenues to be $564,373.