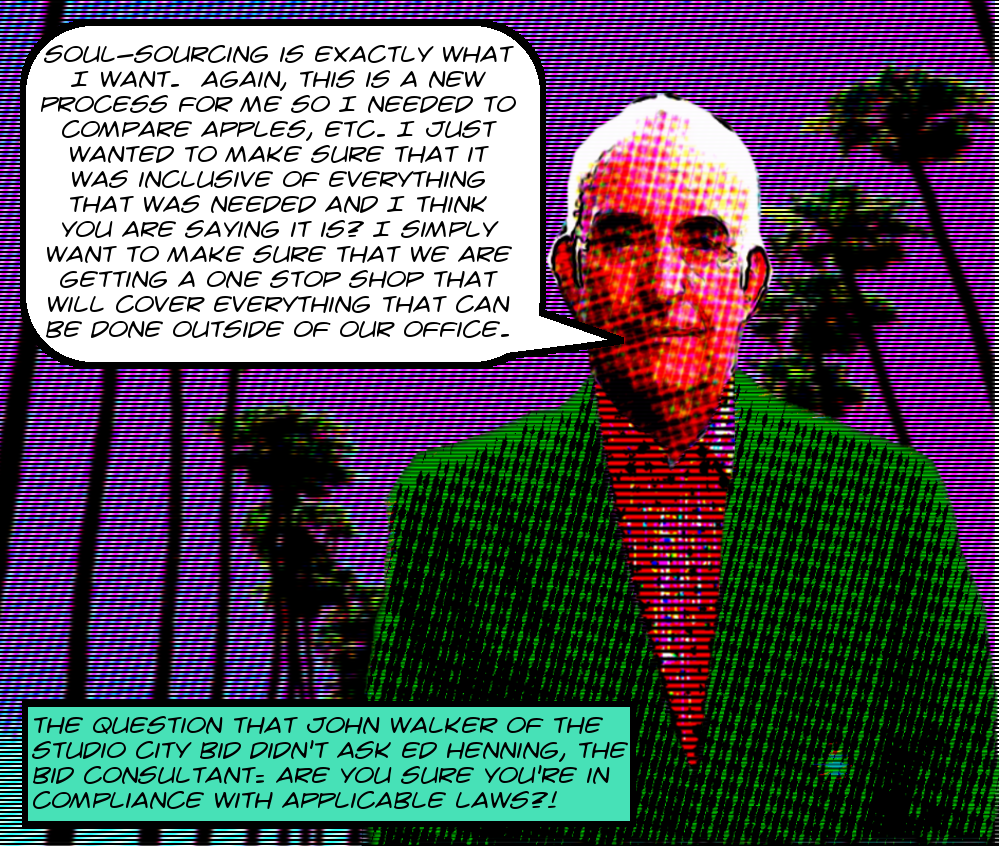 As I mentioned the other day, I recently received a huge set of emails from the Studio City BID.1 This is an interesting time to be looking at their correspondence, because the SCBID is set to renew in January 2020, so the process is just now getting started. And although I haven't had time yet to prep the whole multiGB release for publication, I did get this set of emails between John Walker and Ed Henning ready, along with all the attachments.
Ed Henning, you may recall, is a civil engineer and popular BID consultant. He recently handled the San Pedro BID's renewal. He did the engineering report for the South Los Angeles Industrial Tract BID in 2015, the South Park BID in 2017, and, most famously, for the Venice Beach BID establishment in 2016. His work on that last project was so shoddy that it led to a Venice resident filing a complaint against Ed Henning with the California Board for Professional Engineers.2
And, as it turns out, he is also handling the entire renewal for the SCBID, at an estimated total cost of no more than $18,900.3 And although John Walker's email conversation with Ed Henning was only tangentially responsive to my CPRA request,4 I got a really good set of records.
The emails contain discussions of Ed Henning's fees, of the various tasks to be completed in the renewal process, of the wisdom of the SCBID's adding more territory to their BID, of how various lawsuits against BIDs in Los Angeles have complicated the renewal process and of how Ed Henning is being coached by the defense attorneys in those cases on how to modify his Management District Plans and Engineer's Reports to withstand challenges, and so on.
This is invaluable information for students of the BID consulting process. Turn the page for links, transcriptions, and discussion!

---
⭓ July 2017 — John Walker to Ed Henning: "Hello – I am interested in contracting your services for our district. Please contact me at your earliest convenience so we can discuss." And Ed Henning has a lot of stuff he wants in return. Notice again how low even his ballpark quote is:

Hi John – very nice talking with you last week – attached is a "draft" proposal containing a scope of proposed services, the division of tasks, a rough timeline and bio info on me. I've left the $ amounts blank for now until I'm able to review your BID closer. At this point though I'm thinking of $15,000 as a base fee (not to exceed) with a $2,000 contingency or total not to exceed of $17,000. As a point of reference I did not have to use any contingency with San Pedro or South Park's recent renewals even though they were quite complex and had several twists and turns along the way. … Thanks John – looking forward to hopefully working with you on this renewal project.
Ed Henning, Principal Consultant
Edward Henning & Associates
760-868-9963

And here's a link to the draft proposal that was attached to that email.
---
⭓ August 2017 — Ed Henning to John Walker explaining his lack of contact. This is an interesting item because Ed Henning says that outside of Los Angeles BID formation efforts aren't really supported by city staff. I'm really sure at this point that Los Angeles has weaponized business improvement districts in a way that other cities in California have not,5 and this is evidence in support of that theory:

From: Ed Henning <mreded2@gmail.com>
Date: Fri, 11 Aug 2017 11:53:18 -0700
Subject: Re: Communication
To: John Walker <john@thescbd.com>
Hi John – I haven't forgotten about you – I just finished up 2 more PBID renewal public hearings and ballot procedures this week (outside of City of LA) where I conduct the entire process with very little City staff support. I was holding off on submitting a formal proposal to you until I had time to look closer at and evaluate your potential expansion area relative to a fee basis. I now have the time to do that and will get a proposal to you over the weekend as I prepare proposals for a number of other PBID renewals.
Thanks for your patience.
Ed Henning
Edward Henning & Associates
760-868-9963

---
⭓ September 2017 — Ed Henning to John Walker stating that he hadn't known that John Walker was soliciting bids for the renewal from other consultants but that he'd heard it on the grapevine.6 This is interesting at least because it shows the existence of a robust gossip network in the insular world of BID consultancy:

To: John Walker – Studio City BID <john@thescbd.com>
From: Ed Henning <mred2@earthlink.net>
Subject: FW: BID Renewal Proposal
Date: Thu, 7 Sep 2017 12:29:19 -0700
John – this is the proposal I sent to you back on August 13th – it is still good and hasn't changed. What I had indicated that I would be preparing and send over to you was an agreement for services, thinking that you were sole-sourcing my proposal – i.e. not a competitive bid with other consultants. Since then I learned from someone else that you were also talking with others so I'll put that on hold until you and your Board makes some decision.
Thanks
Ed Henning

---
⭓ December 2017 — Ed Henning to John Walker explaining that he will carry out the entire renewal process and, most interestingly, complaining about how tricky the BID renewal process has gotten what with all the lawsuits. He reveals that he's in touch with lawyers defending BIDs in Los Angeles and that they're coaching him on how to prepare the required documents to avoid known issues:

To: John Walker <john@thescbd.com>
From: Ed Henning <mreded2@gmail.com>
Subject: RE: Items Needed
Date: Tue, 19 Dec 2017 12:36:05 -0800
Importance: normal
…
The Management Plans are quite tricky these days with the various BID lawsuits around the State as well as ones pending in LA proper as we speak. I'm in constant touch with the attorneys defending the City BIDs and they are coaching me on changes we should be making in our BID docs both in text and benefit analysis methodology. There are nuances and requirements now that didn't exist even 5 years ago – so older MDPs in LA are not appropriate to use as templates for new ones.
…

---
And there are indeed a few more interesting bits of information in the balance of the emails, but this post is already too long, and I'm going to skip over them because I really want to talk about the terms of the agreement between Ed Henning and the SCBID. In relation to this we have the following three items, which were attached to various emails in the production:
⭓ January 9, 2018 — renewal proposal and scope of work — This is the most important of the three documents. It describes the phases of the renewal work and the estimated times necessary to accomplish them in sufficient detail.7 In particular, phases 1.3 through 1.9 constitute the development of the management district plan.
The MDP is necessary for the City to pass the Ordinance of Intention. My present theory is that that fact makes a BID consultant's work into lobbying activity as defined in the Municipal Lobbying Ordinance. This is one of three components necessary to trigger the MLO's requirement to register as a lobbyist.
One of the other two is that the lobbying activity must include contact with a City official, like the ones at the Clerk's office that Ed Henning favorably compared to staff in other cities. In Los Angeles BID consultants are in constant contact with Clerk staff about preparing the groundwork for the Ordinance of Intention.
The final component is that a lobbyist must be paid for at least 30 hours of lobbying in three consecutive months. This is where this document is going to be absolutely essential in reporting Ed Henning for failure to register. See page 68 for a statement that phases 1.3 through 1.9 will be handled from March to June 2018.
This is four consecutive months. See page 79 for a statement that the estimated time to carry out these phases is 70 hours. See the pigeonhole principle for a statement that it's not possible to work 70 hours over four consecutive months without working 30 hours in some three consecutive months.
⭓ January 9, 2018 — renewal agreement — This doesn't seem all that different from his agreement with the San Pedro BID for renewal services.
⭓ January 11, 2018 — renewal retainer — Base fee $15,900. Contingency $3,000. Retainer $2,500. Not to exceed $18,900. Why does President & CEO Tara Devine charge so freaking much money?

Image of John Walker is ©2018 MichaelKohlhaas.Org. I used these palm trees by Joey Zanotti, who was kind enough to release the image under the CC BY 2.0 and also this cute fella right here.