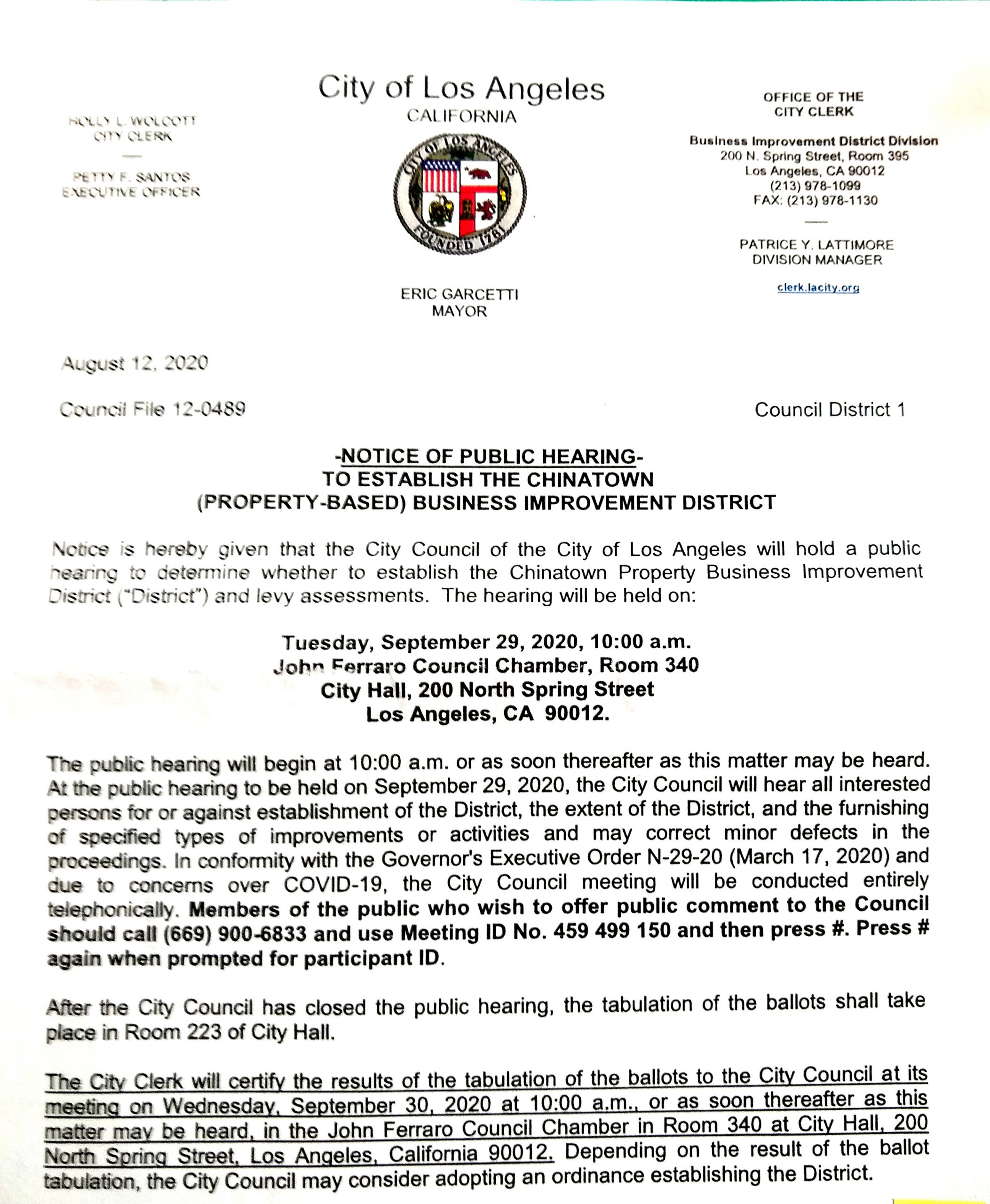 For a little while it looked like George Yu had messed up the Chinatown BID renewal process and that there would be no BID for 2021. But Yu and Gil Cedillo, acting through his flunky Hugo Ortiz, maneuvering behind the scenes and off the record, managed to get the process back on track somehow and ballots have been issued announcing a hearing on September 29, 2020 to solemnize the renewal and allow the BID to continue operations in 2021.1
There are two essential things for activists to understand about this part of the process. First, anti-BID property owners MUST vote no and return their ballots. The BID will be established unless received votes against outweigh received votes in favor. Unreturned ballots essentially count as yes votes.2
The second thing is that BID renewal hearings are not regulated by the Brown Act. Instead they're covered by Government Code §53753 The main difference is that, as Los Angeles activists know all too well, the Brown Act allows City Council to limit the total time for public comment but §53753(d) specifically forbids such a limitation:

At the time, date, and place stated in the notice mailed pursuant to subdivision (b), the agency shall conduct a public hearing upon the proposed assessment. At the public hearing, the agency shall consider all objections or protests, if any, to the proposed assessment. At the public hearing, any person shall be permitted to present written or oral testimony. The public hearing may be continued from time to time.

The City messed this up in 2016 when the Venice BID was being established. Herb Wesson, then president of the Council, cut off public comment and thus didn't allow everyone to talk, as if it were an ordinary Brown Act hearing. The incomparable Shayla Myers of LAFLA wrote a demand letter to the City explaining the problem, and the City repealed the ordinance establishing the Venice BID and had to redo the entire process.
In any case, on September 29, when the Council is hearing objections or protests to the renewal of the Chinatown BID, they will have to hear all of them, every last one. Everybody gets to convey their feelings about the BID and about why it is a terrible idea to keep funding and empowering George Yu. And if there's not time for everyone to talk on September 29, well, as the law says, "[t]he public hearing may be continued from time to time." Here are a few things that might be worth mentioning, but there is so much more:
Continue reading Chinatown BID Renewal Hearing Scheduled For September 29 At 10 AM — BID Renewal Hearings Are Regulated By Government Code §53753 Rather Than The Brown Act — The Main Difference Is That The City Is Not Allowed To Limit The Time For Public Comment At Such Hearings — The Law Explicitly Mandates That All Objections Must Be Heard — The City Ignored This In 2016 — And Thereby Messed Up The Venice Beach BID Establishment — It Is Also Essential For Anti-BID Property Owners To Return Ballots Opposing The BID — Because Of Quirks In The Law Unreturned Ballots Essentially Count As Yes Votes →