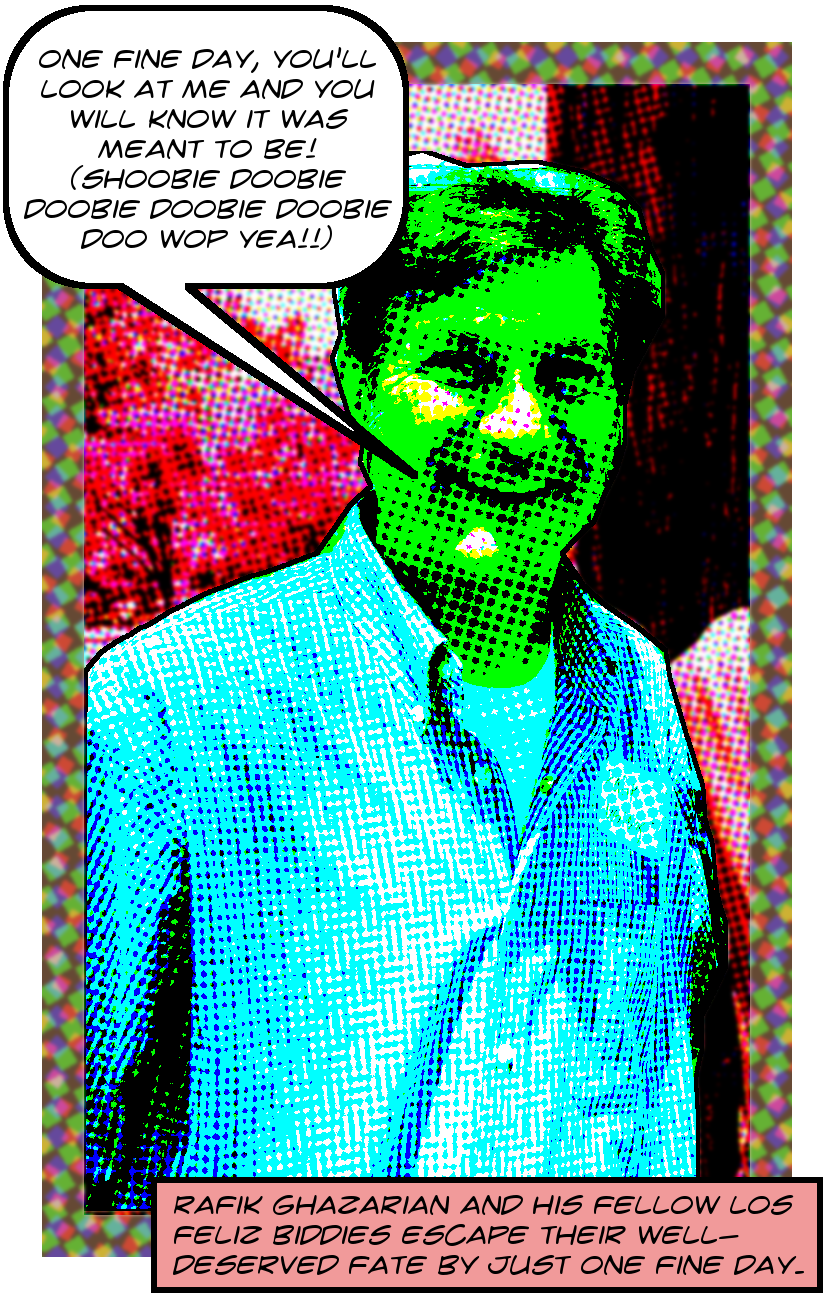 One month ago today, you may recall, I reported the Los Feliz Village BID to the Public Integrity Division of the Los Angeles County District Attorney's Office.1 I had exceedingly strong smoking gun level evidence, and you can read the original complaint here. Well, this morning I was semi-pleased to receive a copy of a letter from Alan Yochelson of the D.A.'s office to the BID's attorney, Mr. Hollywood himself, Jeffrey Charles Briggs.
You can read a transcription after the break, but the upshot is that, as the DA received my complaint 91 days after the incident, they were barred by the Brown Act, which requires action within 90 days, from doing anything about it. However, Alan Yochelson, who handles Brown Act matters for the DA, saw fit to advise Jeffrey Charles Briggs to tell his client, the LFVBID, that such discussions as were had outside of duly noticed public meetings by the BIDdies, were against the fricking law.
The stakes were high, as it's at least theoretically possible to force the dissolution of a BID if they're found to have violated any law. Hence I expect that they'll probably pay close attention to the Brown Act's requirements in the future. I know I'll pay very close attention to the deadline, which I didn't know about, more's the pity!

Transcription of the letter from the DA:

October 2, 2017
Jeffrey Briggs, Esq.
Briggs Law
6464 W Sunset Blvd Suite 715 Hollywood, CA 90028
Re: Los Feliz Village Business Improvement District
Dear Mr. Briggs:
On September 1, 2017, this office received a complaint alleging that your client, the Los Feliz Village Business Improvement District (BID), violated the Ralph M. Brown Open Meeting Act (Brown Act). Specifically, the complainant alleged that between May 17, 2017 and June 1, 2017, members of the BID's board of directors engaged in a series of via email communications discussing BID business. Because these discussions took place outside of duly noticed meetings, they allegedly occurred in violation of the Brown Act.
Initially, we note that our office received this complaint 91 days following the last email that allegedly violated the Brown Act. In order to commence an enforcement action, the district attorney or any interested party must first make a written demand to the legislative body to cure or correct the action alleged to have violated the Brown Act. This demand must occur within 90 days of the alleged violation. Government Code section 54960.1(b).
Here, because this office received the complaint more than 90 days after the alleged violation, there was no opportunity to issue the legally required demand that the BID either cure or correct its action. Because we are time-barred from taking action, we express no opinion whether or not the complaint is valid. However, we wish to take this opportunity to remind the BID that the Brown Act prohibits a majority of members of a legislative body from discussing its business or taking action outside duly noticed meetings. Government Code section 54953 et seq.
Thank you for bringing this matter to your client's attention. Please do not hesitate to contact us if you have any questions.
Very truly yours,
JACKIE LACEY District Attorney of Los Angeles County
BY
ALAN YOCHELSON Head Deputy District Attorney


Image of Rafik Ghazarian is ©2017 MichaelKohlhaas.Org and is modified from this little gem right here which, although I sadly have not the time to spend, will richly repay some close attention, showing, as it does, our hero Mr. Ghazarian with this freaking guy.

If you want to submit Brown Act complaints of your own, either send them by postal mail to the address in the link there or else send them by email to Alan Yochelson at AYochelson@da.lacounty.gov.