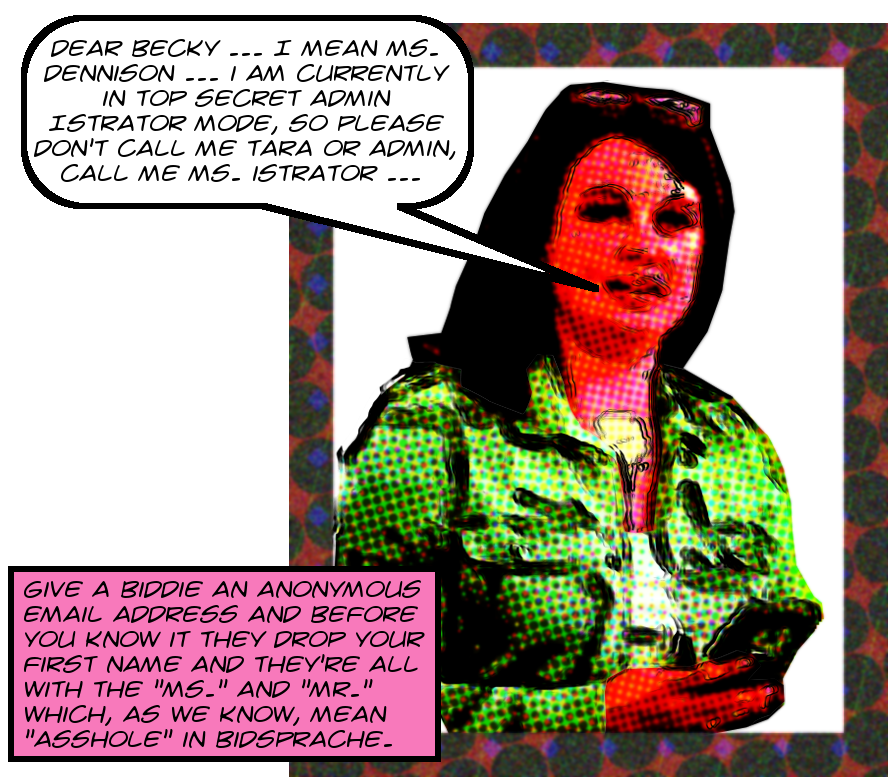 So in April 2018 I had to file a petition against the Venice Beach BID seeking to enforce compliance with the California Public Records Act because they're so damn obstructionist that they had, at that time, been ignoring my requests for 14 months. Well, a few weeks after my lawyer filed the petition, Tara Devine started producing records1 and recently I received another set, this consisting of 45 emails between Devine and various parties on the subject of the BID's search for a security provider. The whole set is available here on Archive.Org.
Unfortunately, there's very little of specific interest here, although not nothing, and the interest is most certainly not nothing. Most importantly, there's yet more circumstantial evidence that the VBBID engaged in systematic and egregious violations of the Brown Act during 2017. On a more personal level, but still interesting for the insight they yield into the weirdo mindset of BID executive director Tara Devine, there are records here demonstrating the radically different modes of address she uses depending on which email account she's using to communicate.
For instance, she addresses Becky Dennison as "Becky" when sending from her tara@venicebeachbid.com or her tara@devine-strategies.com accounts, but when sending anonymously from admin@venicebeachbid.com she calls her "Ms. Dennison." Note that this phenomenon may or may not be related to the semantic oddities of Kerrymorrisonese.
It's also interesting that the ultimately successful bidder for the BID's security contract, Allied Universal, hired Los Angeles superlobbyists Cerrell to influence the BID's choicemaking process. Unfortunately the emails contain just enough information to show that this happened while remaining silent on why it happened or how it played out in the selection process. Hopefully further research will shed light on these issues.
And turn the page for links to and transcriptions of specific emails!

First of all, consider this September 21, 2017 email from Josh Yeager to Tara Devine.2 One can see from his email address, josh@cerrell.com, that Josh Yeager is employed by Los Angeles megalobbyist Cerrell. And what he is doing is lobbying the Venice Beach BID on behalf of his client Allied Universal Security in their (ultimately successful) quest to be awarded the BID's security contract:

From: "Josh Yeager" <josh@cerrell.com>
Date: Sep 13, 2017 4:53 PM
Subject: RE: Allied Universal Meeting
To: "Tara Devine" <tara@devine-strategies.com>
Good afternoon Tara,
Just following up on my email and voicemail to see if you are available next week for lunch to meet with Tracey and our client, Allied Universal.
Happy to meet close to your office or wherever is most convenient!
All my best,
Josh Yeager

For what it's worth, Tara Devine was not willing to be openly lobbied, at least not as a result of this exchange. Thus see her reply to Josh Yeager, sent a mere four minutes later:

Subject: Re: Fwd: RE: Allied Universal Meeting
From: Tara Devine <tara@venicebeachbid.com>
To: josh@cerrell.com
Cc: tracey@cerrell.com
Josh:
My apologies for the delay in responding. I spoke briefly with Tracey awhile ago and explained our process.
We will be hosting a Q&A session as part of our RFP process; we have had many requests for information or meetings from potential vendors and regrettably don't have the resources to accomodate all the requests. I'm currently a staff of one with some additional part-time support.
As a result, the Board feels that the best approach is to do a group session. That will likely be in early October.
Warmest regards,
Tara

And then on September 25, 2017 the RFP process that all these correspondents3 had been waiting for began in earnest, as Tara Devine sent them all this email providing official copies of the RFPs:4
Date: Mon, 25 Sep 2017 08:14:50 -0700
Subject: Request for Proposals (RFPs) for VENICE BEACH Business Improvement District (VBBID)
From: Tara Devine <tara@venicebeachbid.com>
To: Admin Istrator <admin@venicebeachbid.com>
Bcc: Steve Hillard <shillard@streetplus.net>, Rick Stoff <stoffr@changelives.org>, trevor.kale@changelives.org, Stan Muhammad <smuhammad@helperfoundation.org>, Becky Dennison <bdennison@vchcorp.org>, tracey@cerrell.com, MLammon@blockbyblock.com, gperez@cleanstreet.com, PCeglarski@staygreen.com, BRADY METCALFE <metcalfebrady@gmail.com>, knakano@streetplus.net, wbutts@lacorps.org, bsavage@lacorps.org, sseyler@andrewsinternational.com, jason.stapleton@aus.com, rskillman@lacorps.org, josh@cerrell.com
If you have received this email, you:
— previously expressed interest in receiving one or both RFPs OR
— were identified as a potential provider of the services outlined in one or both RFPs
Attached please find the clean and safe RFPs for the new Venice Beach BID.
Please pay close attention to the Timeline (p. 5), the Required Format for the proposal (p. 14) and Additional Package Requirements (p. 17) in each document.
If you would like to be removed from this mailing list, please send a request to: admin@venicebeachbid.com

This email came with two attachments:
This garnered multiple responses, as you might imagine, but the one I'm interested in today is this September 26 response from Becky Dennison of Venice Community Housing:

From: Becky Dennison <bdennison@vchcorp.org>
To: Tara Devine <tara@venicebeachbid.com>
Subject: RE: Request for Proposals (RFPs) for VENICE BEACH Business Improvement District (VBBID)
Date: Tue, 26 Sep 2017 17:00:58 +0000
Hi Tara,
Thanks for these. It seems that the Board must now be in place and meeting – I haven't seen any notices. Where would we find the Brown Act notices or other information about Board meetings? Please let me know.
Thanks,
Becky

After Becky Dennison sent this email to Tara Devine, who might plausibly have seen it as some kind of threat given the very plausible hint that there were some ongoing Brown Act problems with the VBBID board, which had not met yet, not even once, and yet seemed to be generating actual decisions, like when and how to conduct the RFP process, Tara Devine did something quite peculiar. She forwarded the email to herself.
But not to her tara@venicebeachbid.com address, as she'd been doing in an effort to get her correspondents to switch over. Instead she forwarded it to what at least superficially appears to be a personal email address: tdevine76@gmail.com.5 This is the first time I've seen this address in action, and the linked-to email is the only instance of its use that I've been able to discover in my collection of BID-related emails.6 Tara Devine didn't respond officially to Becky Dennison's email until almost a week later, with this October 3, 2017 email:

Becky:
My apologies for the delay. I had surgery last Tuesday afternoon and the recovery was a bit more involved than expected. I am back this week on a less-than-full-time basis and so am prioritizing carefully.
Yes, the board is in place. The first BID board meeting will likely occur in November/December. We sent a mailing (letter) last month that included a link to sign up for our (MailChimp) mailing list, and we are preparing another mailing (postcard) that will include the link again. All of our meeting notices will be sent to the MailChimp list.
Warmest regards,
Tara

And that's all very interesting, although almost certainly entirely a lie, but today we're just looking at the salutation and the closing. Note how Tara Devine addresses Becky Dennison as "Becky" and closes with her7 signature "Warmest regards." In response to this, and in the same relational register, Becky Dennison responded the very next day: Thanks Tara. Also, where is tomorrow's q&a session?
And here's where things go down the weirdo rabbit hole of Taradevinity. That evening Tara Devine forwarded Becky Dennison's email to herself at her admin@venicebeachbid.com account:

Date: Wed, 4 Oct 2017 20:02:22 -0700
Subject: Fwd: RE: Request for Proposals (RFPs) for VENICE BEACH Business Improvement District (VBBID)
From: Tara Devine <tara@venicebeachbid.com>
To: Venice Beach BID <admin@venicebeachbid.com>
———- Forwarded message ———-
From: "Becky Dennison" <bdennison@vchcorp.org>
Date: Oct 4, 2017 12:34 PM
Subject: RE: Request for Proposals (RFPs) for VENICE BEACH Business Improvement District (VBBID)
To: "Tara Devine" <tara@venicebeachbid.com>
Thanks Tara. Also, where is tomorrow's q&a session?

And then, less than 90 minutes later, Tara Devine sent this email in her guise as "Admin Istrator":

Ms. Dennison:
Is this an RSVP for today's meeting? RSVPs were due Tuesday, so please let me know ASAP.

It's no longer Becky, mind you. Now that Tara Devine has an alias to hide behind, it's "Ms. Dennison," which is DEFINITELY related to the peculiar semantics of Kerrymorrisonese. And it's no longer friendly this and warmest regards that, instead it's snippy requests for clarification and prose-embedded eye rolls. Remember when you were a kid and you thought grownups were mostly sane, calm, and competent, and that psychopathic weirdo grownups were an anomaly? Isn't it sad to grow up and find out that it's essentially the opposite? It's psychopathic weirdos all the way down.
Which brings us to the most important issue to be illuminated by these emails. It's not President Tara Devine's weirdo personality shifts depending on which email alias she's using. It's not the fact that responders to the Venice Beach BID requests for proposals felt it was worth the money to hire stratospherically expensive superlobbyists to help them win the proposal. All that stuff is interesting, it's true,8 but it's not the most interesting issue illuminated by the records in this release.
The most interesting issue is the one hinted at above by Becky Dennison. That is, given that the BID came into existence on January 1, 2017 but did not begin holding public meetings until January 5, 2018, one really wonders how all these decisions about the RFPs were made?9 Of course, it's well known in these parts that the Brown Act at §54952.2(b)(1) states unequivocally that:

A majority of the members of a legislative body shall not, outside a meeting authorized by this chapter, use a series of communications of any kind, directly or through intermediaries, to discuss, deliberate, or take action on any item of business that is within the subject matter jurisdiction of the legislative body.

Since there were no meetings before January 2018 it follows that if the BID were complying with the Brown Act then there were no discussions, deliberations, or takings of action on any items of business before January 2018. But there were actions taken, so there must have been violations. Part of what the BID is hiding in their refusal to hand over the records I requested in a timely manner is almost certainly evidence of these violations.
The Brown Act has super-strict deadlines for taking action,10 and by delaying the production of these records, the BID is likely running them out one at a time and thereby, they imagine, protecting themselves from liability. That may indeed be what's happening here, but I imagine that ultimately it's not going to be that successful.
The problem is, as always, that these BIDdies11 are so freaking arrogant that they're essentially, constitutionally, genetically incapable of complying with either of California's two great government transparency laws. They have violated the Brown Act before, they are violating it now, and they will violate it again. At some point they'll be forced, if not by fiscal prudence then by the freaking Superior Court, to establish a reasonable workflow for responding to CPRA requests, and then we'll have them, if not on this past stuff, then on the new violations they won't be able to stop themselves from committing. Things are looking down for the BID, friends, which is good news for humanity!

Image of Tara Devine is ©2018 MichaelKohlhaas.Org and is a zoopski-woopski of a screenshot from this lil video right here.