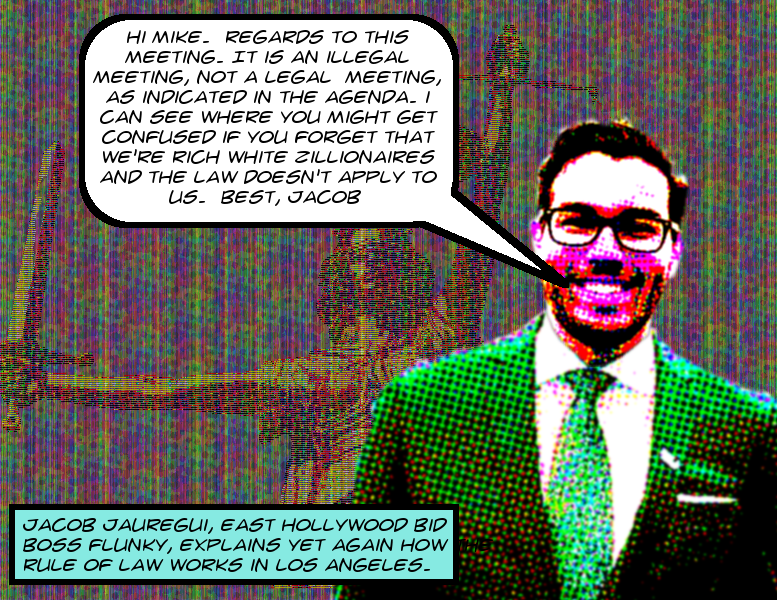 OK, I have a tiny little story for you about a tiny little BID, the East Hollywood BID, located in beautiful EHo, a toponym commonly used by no living human being ever for East Hollywood.
On December 20, 2017, at 4:26 p.m., East Hollywood BID Boss Flunky Jacob Jauregui1 sent out an email to the EHBID mailing list announcing a special meeting to be held by teleconference on Friday, December 22.2 I noticed that there was no physical location given in the announcement or on the agenda. However, the Brown Act explicitly forbids this. See §54953(b), which requires that if teleconferencing is used there must by physical locations which are open to the public at which they can participate in the meeting.
So for a while I thought I'd wait till they held the illegal meeting and then turn them in to the Public Integrity Division of the Los Angeles County District Attorney. But then, moved perhaps by the true spirit of Christmas,3 I decided to let Jacob Jauregui know of his BID's impending transgression and give them all a chance to do the right thing for once.

Consequently at 4:30 p.m. I fired off an email to Jacob Jauregui asking the necessary questions:

Thanks, Jacob.
Where can I go to attend this meeting? There's no address given on the agenda. Also, is it at 10 a.m. as stated in the subject line or at 4:30 p.m. as stated on the agenda?
Thanks again,
Mike

And then, either drunk on white privilege and zillionaire proximity4 or because he didn't receive the email,5 Jacob Jauregui proceeded not to answer. The matter was somewhat pressing, though, since the illegal meeting was scheduled for 10 a.m. on Friday, December 22 and so the Brown Act's notice requirements necessitated a correct agenda to be distributed no later than 10 a.m. on Thursday, December 21.6
Hence at 8:15 p.m. I fired off another email, this one CC-ed to Jacob Jauregui and, for extra gadfly points, addressed to the EHBID's erstwhile and possibly present attorney at law, famed member of the California Bar, and self-proclaimed avid golfer, the reknowned Jeffrey Charles Briggs,7 and here is what it said:

Hi Jeff,
if you're still representing the EHBID, can you please figure out for me what the location of this meeting is and at what time the meeting will be held? If you're not still representing them, of course, please ignore this.
It's not clear from the material sent when and where the meeting is and Jacob isn't responding. I imagine that if it's meant to be at 10 a.m. on Friday you'll want to have this sorted out by tomorrow at 10 a.m.
Thanks for your help,
Mike

And, for whatever reason, this woke up Jacob Jauregui, but, still groggy or whatever, he didn't seem to be taking me seriously in his response, sent at 9:01 p.m.:

Hi Mike,
This is the first email I have received I. Regards to this meeting. It is a conference call, not an in person meeting, as indicated in the agenda.
Best,
Jacob

Well, at this point I was very, very, very tempted to just hush my mouth, let them hold the illegal meeting, and then turn them in to the D.A. But my shoulder angel beat the living snot out of his evil twin to the left and a few minutes later I sent a reply to Jacob Jauregui:

Hi Jacob,
Teleconference meetings need to be held at a physical location, which must be identified in the agenda. See the Brown Act at section 54953(b). Please advise soonest. Also, what time is the meeting? The agenda says 4:30 and your email says 10.
Thanks for your help,
Mike

In his typical ungrateful manner, no word came back from Jacob Jauregui. Not, at least, until 12 hours later, when he sent out this little missive to the stakeholders list:

Dear East Hollywood BID Stakeholders,
The East Hollywood BID Board of Governors special meeting conference call, which was scheduled to take place tomorrow, at 10:00 am, has been cancelled. We are working on setting a new date for the meeting and a new notice will be sent out shortly. We apologize for any inconvenience. We will be in touch soon. Happy Holidays!
Best,
Jacob

Notice how he gives no reason whatsoever. No owning his errors for our Jacob Jauregui. Anyway, it didn't take him long to get back in the saddle. A mere 24 hours after that, at 10:04 a.m. on Friday, December 22, out went this little item to the list:

Dear East Hollywood Stakeholders,
The next East Hollywood BID's Board of Governors meeting will be held on Wednesday, December 27th at 11:00 am, via Conference Call. Please use the following information to join the call:
The Dial in Number: (641) 715-3580
Access Code: 910-670 #
Alternatively, if you are unable to join us via conference call, a physical location for the meeting is open to the public at the Hollywood Hotel, 1160 North Vermont Avenue, Hollywood, CA 90029. Please see the attached document for the agenda and meeting materials.
We look forward to seeing you!
Jacob Jauregui
BID Coordinator
East Hollywood Business Improvement District
jacob@ehbid.org (323) 468-1380
http://www.ehbid.org/

Note how he solved all the legal problems without ever managing to admit that not only was he wrong and that his ignorance put the whole BID at some peril, but that without my kindheartedness he would have walked himself and his BID right off that Brown Act cliff.
Now, this may all seem like it's based on an esoteric technicality. After all, why should anyone spend as much time as I do reading and contemplating the weirdo intricacies of the Brown Act? But that would be a very wrong way to look at the matter.
The Brown Act has two overriding purposes, which are, first, to make sure that all decisions are made in public meetings, and, second, to protect and increase public access to the meetings where those decisions are made. Anyone who understands those two principles will pretty much be able to predict what the Brown Act has to say about anything.
For example, the Brown Act requires agendas to be posted on websites for the most part, but it also requires agendas to be physically posted, because not everyone has internet access and having internet access is not a prerequisite for being a citizen. This is a predictable requirement.
The Brown Act requires physically posted agendas to be in locations that are open to the public 24 hours a day. People have all kinds of obligations at various times of the day, and being available to view agendas during working hours is not a prerequisite for being a citizen. This is a predictable requirement.
And, finally, the Brown Act requires teleconferenced meetings to have at least one physical location where people can attend and participate in person. This obviously, OBVIOUSLY, must be required, because not everyone has a phone, and having a phone is not a prerequisite for being a citizen. This is a predictable requirement.
The fact that Jacob Jauregui, who's paid actual money by someone to run a damned BID, can't see that this MUST be true, is nothing more, nothing less than another symptom of the white supremacy that's characteristic of BIDs in Los Angeles. Anyone who'd taken the time to understand the basic principles of open government in California would never have fallen into this difficulty. But, of course, it's well known that both zillionaires and white supremacists don't have to follow the law in Los Angeles, so I suppose his failure is understandable. Not, however, forgivable. Next time, I promise, I won't be so kind.

Image of East Hollywood BID Boss Flunky Jacob Jauregui is ©2017 MichaelKohlhaas.Org. I slapped it up outta this little slab of lardoon right here comingled with this booful lil lady herself.