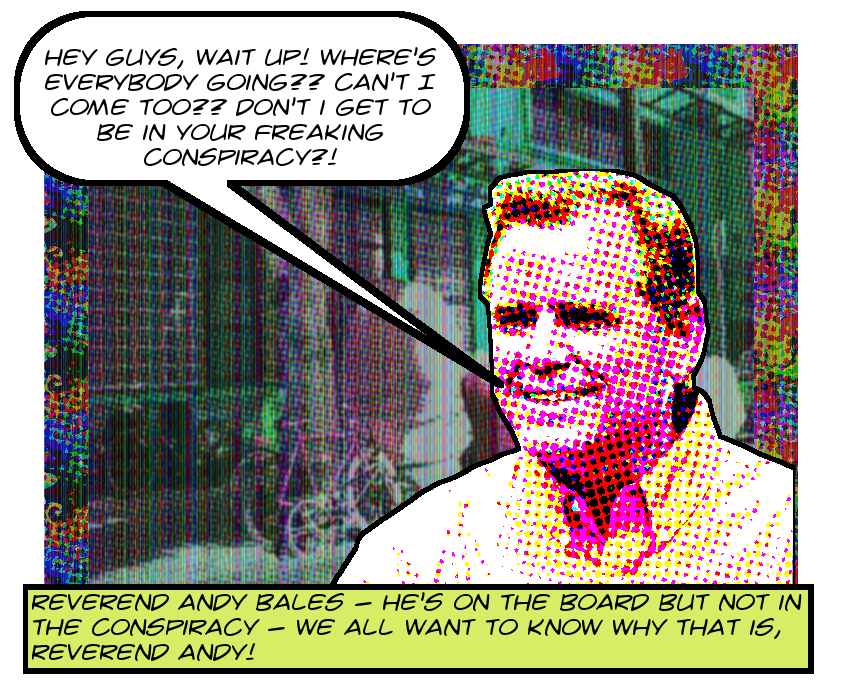 Background: You can read my previous stories on the Skid Row Neighborhood Council formation effort and also see Jason McGahan's article in the Weekly and Gale Holland's article in the Times for more mainstream perspectives.
Perhaps you've been following the story of the recent massive release of emails from the Downtown Center BID that has, so far, led to such revelations as the fact that Estela Lopez was at the heart of the United Downtown LA conspiracy, that she used her DLANC email address to further the conspiracy, and not least that six DLANC board members were covertly involved in that same conspiracy.
But we're not done with the material yet! There's still tons of interesting information to be gleaned. For instance, it turns out that 9 out of the 12 members of the Board of Directors of the infamous Central City East Association are on the United Downtown Los Angeles conspiracy mailing list.1 This, of course, makes the email discussion an awful lot like an illegal meeting of the board, according to the Brown Act.
It's a serious violation, too. The Brown Act at §54959 states that:

Each member of a legislative body who attends a meeting of that legislative body where action is taken in violation of any provision of this chapter, and where the member intends to deprive the public of information to which the member knows or has reason to know the public is entitled under this chapter, is guilty of a misdemeanor.

As far as I know, no one has ever been prosecuted under this clause, but if someone's going to be first, I won't be surprised if it turns out to be the infamously thuggish CCEA. And it's a hard case to make that quality of life crimes, e.g. public drinking, are more harmful than this kind of covert conspiratorial shenanigans. One's unaesthetic at worst. The other degrades the very fabric of our open society.
Keep that in mind the next time you hear a bunch of BIDdies bitching about crime Downtown and turn the page for the evidence and a detailed analysis of the violation!

First, let's establish which of the Board members were involved. Take a look at this March 24 email from ringleader Estela Lopez to the gang. Compare the recipient list with the Board of Directors of the CCEA. The ones whose email addresses I've listed are the ones who participated in the email discussion:
Now let's take a look at what the law actually says. First of all, the Brown Act at §54952.2(a) defines a meeting as:

… any congregation of a majority of the members of a legislative body at the same time and location, including teleconference location as permitted by Section 54953, to hear, discuss, deliberate, or take action on any item that is within the subject matter jurisdiction of the legislative body.

So yeah, email isn't meeting because of the "same time and location" requirement, but never fear! Such conversations are explicitly forbidden by §54952.2(b)(1):

A majority of the members of a legislative body shall not, outside a meeting authorized by this chapter, use a series of communications of any kind, directly or through intermediaries, to discuss, deliberate, or take action on any item of business that is within the subject matter jurisdiction of the legislative body.

So there are a couple things that remain to be established to show a violation of this section. First, that the Skid Row Neighborhood Council issue is "within the subject matter jurisdiction of" the CCEA board of directors and second, that they used this "series of communications … to discuss, deliberate, or take action on" the SRNC.
The first is easy. Take a look at the CCEA's agenda for March 2017. There's General Jeff right there making a presentation on the SRNC. Since the CCEA had the SRNC on its agenda, even they agree that it's part of their subject matter jurisdiction.
And as far as discussion goes, well, it turns out not to be necessary to prove that the board members discussed the issue amongst themselves. According to this extraordinarily useful guide to the Act by a former City attorney of Sacramento:

The Brown Act extends to a legislative body's "informal sessions or conferences" including briefings of members about matters even if no vote or action is taken. Collective acquisition and exchange of facts prior to the ultimate decision is part of "deliberation."

Irrespective of that, though, the board members actually did discuss the issue with one another, making the Brown Act violation even more clear. For instance, consider the following sequence of emails:
March 30, 2017 1:20 p.m. — Board member Bob Smiland emails the whole group about his experience with voter registration for the SRNC election.
March 30, 2017 1:42 p.m. — Board member Charlie Woo chimes in with some questions about registration.
March 30, 2017 2:11 p.m. — Estela Lopez responds to Charlie Woo's questions, showing that they are conducting an actual explicit discussion on the SRNC election.
This is one instance out of many, but it's enough to show that these nine members of the board egregiously violated the Brown Act during this weeks-long exchange of emails.
So what is to be done? Well, first of all, there are two sections of the Brown Act that deal with enforcement.2 The first is §54960.1, which is to be used for nullifying actions taken in violation of the act. First of all, the board didn't take any action here, so nullification doesn't apply. Second, as I learned from my experience reporting the Los Feliz Village BID to the County DA's Public Integrity Division, that section of the law requires action to be commenced within 90 days, which we're well past. Anyway, these are a couple reasons why §54960.1 isn't going to help us here.
However, §54960.2 provides an interesting, and, in this case, much more useful option. Instead of asking a court to nullify an illegal action, this section allows the DA or any interested party to ask a court to declare that an action violated the Brown Act. This is precisely what we want, since there's nothing to reverse. The procedure is this:
The DA or interested party sends a cease and desist letter identifying the violation and asking the violators to commit to never doing it again. This letter must be sent within 9 months of the violation, which in this case happened between March 20, 2017 and April 15, 2017.
The violators have 60 days to respond with an unconditional commitment never to do it again. If they do so the matter is finished.3
If they don't make such a commitment then a petition can be filed in superior court asking for a declaratory judgment stating that the violators did, in fact, violate the law.
Well, I will certainly send such a letter. I have to talk to a couple of people about it first and polish my draft, but you'll be the first to know when it's sent!4 Finally, I usually don't bet on BIDs doing anything much that's sensible, but in this case the CCEA might just cave in and commit to not discussing stuff by email in the future. The reason is that, at least for BIDs, the consequences of such a judgment can be severe.
Also note that the CCEA's contract with the City of Los Angeles requires them to comply with the Brown Act. In a sane world the City would actually enforce the terms of its contract against this noncompliant contractor. However, as you know if you've been reading this blog for a while, City Clerk Holly Wolcott not only refuses to do so, but, amazingly, continues to claim that the City has no power to enforce contracts with BIDs with respect to such matters. Thus, sadly, private action seems to be the only way to go. Stay tuned for updates!

Image of Reverend Andy Bales is ©2017 MichaelKohlhaas.Org and was pasted up out of this Andy Bales and this Skid Row, kindly released under the CC BY-NC-SA 2.0 by its creator, Later Dudes.