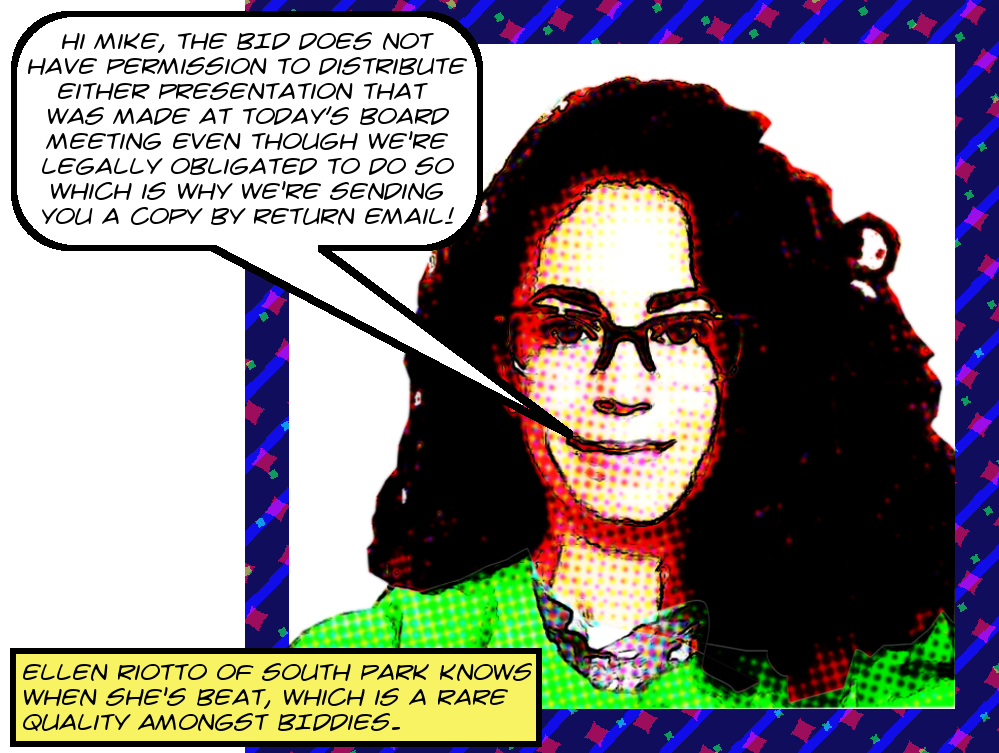 It's beginning to feel like all I do around here is educate the freaking South Park BIDdies about their legal obligations under the Brown Act. These are people who are so lawyered up in their daily lives that they don't even tell their kids they love them except on advice of counsel but for whatever reason they cannot or will not get reliable guidance on how to follow a single one of California's government transparency laws.1
There was this episode in February, this episode in April, this other episode in April, and now here we are in July with yet another hilarious tale of egregious flouting of statutory obligations on the part of the South Parkers.2 You may well recall that the South Parkies had a board meeting last Thursday, June 28, and that I attended and recorded it. And Ms. Joella Hopkins was a highlight, but not the only highlight.
There were also two presentations, one from AEG and another from yet another creepy-as-fuck hotel industry disrupter, known as Sonder, whose main advantage over Motel 6 seems to be that they have listening devices in their hotel rooms so that if guests play music too loud the company can turn it down remotely. What could possibly go wrong with that? You can watch Sonder's spiel starting here, and AEG's starting here.
Both of these presentations had associated slide shows, which the presenters seemed to think were somehow confidential. Sonder's had some statement on it about how it was tip-top-secret, and the AEG presenters actually asked if there were any media representatives in the room. Watch and listen here as the AEG lady asks directly albeit fairly incoherently: "Can I just ask for process oriented are there any media in the room today?"
But as far as I'm concerned, and the law tends to agree with me, once people show a slideshow in a meeting covered by the Brown Act, that slideshow is public property. So naturally I sent Ellen S. an email asking for copies of the goods, and turn the page for transcriptions, commentary, and to learn what ensued!

Me to Ellen S. Riotto asking for the presentations:

From: [mike@michaelkohlhaas.org]
To: ellen@southpark.la
Subject: Electronic files from this morning's meeting
Date: Thursday, June 28, 2018 12:03 PM
Good afternoon, Ms. Riotto!
I am hoping you will send me by return email a copy of the PDF that Sonder used for its presentation this morning as well as the PPT or whatever format it was that the other presenter on the convention center used.
Thanks!
[Mike]

And Ellen S. Riotto responded predictably:

From: Ellen Riotto <ellen@southpark.la>
To: [mike@michaelkohlhaas.org]
Cc: Public Records Request <publicrecordsrequests@southpark.la>
Subject: Re: Electronic files from this morning's meeting
Date: Thursday, June 28, 2018 3:03 PM
Hi [Mike],
The BID does not have permission to distribute either presentation that was made at today's Board meeting.
Best,
Ellen Riotto
Executive Director

Note that publicrecordsrequests@southpark.la is the anonymous email address the Southies set up many years ago on the advice of their putative lawyer, Carol Humiston. Evidently the purpose is to automatically CC my requests to her, although no one's sure why. In any case, this was the response I was expecting. The problem is that it's completely unsupportable, which I proceeded to explain in great detail:

From: [mike@michaelkohlhaas.org]
To: Ellen Riotto <ellen@southpark.la>
Subject: Re: Electronic files from this morning's meeting
Date: Thursday, June 28, 2018 3:24 PM
Hi Ellen,
Please reconsider. Providing me with copies immediately is required by the Brown Act at section 54957.5(a).
If that's not a sufficiently convincing argument for you consider that the files are sitting on your communication director's hard drive, which makes them public records. The opinion of the presenters is irrelevant per the CPRA at section 6253.3. Just in case you're thinking they're trade secrets or proprietary information or some other such putatively exempt category, please consider that an essential element of those kind of exemptions is an attempt to keep the material secret, which obviously presenting them in public while being filmed is a waiver of.
Thanks,
[Mike]

These are two of my favorite subsections, by the way. First of all, section 54957.5(a) of the Brown Act says that a local agency waives all exemptions under the CPRA when a record is distributed to the members at a public meeting. This is high and powerful juju:

Notwithstanding Section 6255 or any other law, agendas of public meetings and any other writings, when distributed to all, or a majority of all, of the members of a legislative body of a local agency by any person in connection with a matter subject to discussion or consideration at an open meeting of the body, are disclosable public records under the California Public Records Act … and shall be made available upon request without delay.

Section 6255 of the CPRA is the part that says they have to disclose everything unless it's exempt. By order of the legislature it doesn't apply here. And as far as Ellen Salome Riotto's theory that she needs permission from the presenters to distribute their goodies, well, this is a popular argument with agencies who have something to hide. So popular, in fact, that the legislature cut it off once and for all with section 6253.3 of the CPRA:

A state or local agency may not allow another party to control the disclosure of information that is otherwise subject to disclosure pursuant to this chapter.

By the way, I'm skipping over all that jive about trade secrets and proprietary information and so on, not because it's uninteresting, but because this post is already too long and the subject of trade secrets in relation to the CPRA is a real rabbit hole, one I am not really motivated to dive down this morning.
In any case, something in this argument had some effect on Ellen Salome Riotto, because the very next day she caved on the Sonder thing, while maintaining her stance with respect to AEG:

From: Ellen Riotto <ellen@southpark.la>
To: [mike@michaelkohlhaas.org]
Subject: Re: Electronic files from this morning's meeting
Date: Friday, June 29, 2018 11:12 AM
Hi [Mike],
Please find attached the Sonder deck. The BID is not in possession of the presentation by AEG – they brought their own thumb drive.
Best,
Ellen

And as a reward for making it this far, behold the Sonder presentation PDF! It's as tedious and as stupefying as you might suspect, but it's worth reading because it's a symbol of human freedom at this point!
Also, note Ellen Salome Riotto's attempt to save face with respect to the AEG presentation. The argument she's tangentially making is related to the fact that the CPRA defines public records to include records in the possession of the agency. She's asserting that her BID doesn't possess the AEG presentation so it's not a public record.
This is wrong for a number of reasons, but tactically it seems best to accept it for now, not least because it comes wrapped in the amazingly pertinent piece of information that the South Park BID allows presenters to use their own USB drives. I can't explain myself right here right now on the open internet,3 but don't be surprised if you hear about this little tidbit in the near to middling future, friends!
And so ends today's lesson. Well, not entirely. I did send one more email to Ellen Salome Riotto, thanking her and declaring peace. Read it if you want to, but I'm all done with the damn transcriptions for today and am signing off!

Image of Ellen Riotto is ©2018 MichaelKohlhaas.Org and is fixed right up from this puppers and ponyo party.

Probably because they're represented by Carol Freaking Humiston, the ballistically belligerent barrister of Burbank, whose advice may be good for her own damn paycheck, but not so much for her clients' peace of mind or bank balance.
Although it happened in June, if you're keeping track. Too much to write about around here, friends! I could post ten times a day if my damn stomach could take it.
Wanna have coffee sometime and I'll tell you all about it in person? Drop me a line at mike@michaelkohlhaas.org!