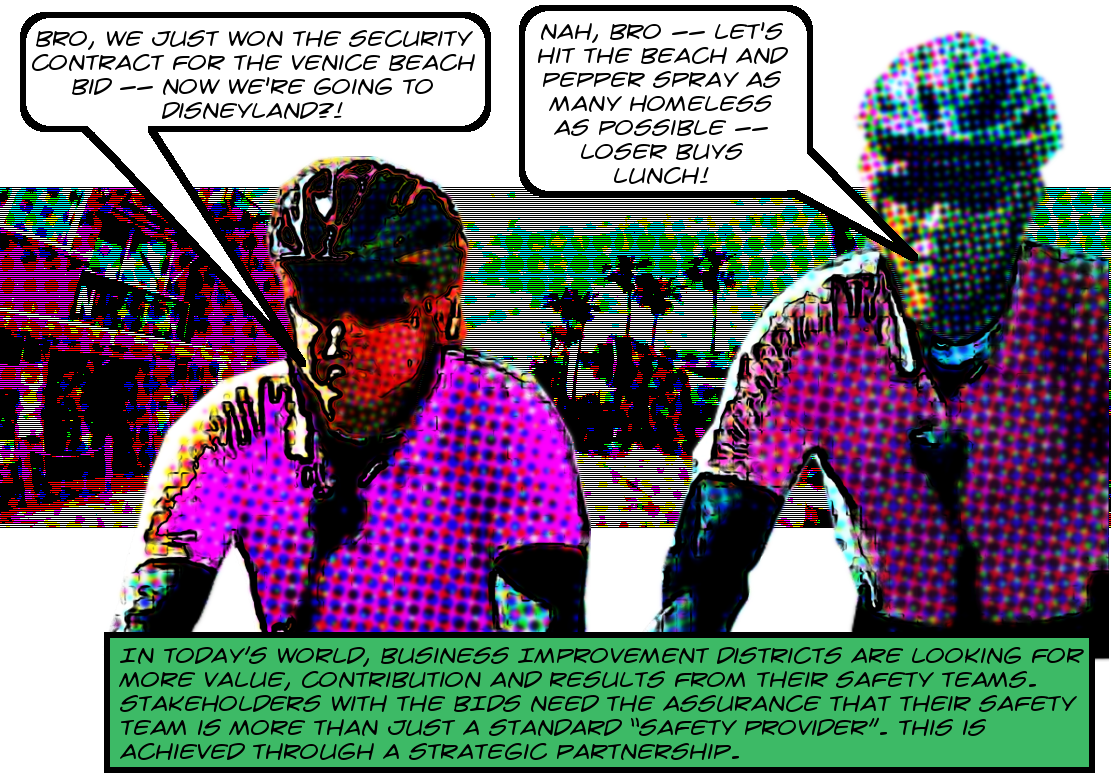 If you've been following my attempts to get public records out of the Venice Beach BID via the CPRA you'll remember that Tara Devine's sheer bloody-minded obstructionism led finally after more than a year of saint-like patience on my part to my being forced against my will to file a writ petition against the ornery BIDdies to compel compliance. Well, amazingly, it seems possible that the BIDdies aren't going to litigate,1 and one of the major indicators is that they have already started handing over documents!2
And here's what we have! First there's the executed contract between Allied Universal and the BID for security services along with some flyers for their job fairs. Second, there are three proposals to provide BID security, found here on Archive.Org, from Streetplus, from HELPER 2000, and, of course, the successful proposal from Allied Universal.
This last item is absolutely the most important prize torn from the vaults of the zillionaire elite in this particular raid. It contains really detailed information about the operations of the Venice BID Patrol, their training, their hiring and retention practices, how they see their mission, what kinds of records they keep, their relations with property owners and the BID board and staff, and so on. It's long, but it's essential. Turn the page for some transcribed selections and commentary.

✿ How much is the BID going to pay for security services in aggregate?

Year One
Total hours per week: 504
Cost per week: $12,360
Total hours per month: 2,016 (app)
Cost per month: $53,524 (app based on yearly divided by 12)
Total hours per year: 26,208
Cost per year: $642,695
Year Two
Total hours per week: 504
Cost per week: $13,622
Total hours per month: 2,016 (app)
Cost per month: $59,028 (app)
Total hours per year: 26,208
Cost per year: $708,344
Year Three
Total hours per week: 504
Cost per week: $14,505
Total hours per month: 2,016 (app)
Cost per month: $62,850 (app)
Total hours per year: 26,208
Cost per year: $754,208

✿ And how much does each individual security guard make, and how much does the BID pay?

✸ Position of Supervisor: Starting wage $15.00 / hour. 56 HPW. Total Bill Rate year one $26.25/ hour
✸ Position of Site Lead: Starting wage at $14.25 / hour, 112 HPW, Total Bill Rate year one $24.94 / hour
✸ Position of Standard Safety Officer: Starting wage $13.80/hour. 336 HPW. Total bill rate year one $24.15/hr

✿ What are the quality control procedures?

During each official inspection of the Security Officer's post, the inspection will include, but not be limited to, the following:
• Is the post manned as required?
• Is the Security Officer alert and aware of his/her surroundings?
• Is the Security Officer properly groomed and in full uniform?
• Are the Security Officer's licenses/permits up-to-date?
• Are the Security Officer's licenses/permits in his possession, on the job?
• Did the Security Officer sign in on the required attendance / post form?
• Is the Security Officer knowledgeable of all post orders?
• Is the work schedule posted?
• Are all of the Security Officer's equipment items clean, complete and in working
order?
• Are all assigned keys accounted for?
• Is the Security Officer properly trained and qualified?
Any inspections are documented on the "Allied Universal Inspection Report." Each week, the supervisors and QC Team will complete a report outlining all quality control monitoring activity and any corrective actions taken. The reports are sent weekly to the Branch Manager. The original copies are kept on file in the branch office and are made available upon request to the Venice Beach BID.

I'm especially interested in that last bit, of course. As you may recall, various BID security providers, led by Andrews International of the infamous Hollywood BID Patrol, around the City have rewritten their contracts to make their work product unavailable to the BIDs they work for.
Of course, this is entirely crazy because who can actually work like that and who actually believes the BIDs don't have access to the records, and3 the point is to keep the records away from me. It's little admissions like this one, that the BID can access the reports, that provide evidence that the reports are public records. It's early days yet with these Venice BIDdies, but I wouldn't be surprised if you heard more about this very issue at some point in the not too distant future.
✿ How do we complain about the Venice Beach BID Patrol? You may recall that this very blog got its start in October 2014 when I tried to file a complaint against these two bozos for their bizarre and unprofessional behavior. They were employed by Universal Protection Services, since merged with Allied Universal, and their supervisor refused to take a complaint.4 It's nice to hear that that's not actually supposed to happen. The local guy in charge, who I assume is empowered to take complaints, is Tad Garabedian. His email is tad.garabedian@aus.com and his phone number is 213-800-2996.

Complaints received by Allied Universal against personnel employed on this project by any individual (e.g., Venice Beach BID employee, visitor, etc.) are logged on Allied Universal's Complaint Form by the person receiving the complaint. The complaint is forwarded to the Coordinator/Contract Representative who is responsible for making sure the complaint is addressed. All actions are logged on the Complaint Form and filed in Allied Universal's local office.

✿ Which cops in particular does AUS get jiggy with? Is it just me or is it really weird that they're pimping out their "hand in hand" relationship with actual named LAPD officers to help them get a job? Like is the BID supposed to think that by hiring AUS they'll be able to cozy up to these cops too? Weirdos, every last one of them.

Here in the Los Angeles area, we work hand in hand with our Law Enforcement Partners such as our Senior Leads, Sgt. Flanagan, Sean Lewis, Dan Reedy, Dion Hall, Jamilah Linton, Captain Donald Graham, Captain Leslie, Chief Arcos, Commander Frank, Chief Downing to name a few. Our relationships within LAPD are unparalleled and we would venture to say that our relationship with Central Division specifically is by far the strongest.

✿ What exactly are the Venice Beach BID Patrol's duties, you may ask? Believe it or not one of them is freaking panhandling education! These people are so crazy, it's sometimes hard to believe they're serious. But they're dead serious. They also intend to "[c]onduct routine patrol of public gathering spaces, [a]ssist in addressing street population issues, [and deter] disruptive street behavior." That's really ominous, is it not? Doesn't it make you feel safer to have Mark Sokol, Steve Heumann, and Tara Devine deciding what kind of street behavior is "disruptive" and then sending out a bunch of thugs on bikes to deter it?

• Greet Venice workers, visitors, and residents with a smile and helpful attitude
• Provide information and responding to inquiries regarding businesses, government and educational facilities, transit services, facilities, and events
• Provide directions
• Set up and staff information kiosks, as needed
• Conduct street surveys and distribute informational material as needed
• Visit Venice business owners and managers to share information and report concerns
• Inform citizens how to effectively handle panhandling situations
• Other related service as deemed necessary including ensuring a clean environment
Serve as an extra set of eyes and ears to the local police and fire department
• Report code enforcement and "quality of life" concerns to appropriate local agencies
• Assist in addressing street population issues
• Respond to calls concerning incidents such as suspicious persons or injuries and alert other responders (police, fire rescue, Homeless Assistance Program) as appropriate
• Monitor and patrol the Venice area with the aim of deterring criminal activity and disruptive street behavior
• Maintain open communication with Los Angeles Police Department personnel
• Conduct routine patrol of public gathering spaces
• Monitor and report deficiencies of City services to ensure that streets remain bright and clean
• Maintain open communication with the Venice Beach BID Clean Team
• Any other related service as deemed necessary and appropriate

✿ What about homeless people? Well, just read below to see that Allied Universal knows how to deal with them. What's really creepy about this is that they distinguish between "illegal" actions and "unwanted" actions and they claim to be prepared to deal with both. So like in 2016 when Tara Devine told the LA Times Editorial Board that the BID Patrol's purpose was "to provide information to tourists, control crowds and engage in "crime prevention" activities" she wasn't giving the whole story. Controlling "unwanted" activities as opposed to actually illegal ones is a whole new story.

Allied Universal is keenly aware and experienced in dealing with the homeless and mentally ill. Our training module on dealing with the homeless and mentally ill, which will be detailed later in this proposal, focusses not only on how to deal with "illegal" and "unwanted" actions, but how to utilize compassion in dealing with this highly sensitive social issue.

Anyway, listen. That's all I'm going over here in detail, but it's really worth your time to read the whole damn document. It's got tons of detailed information on how these BID patrollies are trained, on the benefits they get, and so on. And this all is just the very first batch of records. There's so so so much more on the way, so stay tuned!

Image of Allied Universal Security Guards doing what they do is ©2018 MichaelKohlhaas.Org. It was made from a little bit of this and a little bit of that.