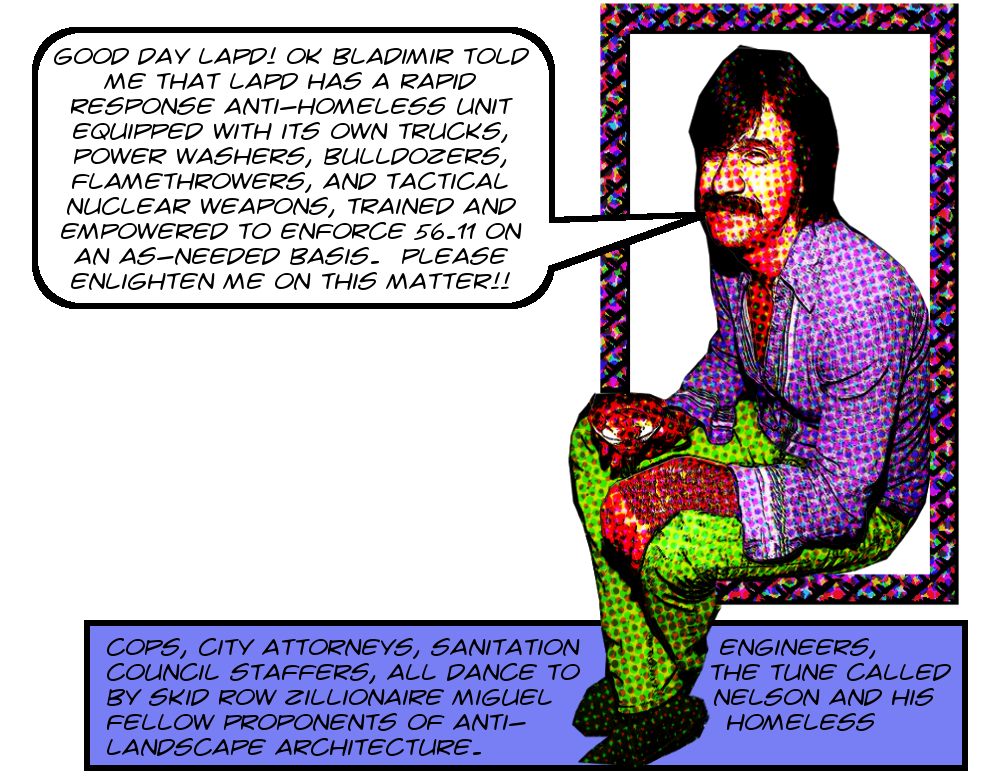 I recently obtained part of a vast set of records from the LAPD, comprising emails between four officers and a long list of people involved with homeless issues on Skid Row as well as a wide variety of other materials which was attached to the emails. The officers are Marc Reina, Aloaf Walker, Robert Arcos, and Keith Bertonneau. Their correspondents are many, but in particular property owner Miguel Nelson, deputy city attorneys Kurt Knecht and Gita O'Neill, and LA Sanitation staffer Bladimir Campos.
This is an incredibly rich, incredibly complex set of material. The whole thing, or as much as I have so far as I am told there is more to come, is here on Archive.Org. There are many, many enlightening stories to be told from these sources, and I will be posting on some of them over the next few days.1 Also, I hope to publish a list of some of this stuff soon with brief descriptions. But I have extracted one important story for you this evening.
There's been a lot in the news lately about anti-homeless planters in Venice of one sort or another, installed illegally and passively tolerated or even actively assisted by the City of Los Angeles. But the latest round of weaponized agriculture started last year in Skid Row with the so-called North Sea Project, which also involved giant heavy planters taking up the sidewalk to prevent people from sleeping there.
This North Sea installation was guided mostly by local property owner Miguel Nelson.2 According to KCRW Nelson obtained permits from the City for his hostile landscaping, unlike the copycats in Venice. The purpose of these planters, anti-homeless and pro-gentrification, was widely reported in the international press. Even the SRNC Formation Committee's own General Jeff weighed in on the anti-human motivation behind these abominations.
But what I haven't seen reported on anywhere is the astonishing level of City complicity in the installation of these Skid Row planters, which exceeds at least what we know about parallel issues in Venice.3 The evidence shows that the City of Los Angeles conspired with Miguel Nelson to coordinate the installation of sidewalk fencing on the east side of Towne Avenue between Fourth and Fifth streets with an Operation Healthy Streets raid.
Bladimir Campos of LA Sanitation gave Nelson five days advance notice of the cleanup so that he would have time to schedule his fence crew to barricade off the public sidewalk to prevent encampments from returning before he had a chance to install the planters. Note that five days is even more notice than the people living in the encampment got! Further, on the day that the cleanup crew was working Campos instructed his subordinates to give Nelson real-time estimates of their arrival. There's no reason to suspect that this level of cooperation wasn't in play through the whole North Sea installation process.
This is in sharp contrast to the City's refusal, which continues to this day, to give homeless rights advocates advance notice of cleanups so that they can be observed and recorded. Interestingly, the City is expressly forbidden by the California Public Records Act from releasing or refusing to release information based on the purpose it's to be used for,4 and yet that is exactly what they've done in this case by releasing it to be used against homeless people but withholding it from those who would use it to defend their rights.
It's also in sharp contrast to the City's stated purpose for Operation Healthy Streets, which like most5 such tools placed in the hands of the City has been weaponized to serve the interests of property owners. The mission at one time seems to have been fairly humane. Nothing to do with clearing out encampments so that property owners can colonize the space with planters:

Operation Healthy Streets (OHS) was implemented in 2012 as a robust homeless community outreach program designed to provide adequate notice and identify high-risk people in need of services and assistance.

As always, turn the page for links to and transcriptions of the actual evidence.
Continue reading Massive Record Release — Including Emails Between Skid Row LAPD, Deputy City Attorneys, Council Staffers, Property Owners — Shows Among Many Other Things Extensive City Collusion In Skid Row Anti-Homeless Landscaping Projects — Like Miguel Nelson's North Sea Horror Show — Encampment Cleanups Scheduled To Suit Needs Of Property Owners — Photographs, Briefing Documents, Sanitation Cleanup Schedules — And So Much Else It's Not Possible To List →