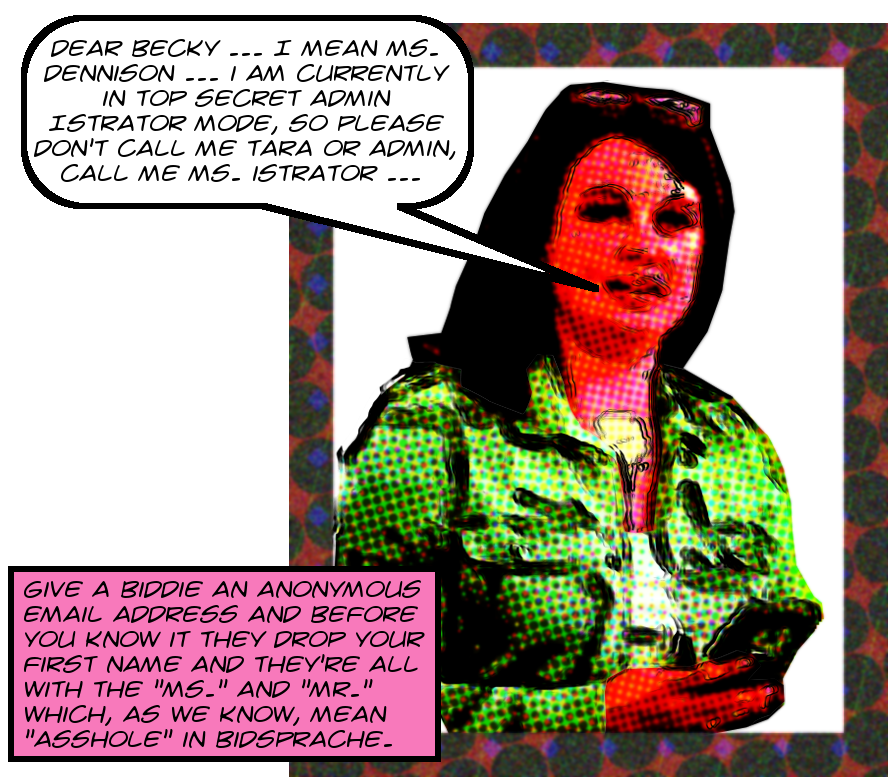 So in April 2018 I had to file a petition against the Venice Beach BID seeking to enforce compliance with the California Public Records Act because they're so damn obstructionist that they had, at that time, been ignoring my requests for 14 months. Well, a few weeks after my lawyer filed the petition, Tara Devine started producing records1 and recently I received another set, this consisting of 45 emails between Devine and various parties on the subject of the BID's search for a security provider. The whole set is available here on Archive.Org.
Unfortunately, there's very little of specific interest here, although not nothing, and the interest is most certainly not nothing. Most importantly, there's yet more circumstantial evidence that the VBBID engaged in systematic and egregious violations of the Brown Act during 2017. On a more personal level, but still interesting for the insight they yield into the weirdo mindset of BID executive director Tara Devine, there are records here demonstrating the radically different modes of address she uses depending on which email account she's using to communicate.
For instance, she addresses Becky Dennison as "Becky" when sending from her tara@venicebeachbid.com or her tara@devine-strategies.com accounts, but when sending anonymously from admin@venicebeachbid.com she calls her "Ms. Dennison." Note that this phenomenon may or may not be related to the semantic oddities of Kerrymorrisonese.
It's also interesting that the ultimately successful bidder for the BID's security contract, Allied Universal, hired Los Angeles superlobbyists Cerrell to influence the BID's choicemaking process. Unfortunately the emails contain just enough information to show that this happened while remaining silent on why it happened or how it played out in the selection process. Hopefully further research will shed light on these issues.
And turn the page for links to and transcriptions of specific emails!
Continue reading Minuscule Release Of Emails From Venice Beach BID Nevertheless Reveals Likely Brown Act Violations Along With Interesting Operational Details — Tara Devine Adopts Radically Different Personae Depending On Which Email Address She's Sending From — Ultimately Successful Security Vendor Allied Universal Employed Powerhouse Lobbying Firm Cerrell To Help Win VBBID Contract — Possibly It Didn't Help Them Win The Contract But Not Enough Evidence To Say For Sure (Yet!) →