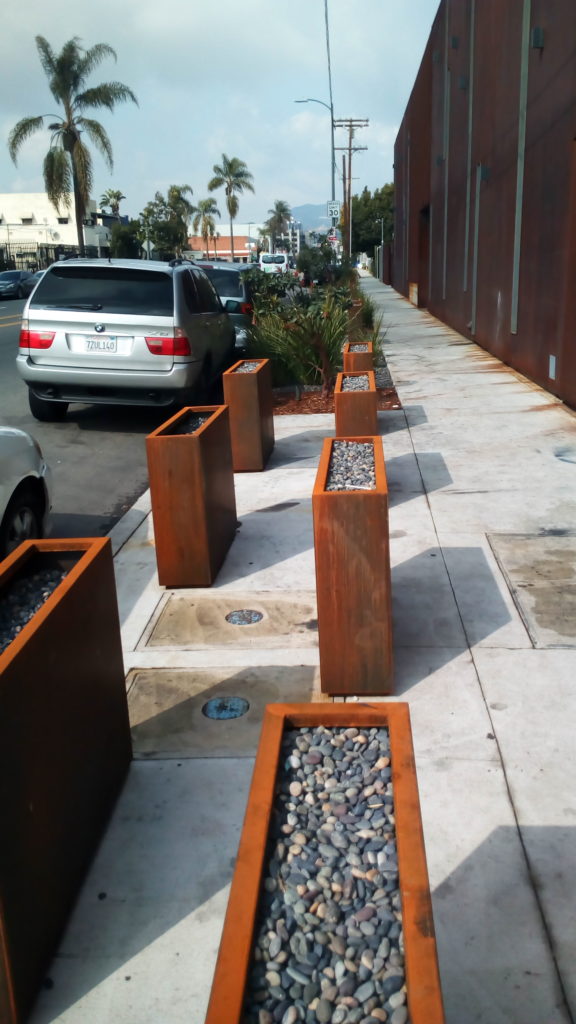 A quintessential slogan of my mother's generation of feminists is that the personal is political. And this is as true and as profound as it ever was. But it's also worth remembering that the political is personal. The powers of government are tools, weapons, wielded by individual human beings making daily conscious choices to use these public resources to further their personal goals, no matter how much they want to pretend otherwise, that they're doing the will of the people or some other abominable abstraction.
And one of the things I do here at MK.Org is to expose these choicemakers, to smoke them out of the holes in which they huddle, all carefully camouflaged round with weighty principles and abstract whatnot, to reveal the little men crouching behind those shimmering curtains.1 This project is viable because, well, you know all that bad stuff that "the City of Los Angeles" does? It's all being done by individual people, mostly organized via email, and therefore subject to the California Public Records Act.
And one of these bad things that these privilege-addled sociopaths do is to install illegal and appalling planters and fences on our public sidewalks so that there's no room for tents. They've done this in Venice, they're doing it in Koreatown, and they're doing it in Hollywood as well. So I asked my good friends at CD132 if they could give me all their emails about these Hollywood ones and, today, they gave me a bunch!3 You can find them all here on Archive.Org, along with a bunch of pictures I took of the planters.4
One of the things we learn from these emails is that the people who attack homeless residents of our streets by installing these antisocial planters do it for really stupid reasons. For instance, Jennifer Mullen of Quixote Studios just doesn't like the smell of marijuana, at least not if homeless people are smoking it. She thinks it gives customers the wrong impression of her business. Her email address is jenniferm@quixote.com.
And Andrea Kim of Lucky Scent, located at 726 N. Cahuenga Blvd 90038, doesn't like the fact that homeless people own bikes and sometimes ask people for money. Even people who arrive in Ubers! Her colleagues Adam Eastwood and Franco Wright agree with her that this is intolerable behavior. Their email addresses are, respectively, andrea@luckyscent.com, adam@luckyscent.com, and franco@luckyscent.com.
As for Abbey Jackloski of the Hollywood Production Center, well, she doesn't even feel like she needs to give reasons for her hatred of the homeless residents of Lillian Way.5 She just tells the thoroughly corrupt LAPD officer Eddie Guerra that "that would be amazing" if he could just get rid of them so they can install more planters. Her email address is abbey@hollywoodpc.com.
And last but in no way at all least we have the freakishly hip post-creatives6 at HQ Creative Office Freaking Space, who own this rusty space alien at 720 N. Cahuenga Blvd. And they also don't need a reason. Their in-house sorceress of hipness, Na'ama Termechi, sends an email to disgraced SLO Eddie Guerra and is all like "Homeless exist. Squelch them, please." And he does and says put in some plants when they're gone and then Termechi and her conspirators put in the meanest, rustiest, horriblest appropriators of public space imaginable, as pictured at the top of the post. Her email address is naama@hqdevelopment.net.
But none of that nonsense is as interesting as this months-long email conversation7 between LAPD officer Eddie Guerra and a bunch of people who own property along Cahuenga Blvd and Lillian way north of Melrose and south of Santa Monica Blvd. He tells them to put in planters, he tells them how to put them in, and off they go, talking about getting donations from local nurseries and pushing homeless people away to somewhere else.
Continue reading Emails From CD13 Reveal Identities Of People Who Installed Anti-Homeless Planters In Hollywood Along Cahuenga Blvd And Lillian Way — And Their Absolutely Appalling Conversations About — For Instance — Denying Homeless People Food To Encourage Them To Move — So Far There's No Evidence That CD13 Was Directly Complicit — But They Sure Didn't Do Anything To Stop Them — And Hollywood SLO Eddie Guerra — The Illegal Donation Solicitor — Certainly Was Complicit — Eddie Guerra: "Unfortunately We Are In The Displacement Business" — Eddie Guerra: "[Homeless Displacement] Is Too Sensitive To Discuss Over Email." — Eddie Guerra: "Power Washing Doesn't Chase Away Homeless, It Just Makes The Sidewalks Cleaner And They Like It!" →