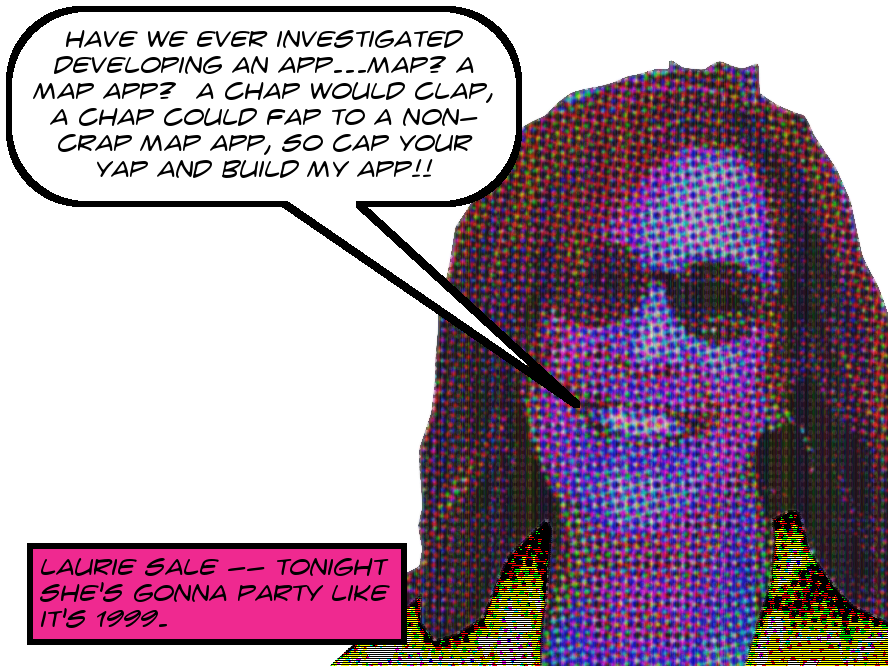 I mean, we spill an awful lot of electrons around here yammering on about the sheer fuck-witted stupidity of our white supremacist BIDdie friends, but somehow the unmitigated bag-of-kidney-stones level dumbness on display at these people's meetings still has the power to astonish.1 Evidence for this claim? Witness, if you will, this recent meeting of the Fashion District BID's freaking marketing committee, kindly recorded for your viewing pleasure2 by one of our long-time correspondents, the mysterious Mr. Mike.
Most of the meeting consisted, as usual, of creak-voiced FDBID Marketrix Extraordinaire Ariana Gomez3 yammering on about web freaking analytics, affinity freaking groups, in-freaking-fluencers, social freaking media freaking blah-de-freaking-blah-blah-blah, and the usual sort of jive one might expect to be emitted by a bunch of BIDdies all hopped up on managerial jargon and an unshakably delusional sense of the depth, value, and intrinsic rightness of their own objectively bizarro world-view. There were at least a couple of non-coma-inducing episodes as well, though!
First, Fashion District Board of Directors member, part-time executive directrix in her own right, and by far the least brilliant bulb in the metaphorical Fashion District chandelier, the inimitable Ms. Laurie Sale, started a flap about some map app crap and was dealt a slap by the generation gap. Watch and listen here, and turn the page for some mockery and the usual transcription.
Second, Rena Leddy,4 who in the past has somehow managed to pass fairly successfully as a sane person, gave up on that whole pointless charade and took a great deal of time out of everyone's lives to explain how that periodic BID-sponsored black mass known as the Urban Dinner Party celebrates a lack of public space by reserving a public street for a private party, forbidding the public from even entering it without a pricey ticket, and how this somehow turns the closed-off street into public space.5 Watch and listen here, and, as above, turn the page for some mockery and the usual transcription.
Continue reading Oh Snap, You Sap! Generation Gap Crap Map App Flap As BIDdies Yap — Executroid Directrix Rena Leddy And Marketing Creak-Talk Queen Ariana Gomez (Who Dumped Snapchat Before Kylie, She's That Freaking Smart) Explain To Dumb-As-A-Bag-Of-Kidney-Stones Laurie Sale About Kids These Days — And Rena Leddy Makes Big Brother Look Sane: Proclaims Hate Is Love, Slavery Is Freedom, War Is Peace, Streets Closed To The Public Are Public Space →