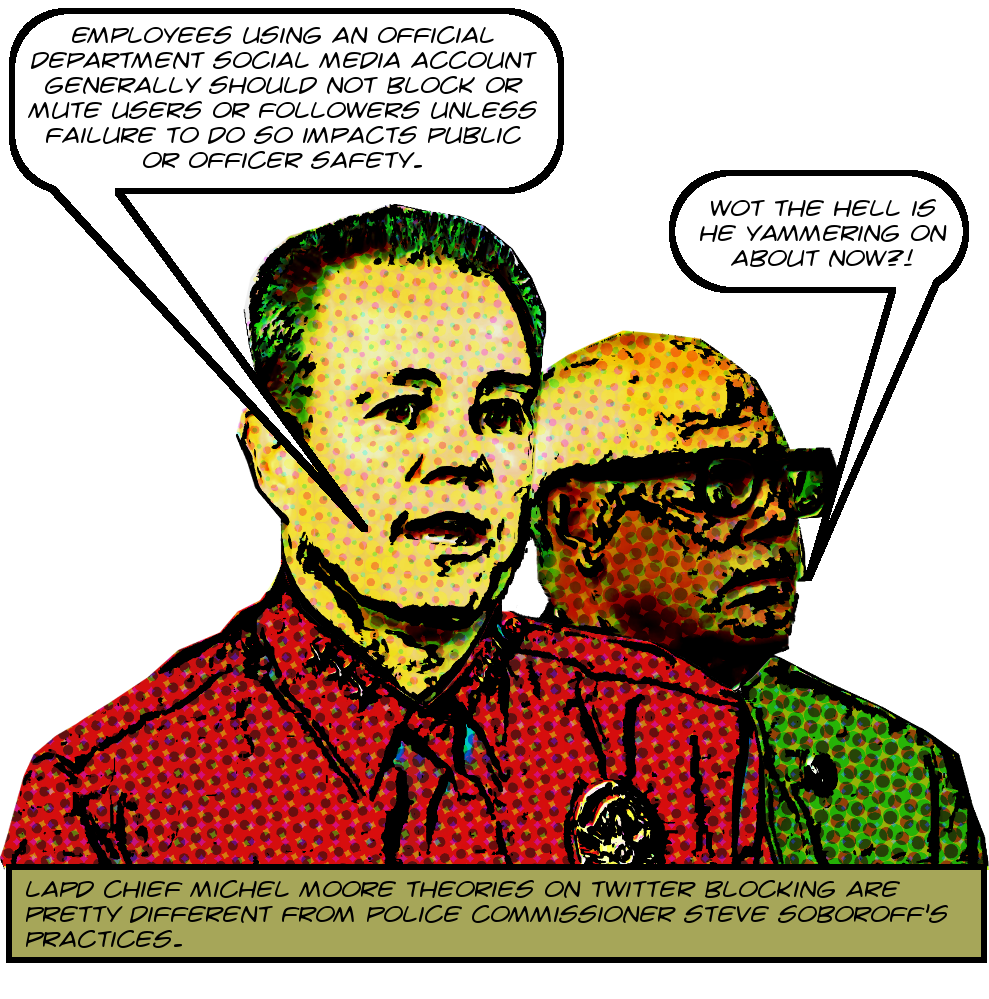 I've been looking into official City of LA uses of social media. In particular I have some interesting results on Twitter use, especially blocking behavior, by Council offices and the City Attorney and by Police Commission boss Steve Soboroff. I'm also trying to understand the City's policies regarding social media, and I recently obtained a number of really interesting records about this from the LAPD. They are all available here on Archive.Org and there are links to the individual files below:
☆ 2012 Notice from Charlie Beck regarding LAPD use of social media — This is a very primitive first attempt at an LAPD social media policy. Beck says that they're working on a comprehensive policy, but meanwhile he reminds everyone that "Department employees who choose to use social media sites for personal use or Department-related activities are reminded to adhere to Department policies and procedures, including but not limited to [policies on ] Conduct Unbecoming an Officer, Endorsement of Products and Services, Confidential Nature of Department Records, Reports, and Information, … and the Department's Law Enforcement Code of Ethics."
☆ 2015 LAPD Social Media User Guide — This is a really important item. It's the LAPD's comprehensive guide to social media use for official, personal, and investigative purposes. There's a transcription of some parts of this fascinating item after the break, mostly the part on how LAPD uses fictitious online personas during investigations. This is a particularly timely issue right now as such profiles often violate terms of service, e.g. Facebook's, and the Electronic Frontier Foundation has taken up the matter.
It also has a lot of bizarro-world examples of how cops can use social media to improve the world, e.g. "After an officer-involved shooting, the watch commander used social media to identify and dispel rumors. He/She clarified the facts by disseminating information from the press release, resulting in an increase of public support for the police department."
☆ 2018 Chief of Detectives notice on preservation of social media accounts for investigative purposes — Exactly what it sounds like. Instructions on how to ask the service providers to preserve accounts that are evidence and, obviously, a warning that "Officers shall not login to any personal accounts to view content related to any investigation. This may inadvertently connect personal accounts to those of suspects, victims, or witnesses, or otherwise compromise sensitive investigations."
☆ 2018 Guidance from Michel Moore on Official and Personal Social Media Accounts — Another really important item here. In particular Moore orders officers who want to create official accounts, even those personal official accounts, to get permission from the public information division (PID) first. Captains and above aren't required to ask permission but they are required to inform the PID when they create an account and provide information about it.
Moore also gives some really thoughtful advice that, I believe, is widely ignored by his subordinates: "Employees using an official Department social media account generally should not block or mute users or followers unless failure to do so impacts public or officer safety. Absent exigent circumstances, personnel shall first consult with the PID for direction prior to blocking or muting a user participating in an official Department social media account." There's much more here than my summary can do justice to and you really ought to read the whole thing. There's also a transcription of this after the break.
☆ LAPD Labor Relations Unit discussion of social media and photography policies — I didn't even realize that the LAPD had a Labor Relations Unit until the responsive records came in. This is a hugely document in that the LRU evidently didn't have any actual records to hand over but they responded to the various elements of my request in writing. Agencies certainly aren't required to do this but it's really nice when they do.
In particular they reveal that they do actively monitor social media accounts and websites of unions, which I find a little creepy, but I suppose that as long as they stick to monitoring rather than participating and also only look at public stuff there's not much to be done about it. It's internally contradictory, which invites detailed further study. E.g. they both admit to videotaping labor actions and at the same time deny that they do. Turn the page for transcribed selections from this and other records discussed above.
Continue reading Presenting Copies Of LAPD Social Media Policies And Guidelines — Including Comprehensive Handbook Promulgated In 2015 By Charlie Beck — Explaining How To Use Social Media In Investigations — Fictitious Online Personas On Social Media — Community Relations — And So On — Also Info From LAPD Labor Relations Unit — On How Cops Comport Themselves At Labor Actions — Like They Evidently Videotape Them And Use A Decibel Meter To Prove Code Violations — But They Also Deny Videotaping Labor Actions — And More! →