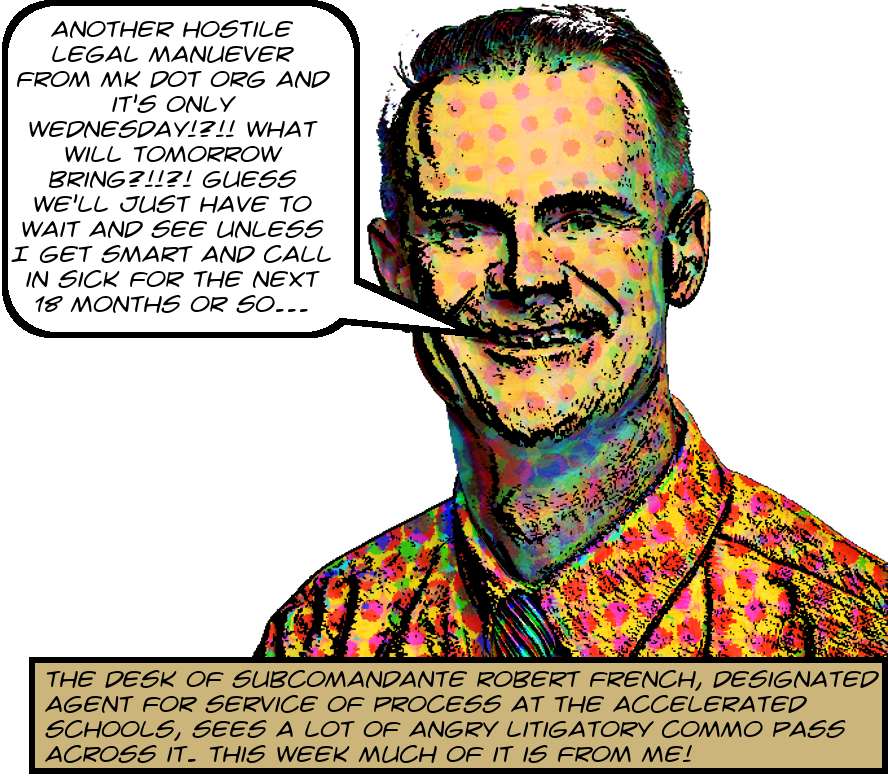 You might remember that in October that that white savior charter conspiracy, incidentally just yesterday served with a lawsuit seeking to enforce the California Public Records Act, known as The Accelerated Schools went and violated the Brown Act by requiring members of the public to sign in as a condition of attending their abortive board meeting, which was cut short by then-president Juli Quinn, acting impulsively in a fit of petulant rage at the insubordination1 of the audience.
Requiring people to sign in is forbidden by the Brown Act at § 54953.3 And you might also remember that one of the remedies for violations provided by the act2 is that a member of the public write to the violators requesting an unconditional commitment never in the future to violate the law in that particular manner.3 If they capitulate in the specified manner then there are extra consequences if they break their promise later. And if they don't capitulate I get to sue them.
And finally, maybe you remember that last year I was sending a lot of these demand letters to business improvement districts. Priorities and lack of capacity forced me to lay that project aside for a while4 but it turns out, fortunately, that I have the resources to hold the tender toesies of some of these egregiously violating charter schools to the proverbial-ish flames, and thus, if you're wondering, is the subject of this evening's post this very letter right here, sent this very day to The Accelerated Schools, demanding that they stop with their nonsensical sign-in requirements. Now they have 30 days to give in or else!
The letter is transcribed below, but before we go there I just want to point out one important thing that was too qualitative to make it into the demand but is nevertheless really crucial. Here you can watch video of the incident which precipitated my demand. This is an employee of The Accelerated Schools telling me that I wasn't required to sign my name to attend the meeting but rather was required to sign my name to enter the campus on which the meeting was held.
Continue reading The Latest Episode In My Newly Revived Brown Act Enforcement Project – A Demand Letter To The Accelerated Schools Insisting That They Unconditionally Commit To Cease – And Desist – And Give A Hard Pass To – And Cut It The Heck Out With – Their Completely Illegal Practice Of Requiring Members Of The Public To Sign A Damn List Before Attending Their Board Meetings – Now They Have 30 Days To Surrender Unconditionally Or Else Face A Heaping Dollop Of Judicial Wrath! – To Be Served Up – If Necessary Of Course – By My Crack Team Of Litigation Specialists! →