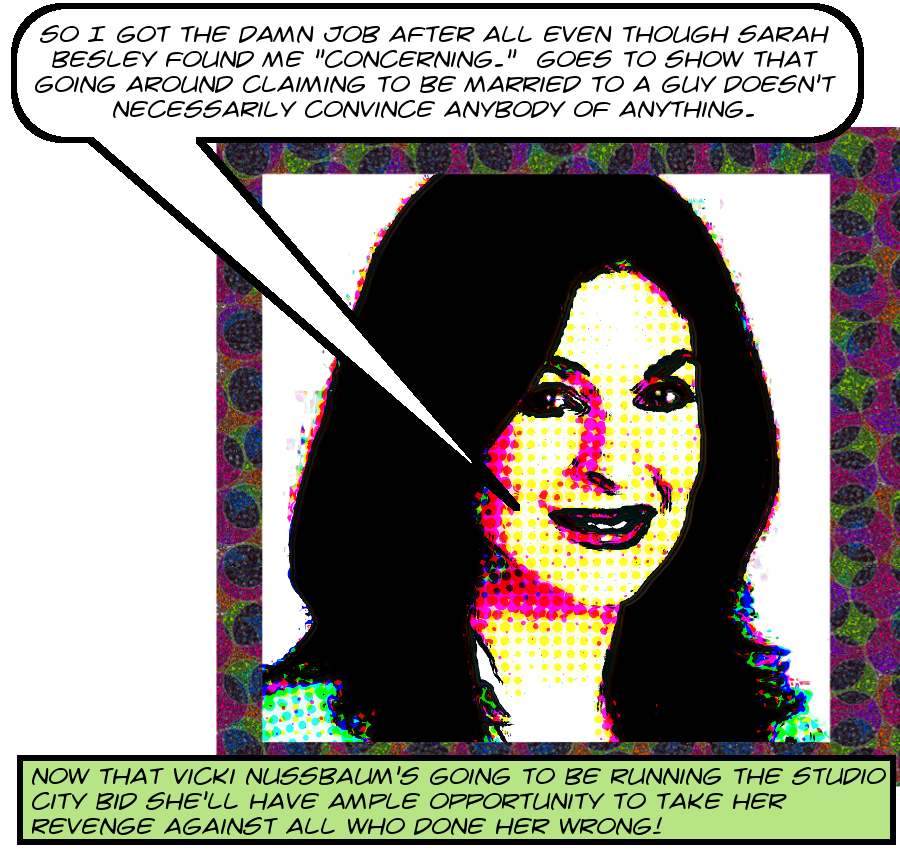 Oh Lord, see, Dr. John Walker, Ph.D., zeck dreck of the infamous Studio City BID, decided at some point that he was going to handle all my CPRA requests his own self instead of having their IT consultant do it like they had done in the past. And the evidence shows strongly that despite having a Ph.D., Dr. John Walker actually can't carry out a keyword search of his own email. That's one of the reasons why what was previously a steady flow of interesting material from this creepy little BID has dried to a painfully extracted trickle. But, as I have said, occasionally something interesting gets through!
Anyway, you'll recall that Dr. John Walker Ph.D. is leaving the BID's employ, and the two main candidates to replace him are the reprehensible Taylor Bazley and the equally reprehensible Vicki Nussbaum. Originally I thought Vicki Nussbaum didn't get the job cause she started interviewing in June and they still didn't seem to have hired her. But just today I received this email from La Nussbaum to BID Pressy Tony Richman making it clear that in fact she has been hired as Dr. John Ph.D.'s replacement:1
From: Vicki Nussbaum <vicki.carr.nussbaum@gmail.com>
Subject: Checking in
Date: September 21, 2018 at 7:40 AM
To: Tony RICHMAN <latonyr@gmail.com>
Tony,
Checking to see how the Board meeting went Monday and if we are official.
Take care,
Vicki

Continue reading Vicki Nussbaum To Replace Dr. John Walker Ph.D. As Zeck Dreck Of The Studio City BID! — This Despite Fact That Sarah Besley Finds Her Weirdo Lonerism "Concerning"! — Guess Sarah Besley Ain't Running Everything After All! — Oh And The Board Evidently Decided To Hire Vicki Nussbaum At Their Infamous Closed Session On September 17! — You Know, The One Where Dr. John Walker Ph.D. Said There Was Going To Be Nothing To Report Out! — Guess Dr. John Walker's Credibility Is Completely Shot To Hell Cause Hiring A Damn Staffer Certainly Counts As Action Taken! →