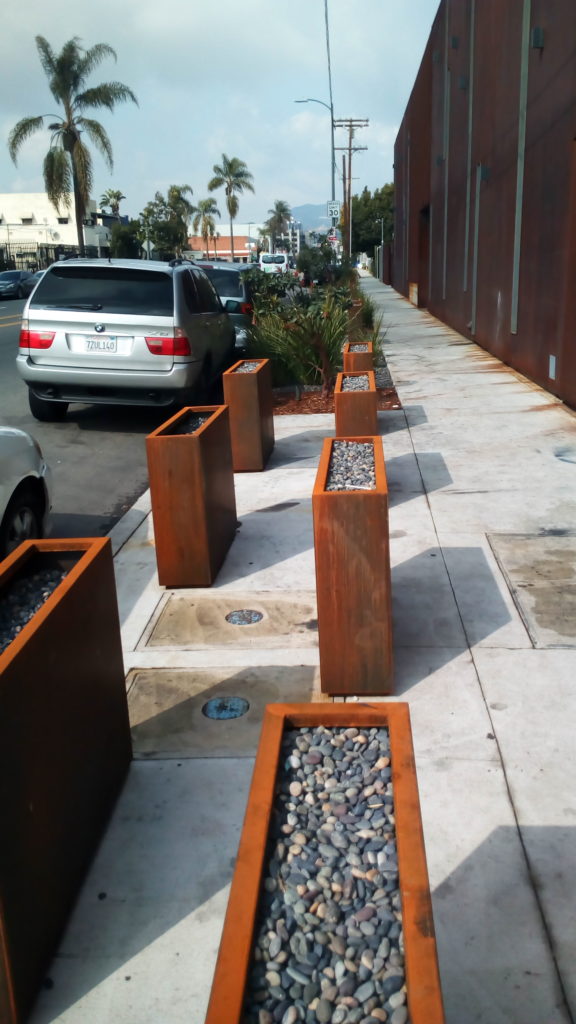 A quintessential slogan of my mother's generation of feminists is that the personal is political. And this is as true and as profound as it ever was. But it's also worth remembering that the political is personal. The powers of government are tools, weapons, wielded by individual human beings making daily conscious choices to use these public resources to further their personal goals, no matter how much they want to pretend otherwise, that they're doing the will of the people or some other abominable abstraction.
And one of the things I do here at MK.Org is to expose these choicemakers, to smoke them out of the holes in which they huddle, all carefully camouflaged round with weighty principles and abstract whatnot, to reveal the little men crouching behind those shimmering curtains.1 This project is viable because, well, you know all that bad stuff that "the City of Los Angeles" does? It's all being done by individual people, mostly organized via email, and therefore subject to the California Public Records Act.
And one of these bad things that these privilege-addled sociopaths do is to install illegal and appalling planters and fences on our public sidewalks so that there's no room for tents. They've done this in Venice, they're doing it in Koreatown, and they're doing it in Hollywood as well. So I asked my good friends at CD132 if they could give me all their emails about these Hollywood ones and, today, they gave me a bunch!3 You can find them all here on Archive.Org, along with a bunch of pictures I took of the planters.4
One of the things we learn from these emails is that the people who attack homeless residents of our streets by installing these antisocial planters do it for really stupid reasons. For instance, Jennifer Mullen of Quixote Studios just doesn't like the smell of marijuana, at least not if homeless people are smoking it. She thinks it gives customers the wrong impression of her business. Her email address is jenniferm@quixote.com.
And Andrea Kim of Lucky Scent, located at 726 N. Cahuenga Blvd 90038, doesn't like the fact that homeless people own bikes and sometimes ask people for money. Even people who arrive in Ubers! Her colleagues Adam Eastwood and Franco Wright agree with her that this is intolerable behavior. Their email addresses are, respectively, andrea@luckyscent.com, adam@luckyscent.com, and franco@luckyscent.com.
As for Abbey Jackloski of the Hollywood Production Center, well, she doesn't even feel like she needs to give reasons for her hatred of the homeless residents of Lillian Way.5 She just tells the thoroughly corrupt LAPD officer Eddie Guerra that "that would be amazing" if he could just get rid of them so they can install more planters. Her email address is abbey@hollywoodpc.com.
And last but in no way at all least we have the freakishly hip post-creatives6 at HQ Creative Office Freaking Space, who own this rusty space alien at 720 N. Cahuenga Blvd. And they also don't need a reason. Their in-house sorceress of hipness, Na'ama Termechi, sends an email to disgraced SLO Eddie Guerra and is all like "Homeless exist. Squelch them, please." And he does and says put in some plants when they're gone and then Termechi and her conspirators put in the meanest, rustiest, horriblest appropriators of public space imaginable, as pictured at the top of the post. Her email address is naama@hqdevelopment.net.
But none of that nonsense is as interesting as this months-long email conversation7 between LAPD officer Eddie Guerra and a bunch of people who own property along Cahuenga Blvd and Lillian way north of Melrose and south of Santa Monica Blvd. He tells them to put in planters, he tells them how to put them in, and off they go, talking about getting donations from local nurseries and pushing homeless people away to somewhere else.

And, in one of the most soulless comments I've seen in many long years of reading the soulless emails of soulless people, Rebecca Vasak of JAHZ Properties, sees someone giving food to homeless people and asks her fellow zillionaires/minions to make sure it's stopped. Thus spake Rebecca Vasak: "Please can you look into having this stopped? I think we've found the reason why they won't move on." In a supremely ironic moment, Vasak tells the people living on the street that she's going to power wash the sidewalk and they offer her food, which makes her so angry! Her email address is rebecca@jahzproperties.com.
And here are selections from that long chain8 showing how the LAPD works with the zillionaires to produce the final result, which in this case was planters. You should read it if you have the stomach for it, because it's chock-full of crazy and I don't have near the space and the patience to call out each individual bite-size nibble of housed privilege.
---
On Aug 28, 2018, at 2:21 PM, Rebecca Vasak <rebecca@jahzproperties.com> wrote:
Hi all,
I don't have everyone's email from the chain below, please loop in anyone I have omitted. We own the construction site at 747 Lillian Way, and have been calling 311, LAPD, Hollywood Community Relations dail to no abail. Please include us on any correspondence as we too are keen to help resolve the issue.
The sidewalk outside 743 Lillian is covered with human excrement, furniture and used needles.
Laura & Eddie, is there any way that we can have the Western side of Lillian Way where they are now based pressure washed tomorrow when you do the Pavilions side? I am happy to post signs this afternoon and we can contribute to the cost.
Please advise.
Thank you,
Rebecca
Rebecca Vasak
JAHZ PROPERTIES
5870 MELROSE AVE, SUITE 3, #384
LOS ANGELES, CA 90038
---
From: Edwin Guerra <38136@lapd.online>
Sent: Tuesday, August 28, 2018, 2:59:44 PM
To: Rebecca Vasak
CC Store 2229 c90 – Store Manager, mriley@strzenterprises.com; melinda@khaosdigital.com; mark@khaosdigital.com; judy@khaosdigital.com; nick@grosslabs.com; Daniel Ellinger; daniel.halden@lacity.org; Abigail Hein; Antonio Hidalgo
Subject: Re: EXTERNAL: Re: Homeless Issue
All,
I am on a scheduled day off tomorrow and usually to schedule a pressure wash I'd like more than a days notice.
Also, Although Dan Halden is out sick today he was able to coordinate so resources regarding this new encampment. He submitted a request for sanitation to come out and help us. LAPD can come out and write citations and provide outreach. But as you can tell that only does so much and the problem does not go away. We have to wait for sanitation to come out and that usually takes a month.
Unfortunately we are in the displacement business. All the subjects at this location used to be on Cahuenga and Eleanor and the Gower corridor south of Santa Monica.
I am available Thursday and Friday to discuss ideas how to deter them from coming back to this location. Out efforts in those areas pushed them to this location.
I personally don't fee pressure washing helps and it hasn't worked in other areas. I also noticed the property is vacant (743), the location next to it under construction and the trees over grown and providing a lot of shade.
This issue is too sensitive to discuss over email, too many moving parts and we need the help from everyone. If you're available to meet Thursday or Friday please let me know.
Senior Lead Officer Eddie Guerra
---
On Tue, Aug 28, 2019 at 3:29 PM, <mriley@strzenterprises.com> wrote:
Over the past 3 years power washing has been the only solution we have found to have any effect at all. We've been trying to get trees approved in front of our lots for beautification purposes, but the city has held up approval for months. Also it seems trees providing shade is actually an attraction in some cases rather than a deterrent.
---
On Sep 4, 2018, at 1:24 PM, Daniel Ellinger <daniele@redstudioshollywood.com> wrote:
Hello everyone,
First I wanted to thank everyone for taking the time to either call or come in to our studio for Friday's meeting. To Officer Guerra, my sincere appreciation for your commitment to the public and our concerns, I feel privileged to have you working with us. To Shannon Geaney, thank you for your support of your team and Officer Guerra, he said many great things about your leadership.
For those on the conference call, I do apologize for the snafu for getting everything setup, we won't have that issue next time. If it was hard of hearing and you were not able to get all the details from Officer Guerra's report, basically LAPD cannot encroach on the 'property' of homeless, it has been and will continue to be an ever present struggle for them. Power washing in his experience only cleans the area of excrement and filth making it better living conditions once the homeless decide to return. We, as neighboring businesses, have the ability to come together, to be creative and produce lasting deterrents from homeless encamping around our area.
Quixote has made their own planters (see attached pictures) and placed them outside of their business on the sidewalk where most homeless were residing. They made 12 for roughly $2000 total. These were filled with succulents and cacti, which John Vargas and fellow worker Mando mentioned made up the bulk of the total cost for the planters. Officer Guerra made it clear that this was still only a temporary fix though it would be better than power washing while pooling more resources to beautify the actual street (see attached picture).
What I am proposing is for us to start making these planters (with a slight design deviation from the ones pictured) and placing them in hot spots of homeless activity. Places where there is minimal foot traffic and vacant lots/buildings (south Waring and Lillian, near Pavilions). This will serve as a placeholder while we all aim for the in-street beautification. Officer Guerra and the Friday group saw this as an opportunity for creativity as well. We can erect works of art or community pieces that everyone can contribute to. Even with these planters, we can include volunteers to participate and get kids involved with the artwork that can revitalize our streets to look colorful and vibrant as well as push homeless away from our businesses.
RED Studios will be working closely with Quixote, Boys & Girls Club, and Khaos Digital to make the beginning push in this initiative. We are reaching out to local nurseries and other friends in the community to help donate to our cause, if you have anyone who can contribute or donate, it may benefit them as a tax deduction! Once we have placed out planters/artwork/otherwise, we will update with pictures and a report on what worked and what did not. Now is the time we can show our neighborhood, our community and our city that we can make a difference if we band together as one, we can effect positive change.
Please, send ideas and ways to involve/attract more. On top of the constant communication via email and phone calls, I would like use all to meet again in about a month and a half (depending on schedules) to share all the progress we've made.
Sincerely,
Daniel
---
From: mriley@strzenterprises.com
Sent: Tuesday, September 4, 2018 1:35:39 PM
To: Nick Gross
CC: Daniel Ellinger, Store 2229 c90 – Store Manager; Melinda Mattox; Edwin Guerra; Rebecca Vasak; mark@khaosdigital.com; judy@khaosdigital.com; daniel.halden@lacity.org; Abigail Hein; Antonio Hidalgo; John Vargas; shannonB@quixote.com; 35012@lapd.online
Subject: Re: EXTERNAL: Re: Homeless issue
Daniel,
Thanks for all the work, I called in while out of town and overheard the meeting. Are you available to meet tomorrow to discuss logistics of getting made? We are prepared and willing to provide money and resources immediately. Would be great to sit and coordinate with you on beautification this week. There are no encampments currently and we'd love to act fast before their return.
Mike
---
On Sep 4, 2018 at 1:52 PM, Daniel Ellinger wrote:
Hi Mike,
Yes, I am available tomorrow to discuss the plans to place planters in front of our businesses. Let me know what time is best for you.
I will reach out to John and Mando to get details on how they made theirs.
Best,
Daniel
---
On Oct 19, 2018 at (:33 AM Makan Mostafavi <makan@greenlinkgroup.com> wrote:
I have notice several times that the homeless are removing discarded food from the trash bins located in the pavilions loading bays on Lillian Way. With that endless supply of food they have little incentive. … loading bay can be locked? End the food supply and possibly end the encampment on our street? Just a thought
Makan Mostafavi
---
On Oct 19, 2018 at 9:57 AM Nick Gross <nick@grosslabs.com> wrote:
Makan, that's a great idea.
---
On Oct 24, 2018 at 7:30 AM, Rebecca Vasak <rebecca@jahzproperties.com> wrote:
Good morning all,
Is there an update on how we can stop the encampment being provided with fresh, untouched food?
This morning they were seen with a whole box of untouched food. I'm sure this is one of the main reasons they will not leave.
Pavilions: can you please investigate how/why this is happening, and how we can stop it? The previous idea of locking the dumpsters sounds like a good start.
Thanks,
Rebecca
---
On October 24, 2018 at 9:19 PM mriley@strzenterprises wrote:
Update:
I've added Martin Bravo to this chain, who can provide info about the house on Lillian. We just spoke on the phone and he has demolition planned as well as tree removal permitted for next week.
I also spoke to Daniel at Red, who is recovering from a motorcycle accident and has been a bit out of commission. He is still on top of the camp at Red Lot D.
We have planter boxes arriving this week which we plan to put throughout the neighborhood in probably locations to discourage set up.
---
On October 24, 2018 at 10:08 PM Edwin Guerra <38136@lapd.online> wrote:
Thank you for all your efforts. LAPD will continue to monitor and enforce as well as provide outreach where we can. We address these encampments every day in one for or another.
Keep me in the loop and let me know if you'd like to meet in person. I'm also in constant communication with Field Deputy Dan Halden from Mitch O'Farrell's office coordinating clean ups by sanitation.
Senior Lead Officer Eddie Guerra
---
On Oct 24, 2018 at 4:50 PM Rebecca Vasak wrote:
Thank you, we appreciate the support. Is there anything we can do to get the regulations changed so that it becomes illegal to live on a sidewalk in a residential area?
We have a power wash scheduled for 4pm tomorrow, and the encampment (while offering us a fresh pavilions pastry!!) said no problem, they will just move across the street.
Pavilions, it might be good for you guys to schedule one tomorrow afternoon as well or they will just move to your side.
Rebecca Vasak
---
On Oct 25, 2018 at 4:08 PM mriley@strzenterprises.com wrote:
Camp is back at pavilions, collecting food from unsecured dumpsters. Is anyone from store still active on this thread?
---
Here you can see a delivery guy giving them a full shopping cart full of bread this morning.
Pavilions – please can you look into having this stopped? I think we've found the reason why they won't move on.


All images ©2019 MichaelKohlhaas.Org.