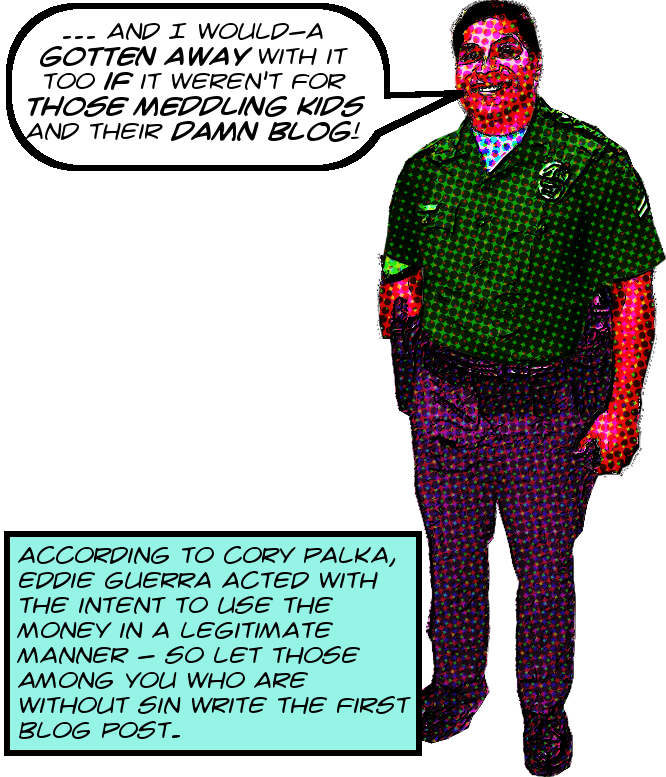 In the Fall of 2016 LAPD officer Eddie Guerra asked the Hollywood Media District BID to give him $400 ostensibly for some charity. He asked by return email right after they thanked him for getting rid of some homeless people at their express request. Context matters, and this struck me as particularly shady, so I did three things. First, I turned Officer Guerra into the Ethics Commission for violating LAMC 49.5.5(a), which forbids misusing public power for private gain. Second, I wrote a blog post about the incident. And third, I made a request to the LAPD for more records.
And because the LAPD is slow as paint when it comes to filling CPRA requests they didn't get back to me until two years later on December 31, 2018,1 when they sent me this little spool of puckey in response. And, as is often the case with released records, most of them are completely worthless or else I already had them. But, as is also often the case with released records, some of this material was really essential!
Just, for instance, take a look at this series of emails between Hollywood mega-muckety Cory Palka, friend of white supremacists and of scientologists, and his superior officers, including now-chief Michel Moore, wherein Palka sends links and gives credit to this very blog (!) for breaking the story of Guerra's misfeasance and they end up recommending a 1.28, which is evidently some kind of LAPD complaint form. Michel Moore, the current chief of police, agreed and then said that "corrective action/training/counseling is warranted."
Oh, snap, amirite?! Now that I know he reads this blog and sends links to future chiefs of police, well, next goal, get @CoryPalka to follow me on Twitter! And amazingly enough, Cowboy Cory Palka is revealed by these emails to use the private email address cpalka@me.com to conduct City business, which puts him in the august company of Mitch O'Farrell, David Ryu, Gil Cedillo, and (spoiler alert) Paul Koretz!2 You will definitely be hearing more about this, but not necessarily soon.
Anyway, turn the page for transcriptions of all the emails including, of course, Cory Palka's suprisingly lucid summary of the situation and shout-out to your very own MK.Org!

Transcriptions of January 13, 2017 emails about Eddie Guerra:
---
---
From: Cory Palka <cpalka@me.com>
Sent: Friday, January 13,2017 10:26 AM
To: Cory Palka
Subject: Hollywood SLO Personnel Complaint Matter
Chief
Per our conversation this morning, here is a narrative recap. PO III +1 Eddie Guerra, Serial No. 38136, was involved in an email exchange (Fall of 2016) with Media BID personnel in Hollywood regarding homeless people creating a disruption in front of businesses. The email exchange discussed 56.11 LAMC and Guerra's responsibilities and intent to help solve the problem. During the email exchange, Guerra asked the Media BID if they would be interested in supporting his Police Unity Tour ride via a financial donation. He also included a link to the donation page. He asked for $400.00 and the Media Bid subsequently wrote a check to Guerra personally for $400.00. Guerra deposited the $400.00 check in his personal bank account with the intent of writing a larger check for $2000.00 to the Police Unity Torn to pay the full fees required to participate in the 2017 event (Guerra also participated in the 2016 Police Unity Tour).
On January 10,2017, an internet blog post (michaelkohlhaas.org) reported the above information and alleged Guerra had violation ethics rules. The author also wrote in his blog that he had filed a formal complaint with the City of Los Angeles Ethics Commission. Included in the blog was a copy of the $400.00 check and language allegedly taken from emails that were produced/ released to the author via the California Public Records Act.
I spoke with Dave Grimes and he advised he would consult with Commander Maislin and determine the appropriate next steps (including the issuance of a 128/ & which command would initiate the 128). I will update you when I have additional information.
Respectfully,
Cory
---
---
From: Jon Peters
Sent: Friday, January 13,2017 12:01 PM
To: Cory Palka
Subject: Re: Hollywood SLO Personnel Complaint Matter
Thank you, Cory
Sent from my iPhone
---
---
From: Jon Peters
Sent: Friday, January 13,2017 4:07 PM
To: Michel Moore <23506@lapd.online>
Subject: Fwd: Hollywood SLO Personnel Complaint Matter
Chief,
Here is a summary of the incident we discussed.
Jon
Sent from my iPhone
---
---
From: Michel Moore
Sent: Friday, January 13,2017 4:08 PM
To: Jon Peters
Subject: RE: Hollywood SLO Personnel Complaint Matter
Jon
Thank you… seems a 1.28 to document what occurred and identify and corrective action/training/counseling is warranted.
Mike
---
---
From: Jon Peters
Sent: Friday, January 13,2017 7:01 PM
To: Cory Palka
Cc: Blake Chow;Christine Stout-Guttilla
Subject: Fw: Hollywood SLO Personnel Complaint Matter
Awareness…


Image of Eddie Guerra is ©2019 MichaelKohlhaas.Org and take a look over here if you're interested.

They have improved markedly in recent years, probably as a result of this lawsuit by the ACLU and a slew of other lawsuits. But they haven't improved when it comes to me. Not being paranoid, have proof. Not the time and place for it here, though. Side note: When I say they've improved I mean they've improved their average CPRA response time. Nothing more broadly applicable at all.