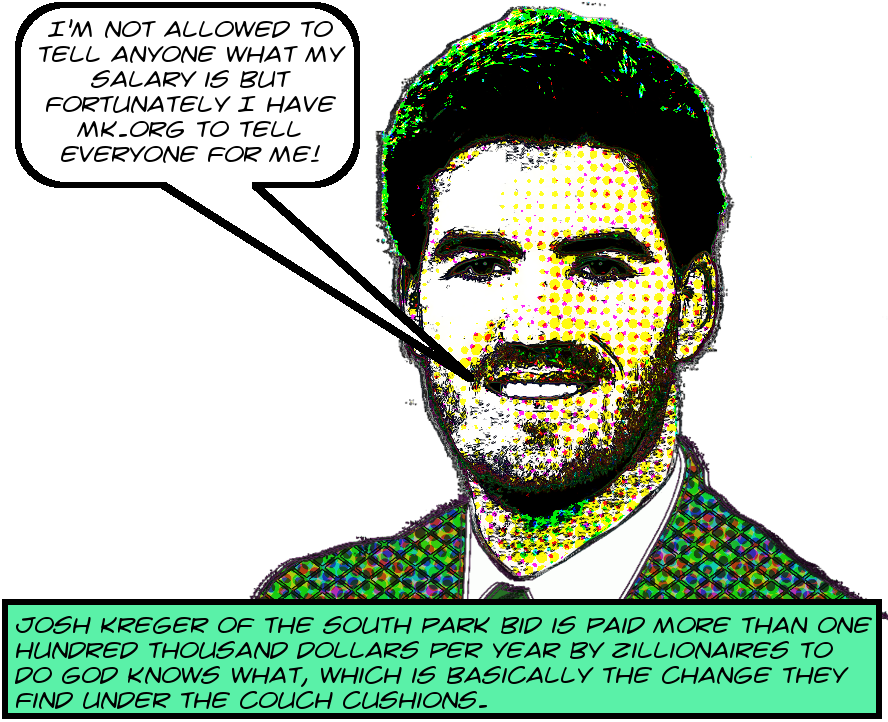 Tonight I am presenting a new BIDdological source document for your analytical pleasure. It is the 2018 Employee Manual of the South Park Stakeholders Group which, as you may well know, is the designated property owners' association for the South Park BID. Anyway, take a look. It's full of the usual inconsequential nonsense for the most part, but still, this little bit caught my eye:

SALARY CONFIDENTIALITY
It is customary to maintain confidentiality regarding salary and compensation. Because so many different factors have been taken into consideration in determining your salary, it would be difficult to accurately compare your salary with those of fellow employees. Salary discussions and salary review questions should be limited to your supervisor, the Executive Director or President.

But this kind of thing is just silly when it comes to agencies, like the BID, that are subject to the Public Records Act. Obviously paying people creates records and obviously those records are public so obviously the salaries of people employed by agencies subject to the CPRA cannot be kept secret. This is why a website like Transparent California can exist.
Of course, Transparent California sets out to learn the salaries of public employees in California. On the other hand, our goal is to learn everything possible about the City's BIDs. Sometimes we ask for salary information specifically, but other times it just turns up. You will, of course, remember the monumental release of SPBID Board member Bob Buente's emails. Well right in there, unasked-for and just waiting to be discovered, was this little gem of an email conversation between Ellen Salome Riotto and the various members of the BID's executive committee.1
The subject is Staff bonuses and the purpose is for the executive committee to approve them for December 2017. The BID seems to give each staffie 5% of their annual salary as a bonus and so, in order to have an informed discussion of the bonuses it's necessary for the committee and Ellen Salome Riotto to discuss their salaries. And that's how we know what they are, regardless of the SALARY CONFIDENTIALITY clause in the Employee Handbook. You know you wanna know what they are! Just turn the page and all will be revealed!
Continue reading South Park BID Employment Policy Forbids Its Staff From Revealing Their Salaries — These People Are Being Paid With Public Funds — So It's Not Only Not Desirable To Keep Their Salaries Secret — It's Actually Not Possible — Therefore We Are Going To Reveal Them All To You In This Post! — Every Last Freaking South Parkie Salary! — With Bonuses! — The Teaser Is That Josh Kreger — Who Is Director Of Quasi-Legal Real Estate Crapola Or Some Such Nonsense — Gets More Than $100,000 Per Year — You'd Think With That Kinda Money He Could Afford A Damn Razor! →