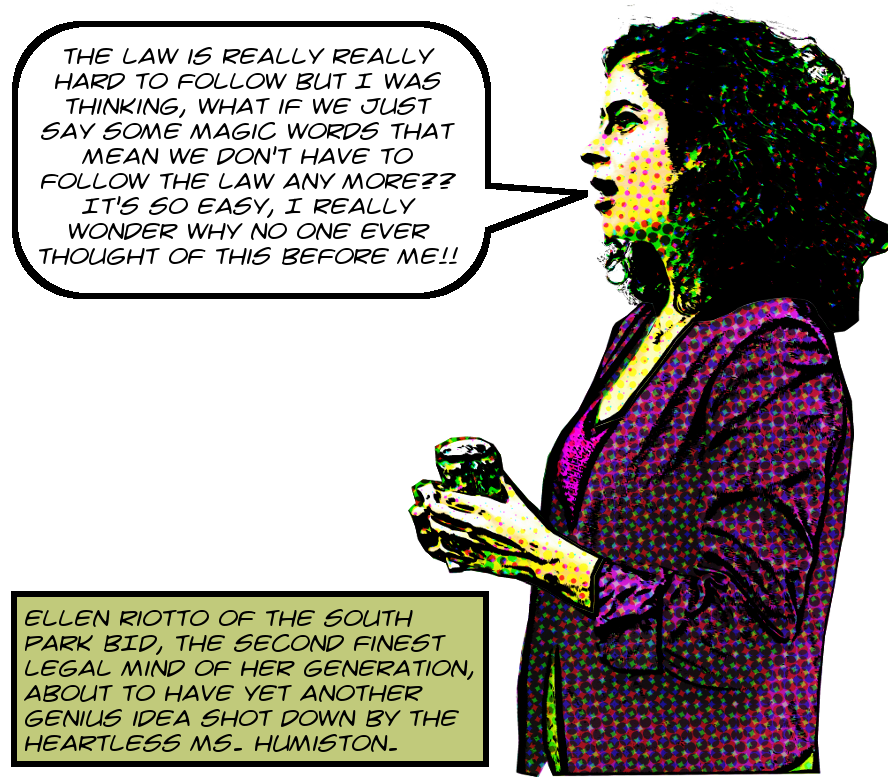 It's basically very easy for public government agencies such as business improvement districts to comply with the Brown Act. All they have to do is not be sneaky and stop trying to hide what they're doing from the public. But of course, that concept is actually impossible for BIDdies to understand, so they're perennially surprised by what the law requires of them. The general zillionaire rule of statutory interpretation, which is to assume that laws do in fact say whatever rich white people imagine that they ought to say, is accurate 99.99% of the time, but it fails with the Brown Act for some reason.1
Which is why about this time last year we were spending a lot of blog time educating Ellen Riotto, executive directrix of the South Park BID, about the duties required of her organization by the Brown Act. She'd schedule a closed session but wouldn't explain what the Board was going to talk about during it and I'd be like no, can't do that, and she'd be like OK thank you for pointing that out! And then she'd be all like board members are going to phone into the meeting from random unannounced locations around the globe and I'd be like no, can't do that, and she'd be like OK thank you for pointing that out!
And now, thanks to some emails kindly supplied to me in response to a request for public records by the South Park BIDdies, I can reveal for the first time that there was at least one other instance in early 2018 when Ellen Riotto completely misunderstood the Brown Act and was on the verge of implementing yet another completely illegal policy. Wallis Locke sent an email to Ellen Riotto and was all like I know a guy named Dan and he's involved with the Foothill Municipal Water District and they have some kind of voodoo on their agendas that basically lets them talk about whatever they want to without having to announce it publicly in advance!
And Ellen Riotto was all like I wanna get me some of that! The voodoo, by the way, has to do with the fact that the Brown Act at §54954.2(b) allows public government agencies like BIDs to make last minute additions to their agendas if there is an actual emergency. However, in this case, maybe because my constant scrutiny made her a little more circumspect, she decided to ask the BID's attorney Ms. Carol Humiston if her theory was a good one.
And Ms. Humiston, despite the fact that she's famous for counseling her clients to violate the law at every opportunity in contravention of the enforceable expectations of both God and the California State Bar, was all like WHOA! Emergencies mean like earthquakes, fires, and so on! Not some booshwah that you just made up! You can't freaking do that and you would be crazy even to try so step back from the ledge! And Ellen Riotto was like darn it! But step back from the ledge she did, leaving nothing but this email conversation, a transcription of which you can find after the break!
Continue reading That Time In 2018 When Wallis Locke Told Ellen Riotto How The South Park BID Could Just Ignore The Brown Act By Putting Some Magic Words On The Agenda — Cause The Foothill Municipal Water District Did It — So Anyone Could Do It — Even The South Park BID — But Then Ellen Riotto — Being Uncharacteristically Prudent — Asked Carol Humiston If It Was OK — And Carol Humiston Was All Like No Freaking Way That Is Crazy! — Except She Said It Nicer Cause After All They Are Paying Her A Lot Of Damn Money! →