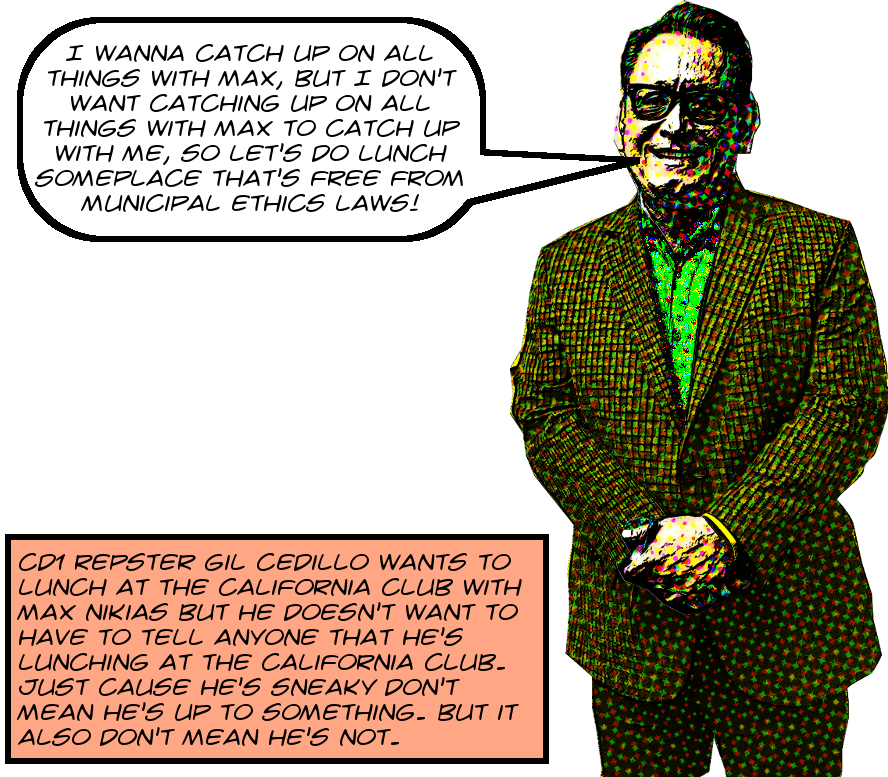 When lobbyists spend money on officials in Los Angeles the LAMC at §48.04 requires them to report it to the Ethics Commission.1 And for any number of reasons lately I've been really interested in Gil Cedillo. So here's a list of all reported expenditures that benefitted Cedillo since he took office in 2013, total $10,229.39.2 Sadly, these disclosure forms don't require any detail really, so if we want to learn what went on we have to request records.
But, as you know, that's what we live for around here! It's a slow process, though, and we won't understand everything on that list for a while yet. However, I did recently acquire a bunch of emails between CD1 and the University of Southern California, and these shed some interesting light on two lunches enjoyed over the years by Cedillo in the company of then-USC-president Max Nikias, now no-confidenced right out the door.3 One of them is on the disclosure form and the other is not. This is the story of those two lunches.
The first lunch, which took place on September 28, 2017 at the California Club, was instigated by Cedillo himself. The story is told in this extraordinarily disorganized string of emails. And when USC informed Cedillo staffer Debby Kim4 that the lunch was worth $39 and that they would have to report it to the Ethics Commission unless Cedillo reimbursed USC for the food, Kim flipped out to some extent and asked to change the venue to some place where it wouldn't have to be reported. USC told her that if Cedillo reimbursed them for it they wouldn't have to report, which she said CD1 would do. Evidently CD1 did, or something, because this lunch doesn't appear on the disclosures linked to above.
The second lunch, in April 2018, was at the request of Nikias himself, and is revealed in this also-scrambled email conversation. Cedillo planned to bring along Kim and his communications director Jay Cortez. USC told Kim that the lunches were worth $34 each, so that the three of them would be valued at $102. There's a limit of $100 per calendar year,5 so USC also told Kim that they'd have to pay back $2 to keep it legal. Charmingly,6 neither Kim nor USC wanted to bother Max Nikias with these street-level legalities nor to dirty his august hands with cash money, so that even though Kim brought the money to lunch, no one was there to accept it and she evidently had to mail it in later. This lunch does in fact appear on the disclosure list with a value of $100, so evidently the money did dirty someone's hands, maybe august, maybe not.
That's the short version, and turn the page for the long version along, of course, with transcriptions of the essential parts of the conversation, helpfully rearranged into a sensible order for ease of reading!
Continue reading A Tale Of Two Lunches! — How Gil Cedillo Invited Then-USC-President Max Nikias To Lunch In 2017 "To Catch Up On All Things" — And They Were Gonna Eat At The California Club — But USC Staffer Catherine Kuriyama Told Cedillo's Chief Of Staff Debby Kim About Gift Reporting Laws — And Debby Kim Was All Like Don't Wanna Report That Lunch! — And No Wonder I Guess Since Cedillo Has Accepted More Than $10K In Gifts From Lobbyists During His Time On The City Council — Including Another Lunch With Max Along With Debby Kim And Jay Cortez Which Did Get Reported — Cause Cedillo Only Paid Two Dollars For It →