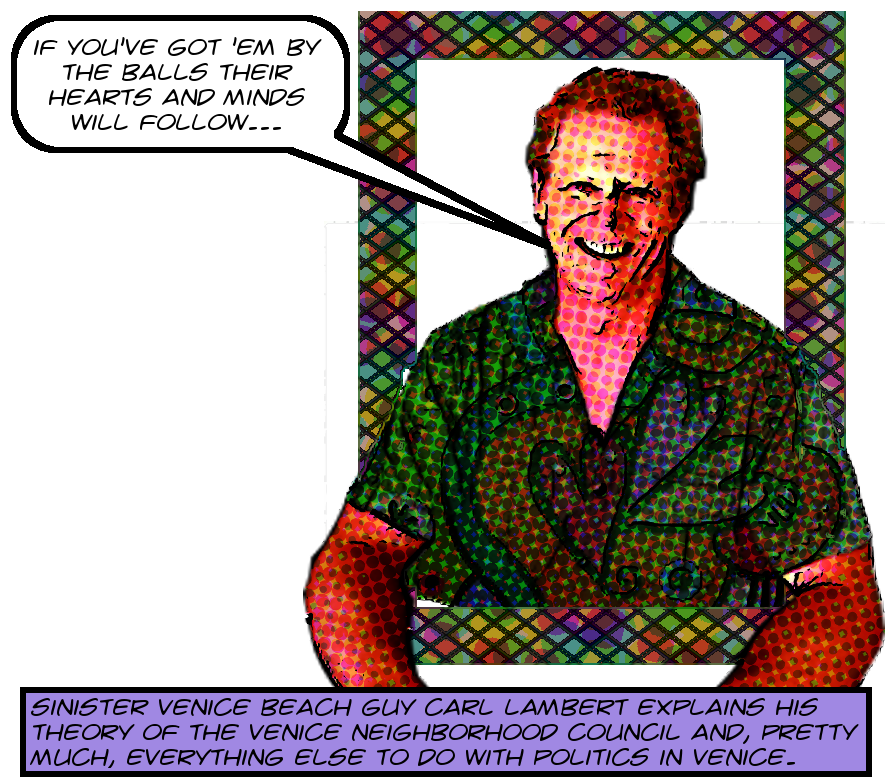 I recently obtained a small collection of emails between Venice beat cops Kristan Delatori, Peggy Thusing, and the recently self-destructed Nicole Alberca1 and those fan favorite BIDdies Mark Sokol and Carl Lambert. You can peruse the whole set here on Archive dot Org, and in today's post I'll discuss a few high/low-lights!
OK, remember the Venice Neighborhood Council election in 2016? The outcome was widely interpreted by sane people as being yet another death blow administered to the longtime rotting corpse of Venice. And now, thanks to this June 2016 day-after email from Carl Lambert to undisclosed recipients including Nicole Alberca we learn that Lambert divides the winners up into friendlies and not-friendlies.
And we learn who the friendlies are! And that there is a supermajority of them! And we also learn that Carl Lambert sends late-night texts to Nicole Alberca! And they make her smile! All these Venice zillionaires and their pet cops are really far too cozy for our safety and comfort, I think.
Oh yes, of course you want to know the names! Well, the friendlies are: George Francisco, Melissa Diner, Matt Kline, Evan White, Matt Royce, Matt Shaw, Robert Thibodeau, Will Hawkins, John Reed, Steve Livigni, Sunny Bak, Cayley Lambur, Jim Murez, Michelle Meepos, and Laurie Burns. And the not friendly? They are Ira Koslow, Hugh Harrison, Ilana Marosi, Erin Darling, Colleen Saro, and Gina Maslow. Got it? And turn the page for more, more, more!
Continue reading A Random Selection Of Emails Between Carl Lambert Or Mark Sokol And Various Cops Reveal Some Interesting Stuff About Venice — Lambert Divides Venice Neighborhood Council Members Into "Friendlies" And Otherwise — Sokol Arranged A Hotel Room For Officer Peggy Thusing In 2013 — The Venice BID Formation Process — Which Lambert Declared Began "Renaissance Of Venice" — Was Bankrolled By Brian Dror — Lambert Raised Money For Slavering Psychopath Mark Ryavec By Telling Homeless Horror Stories →