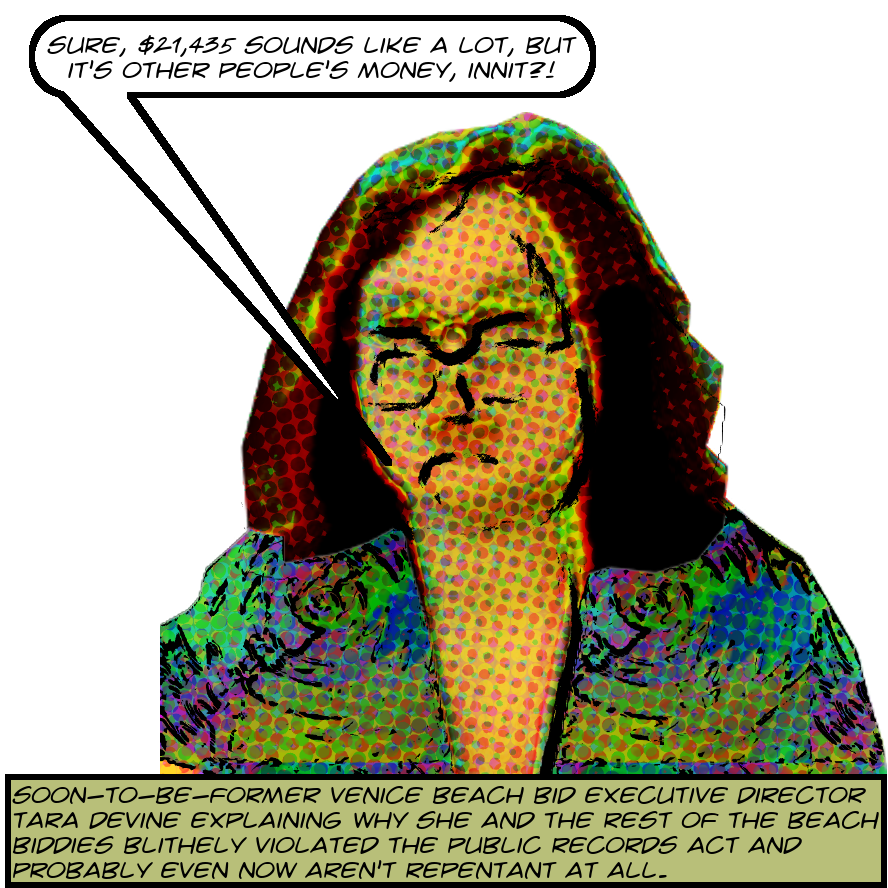 Well, in case you missed it, in February 2017 I sent a request to the Venice Beach BID for various public records, and they ignored me and ignored me and ignored me, and finally I hired a lawyer, the incomparable Abenicio Cisneros, and in April 2018 he filed a suit against them seeking to enforce compliance with the damn law.
And now, finally, the case is done with the signing of this settlement agreement. Notably, the BID handed over the records and paid Cisneros $21,435 for his work on the case. This payoff is one hundred percent wasted money that the BID could have saved had they only complied with the law in the first place. But they did not. And I have another request in to them, so we'll see if they learned their lesson. Meanwhile, behold a partial transcription of the agreement:


MUTUAL RELEASE AND SETTLEMENT AGREEMENT
THIS MUTUAL RELEASE AND SETTLEMENT AGREEMENT ("Agreement") is entered into by and between VENICE BEACH PROPERTY OWNERS ASSOCIATION ("VBPOA") and MICHAEL KOHLHAAS ("KOHLHAAS") based upon the following understandings. Collectively, VBPOA and KOHLHAAS are hereinafter referred to as "Parties."
Recitals
A.
On April 12, 2018, RISKIN filed a Petition for Writ of Mandate alleging violations of the California Public Records Act against the VBPOA in Los Angeles County Superior Court, No. BS173266, hereafter referred to as the "ACTION."
B. Subsequently, VBPOA has produced records at issue in the ACTION.
C. The PARTIES now wish to terminate the ACTION defined above in its entirety by settlement and release of claims.
IN CONSIDERATION OF THE MUTUAL COVENANTS SET FORTH BELOW, the
Parties agree and stipulate as follows:
1.
VBPOA, in order to settle this matter fully, agrees to pay KOHLHAAS $21,435. KOHLHAAS, in consideration for the payment, agrees to dismiss the ACTION, each side to bear its own costs and attorneys' fees. VBPOA shall pay said amount as soon as is reasonably possible, but no later than 15 days following both Parties' approval of this Agreement and the provision of a complete W9 form to VBPOA. A check in the full amount shall be made out directly to KOHLHAAS's attorney "Law Offices of Abenicio Cisneros," and the check shall be mailed to Cisneros' office at 2443 Fillmore St. #380-7379, San Francisco, CA 94115.


Image of Tara Devine is ©2019 MichaelKohlhaas.Org.