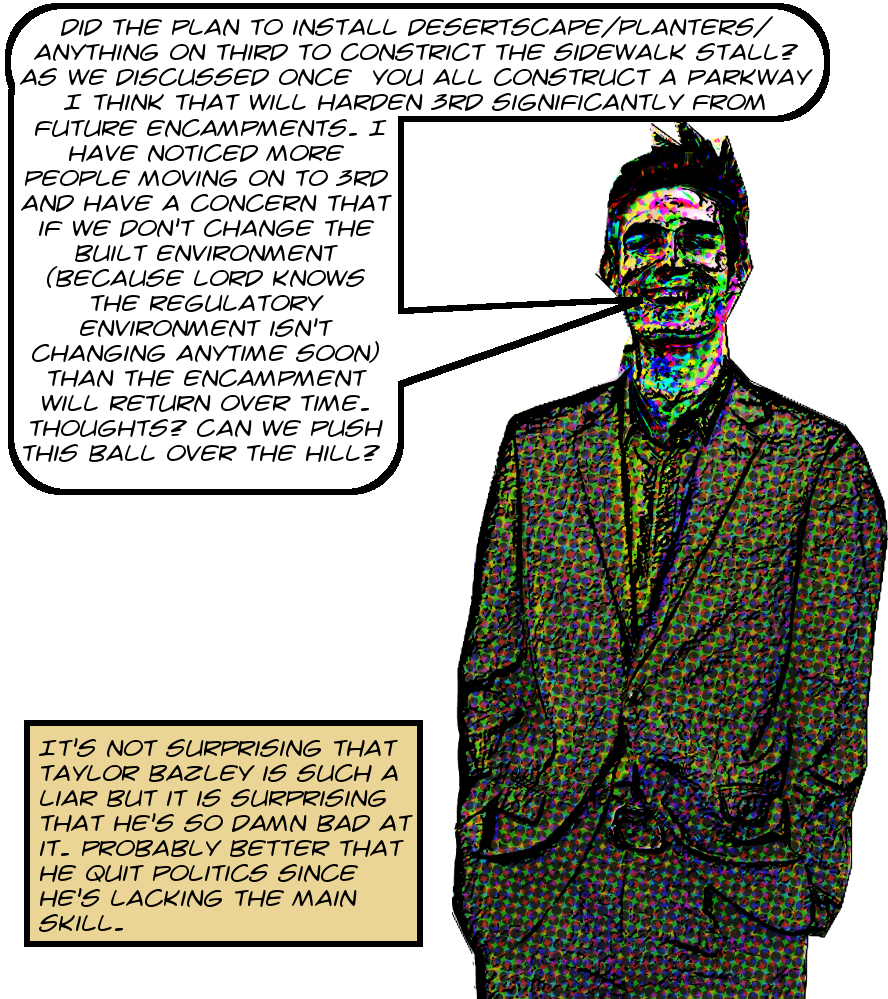 Here's a little self-quoting for background:

Everybody knows about those damn planters in Venice, but we're just beginning to learn the depth of the City's complicity with the angry housedwelling planter-placers. And fairly recently I obtained some emails that proved that Mike Bonin's staff, if not Bonin himself, have been very complicit indeed, which led me to file a complaint with the City Ethics Commission against one of them, Taylor Bazley.

And today I have some serious new information about the planters. First, some planters were recently installed near the Whole Foods at Lincoln and Rose. It turns out that two of these planters, as illegal as all the rest of them, were paid for by the Venice Neighborhood Council, which allocated $600 for two of them at its meeting on January 8, 2019. You can read all about it in the minutes and agendas.
The process was initiated by solipsistic Venice housedweller Tatiana Morrison, whose ridiculous Go Fund Me is still at less than forty percent of its goal, with this formal request to VNC for money. Like so many of the zillionaire classes, when her pathetic attempts at putative self-reliance failed miserably, she was perfectly happy to misappropriate public funds to accomplish her misbegotten goals.
So here we have the City of Los Angeles, through its department the Venice Neighborhood Council, spending public money on things that violate actual laws. If they had spent the $600 on, say, cocaine, it would have been legally, ethically, morally, the same thing although much, much less harmful to society. I'm not exactly sure if there's any recourse for this kind of thing, or at least any affordable recourse, but I'm thinking about it and I will be sure to let you know if anything presents itself.
Now on to your friendly neighborhood psychopath, Mark Ryavec. Everyone knows he and his Klown Kar Krew of Venice housedwellers have been one of the major forces behind the deluge of illegal planter placings and that the LAPD has been helping him out big time, even though LAPD Chief Michel Moore has publicly denied that his folks are involved at all. But nevertheless, documentary evidence of these well-known facts has been fairly sparse. That's why this email exchange from August 2018 between Ryavec and Taylor Bazley, Mike Bonin's former field deputy for Venice1 is so important. Here Ryavec, trying to cajole some money out of Bazley, makes the following admission against interest:2
We – the residents – have done allthe heavy lifting with the beautification effort, with the only real assistance from the City coming from the LAPD. To date we have raised over $35,000 for this effort and provided countless hours of volunteer labor. Can the City of Los Angeles at least make an effort to provide trash bins and regularty empty them?

And finally, now, on to the main thing.3 It's also well-known that Taylor Bazley has repeatedly denied his involvement with the planters. And yet, behold this email conversation from December 2017 between Bazley and former VNC member and all-round sociopathic housedweller Matt Shaw about placing some planters on Third Avenue in Venice.4 And despite all the denials, it's Bazley who's the instigator: "Can we push this ball over the hill? lf we wait until the problem is back and there is urgency it might be too late…" And despite all the talk about beautification, Bazley's very explicit about the purpose being anti-homeless: "I think that will harden 3rd significantly from future encampments."
Continue reading Remember Mike Bonin's Former Venice Field Deputy Taylor Bazley? — The One Who Was Always Going On About How He — And His Boss — And The Rest Of The Damn Staff — Didn't Have Anything To Do With Those Damn Planters? — But It Turned Out That He Did? — Well Now It Turns Out That He's Been Encouraging Housedwellers To Place Planters At Least Since 2017 — To "Harden" Streets "From Future Encampments" — And Other Such Nasty Language — Never Once Mentioning Beauti-Freaking-Fication — And Those Recent Planters Behind Whole Foods On Lincoln? — The Venice Neighborhood Council Paid For Two Of Them! — Public Money Spent On Actually Illegal Things — This Is Very Not OK — Last Thing — Mark Ryavec Acknowledges In Writing How Much Help His Planter Placer Buddies Have Gotten From LAPD — The Whole Thing Is So Gross →