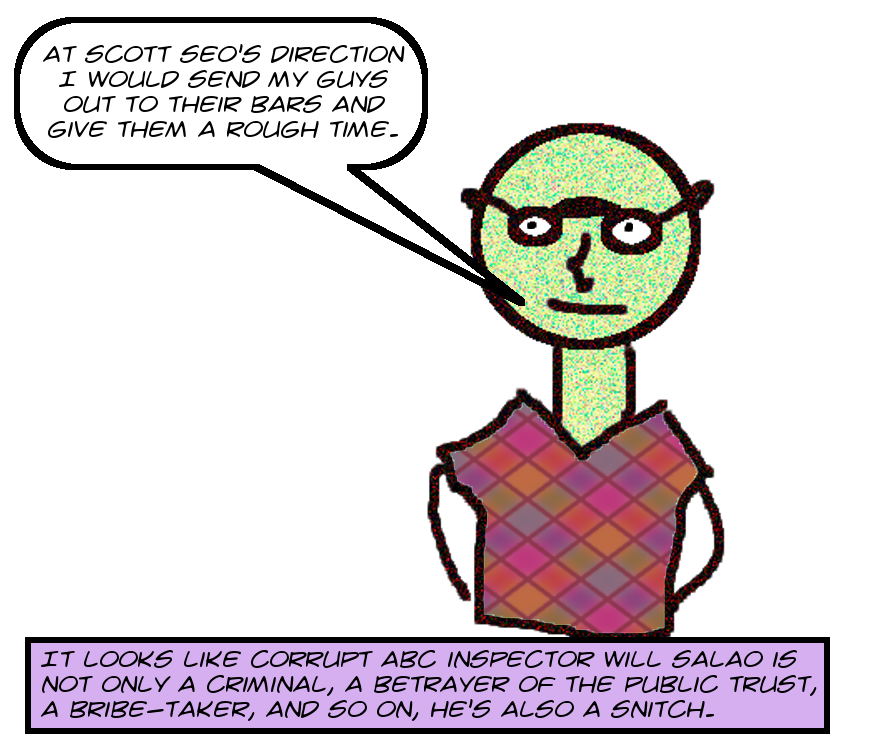 Will Salao, corrupt and discredited and federally indicted former ABC agent, this morning in federal court before judge John Kronstadt changed his plea to guilty as he was scheduled to do. During the procedure it came out that Salao's plea agreement with the government was filed under seal on September 19, 2018. This is big news because the indictment, also under seal at first, wasn't filed until September 21, 2018. It sure looks like the indictment must have been based on Salao's cooperation, does it not?
This theory is consistent with the fact that Salao changed his plea to guilty directly after his coconspirator Scott Seo, who also pled guilty this morning, signed a plea agreement on November 20, 2018. This agreement is not under seal and you can get a copy here if you are interested. Even though Salao's plea agreement is still sealed, some facts about it came out in the hearing. For instance, he will be ordered to pay no more than $23,400 in restitution. By contrast Seo agreed to pay approximately $88,400.

If I've learned one thing from Ken White, it's that amateurs like me are never gonna understand federal sentencing guidelines, so I won't try to interpret these coconspirators' potential liability. However, the judge disclosed in the hearing that Salao can't appeal his sentence unless it goes beyond level 17 of the guidelines whereas Seo's plea agreement seems to start his potential range at level 20. Of course there are various enhancements or disenhancements possible, so who knows what it means? However, I am able to state with some confidence that 20 is bigger than 17, so there's that.
Anyway, the hearing was really interesting. As part of the process due to the acceptance of a guilty plea the defendant is required to state in his own words what he did wrong. Will Salao did a pretty thorough job, and included the money quote found in the illustration above, namely that at Scott Seo's direction he would "send my guys out to inspect their bars and give them a rough time." If you want to see this thing through to the end the sentencing is scheduled for March 28, 2019 at 8:30 a.m. in courtroom 10B of the First Street Federal Courthouse.

Image of Will Salao pleading guilty is ©2018 MichaelKohlhaas.org.