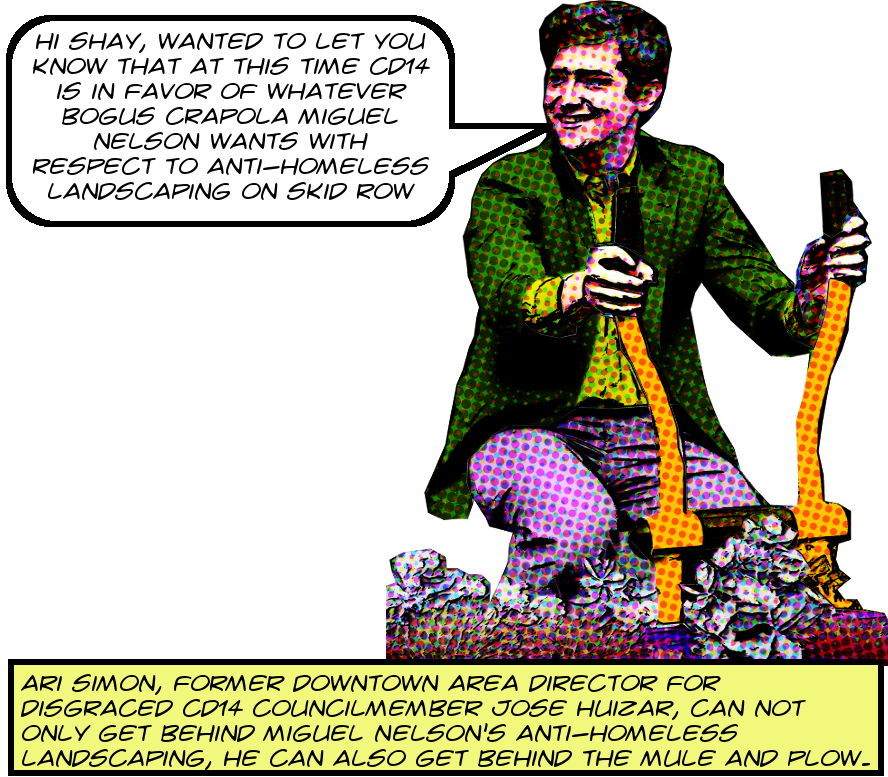 A couple days ago, based on a huge release of emails, I wrote about collusion between the LAPD, LA Sanitation, and property owner Miguel Nelson, which facilitated his installation of the hostile anti-homeless landscaping project known as "North Sea" in Skid Row. It's axiomatic, of course, that something as controversial and on such a broad scale could never ever in a million years be approved in Los Angeles without the support of the Councilmember in whose district the project situates,in this case that is José Huizar, disgraced CD14 repster.
And yet it seems that no evidence has yet been adduced to support this notion, at least not until now! But it turns out that as part of its investigation into Nelson's anti-homeless planters, KCRW got copies of all the permits from the City, which I uploaded to Archive.Org for the sake of stable access, and you can get a copy right here. It's a huge file, more than 400 pages, and as part of the permitting process for such projects it's required to obtain letters of support from various City departments, among them the Council Office.
So right in there, among the proofs of insurance and detailed diagrams and so on, is an email from erstwhile Huizar staffer Ari Simon to Bureau of Engineering staff supporting the project:

On Wed, Mar 29, 2017 at 2:29 PM, Ari Simon <ari.simon@lacity.org> wrote:
Hi Shay,
Wanted to let you know that at this time, Council District 14 is in support of moving forward with an application for R-permits to do beautification work around the area of 4th / Towne as requested by Miguel Nelson.
As the project moves forward, we ask that BOE adhere to the requests made by BSS, asking that a full plan of what exactly will be planted where is included, that any areas of planting are contained by concrete, and that plans comply with BOE's determination of a clear and generally straight path of pedestrian travel.
Let me know if you have any further questions.
Warmly,
Ari


It's important to note that this appears to be a boilerplate letter of support. It doesn't show anything like the level of collusion practiced by LAPD and LA Sanitation, both of which allowed Nelson to actively coordinate work schedules with encampment cleanups. On its face this email isn't proof of much more than business as usual. But there is at least circumstantial evidence that CD14 was much more involved than this.
Further down in the chain we find the following email, from Nelson to BOE staffer Shawyue Doong, which was evidently CCed to Ari Simon, exactly the kind of passive aggressive email move that's characteristic of Nelson, by the way:

On Tue, Mar 28, 2017 at 3:15 PM, miguel nelson <miguel@marvimon.com> wrote:
hello shay, have you heard from CD14. i've been having trouble getting through to ari over the past 7 days, nate, ari out on vacation?
best,
m
Miguel Nelson
Marvimon Productions

And Ari Simon got right back to him:

On Tue, Mar 28, 2017 at 3:31 PM, Ari Simon <ari.simon@lacity.org> wrote:
Hi Miguel,
Apologies – we were closed yesterday and last week was extremely busy, especially with Neighborhood Council stuff. I'll get back to you this week.
Thanks,
Ari

Tangentially, this is of independent interest because Simon mentions that he's been busy with "Neighborhood Council stuff." It seems unlikely that he could be talking about anything other than the Skid Row Neighborhood Council election process, with respect to which Huizar's illegal interference was reaching a fevered pitch right around March 28, 2017. I guess it's some kind of ironic that Nelson's anti-homeless project was delayed if only slightly by Huizar's own pet anti-homeless project of the moment. Even Satan can only juggle a finite number of chainsaws, it seems.
But again, this doesn't really get to the core of what must have been an extensive conversation between Nelson and CD14. Everyone knew that this was an explosive issue, and it's just the kind of thing that Huizar and the City of LA could have gotten in big trouble over had they done it as a City project. That kind of consideration makes it really, really unlikely that Nelson had only some kind of pro forma support from Huizar's office. The search for proof goes on, of course. Stay tuned!
And a bunch of other City departments had to weigh in as well. There's an email of support from LADOT and, surprisingly, another from the Department of Cultural Affairs. There's an email from City Planning mostly stating that they don't have anything to add. The most interesting of these, though, and the one worthy of some analysis, is this email conversation from Robert Gutierrez of the Urban Forestry Division.
The crucial bit starts on February 16, 2017 with this message from Gutierrez to Nelson stating that while he cannot support the project he also will not oppose it (note that Urban Forestry is organized under the LA Bureau of Street Services):

On Thu, Feb 16, 2017 at 9:52 AM, Robert Gutierrez <robert.gutierrez@lacity.org> wrote:
All,
A few things to be addressed.
1. We always want landscaping in the parkway, regardless of street classification (including industrial zoned areas). If you look at all the sections in Planning Department's recent documents you will always see a green section next to the sidewalk.
2. BSS will not oppose the proposal but does not support it either for the the following reasons:
a) The proposed plan is not standard in that the landscaping is next to the building not next to the curb; BSS does not like this layout as it prevents trees from being planted, and trees provide a much greater, longer lasting benefit to the city and the environment than shrubs.
b) The Pedestrian Access Route (PAR) is not a straight path of travel and there are more conflicts between pedestrians and utilities and street elements which can be difficult to navigate by the physically impaired (imagine being blind and trying to navigate the sidewalk).
3. It's very hard to evaluate the plans as both sites are labeled as 4th and Towne, yet they are very different. Also, the proposed landscaping will prevent the use of shown driveways. Keep in mind that you will need a 4′-0″ clear path of travel after the driveway; It's hard to tell if the sites can accommodate the planting and a compliant PAR.
In short, if BOE can review and approve the project's ADA compliance, and are willing to approve a non-standard layout, then BSS is willing to review and approve the proposed landscape plans.
As far as plant material goes, we have 4 basic requirements: 1) Plants shall not be thorny or spiny, 2) plants shall not be poisonous, 3) plants shall not be invasive, and 4) plants shall not be taller then 36″ in height at maturity.

See how Gutierrez notes that this project is not standard. Standard sidewalk landscaping happens in the parkway, that area between the pedestrian path and the curb, rather than up against buildings. Nelson has answers for all these objections, but, as you'll see, they're lies:

On Thu, Feb 16, 2017 at 11:48 AM, miguel nelson <miguel@marvimon.com> wrote:
thanks robert. i'm taking your thoughts from last month into consideration, our plant list does include trees and bamboo that can grow much taller than 36″. these would be planted in areas that are 5 to 7 feet wide running 15 to 100 feet along buildings, please call me to discuss, i want to be sure i understand you correctly as we plan ahead, our goal is dense lush understory with tall magnificent over story, the reason we prefer to landscape along buildings is because it frees up our curbside commercial/passenger loading, it also allows us to curate a convincing looking landscape versus a tree studded sidewalk look, another issue with curbside landscaping is that they tend to get trampled and trashed by commercial/passenger loading and street cleaning.
we are avoiding a meandering path, the sections that may appear to be meandering are outside of straight 4ft path of travel, i will add the 4ft path of travel guide to our drawings for you to review, we too do not want that to meander, (please see quick sketch showing example yellow 4ft path of travel, see, it doesn't actually meander)
please also know that many of the buildings in our area have very few doors or window, they are massive tilt up concrete structures and landsaping directly in front of them tall helps to visually break up their mass and deter graffiti.
and yes, wherever there is an abandoned driveway we will keep 4 feet back from any cross slope greater than 1:48 per ADA code, right?
anyways, thank you for your support, please let BOE know if any of what i've stated above increases your support for our plan.
best,
m
Miguel Nelson
Marvimon Productions
310 922 6609

See all the reasons he lists for having the landscaping against the buildings rather than in the parkway? Not one of them is convincing, and not one of them is the real reason, which is that the point of the landscaping is to deter encampments. The last of his reasons, where he claims that street-adjacent landscaping isn't practical in industrial areas, is especially unconvincing. I wonder then, why no one at the City ever thought of this? Also it's curious that industrial areas all over the City have parkway landscaping. I'll just close with some embedded Google streetviews (for which I apologize; ordinarily I'd get out and take my own photos, but, unfortunately, I'm somewhere east of San Bernardino, so I can't do it this time):





Image of Ari Simon is ©2018 MichaelKohlhaas.Org and is roughly kinda something with in the sense of maybe you know what I mean?