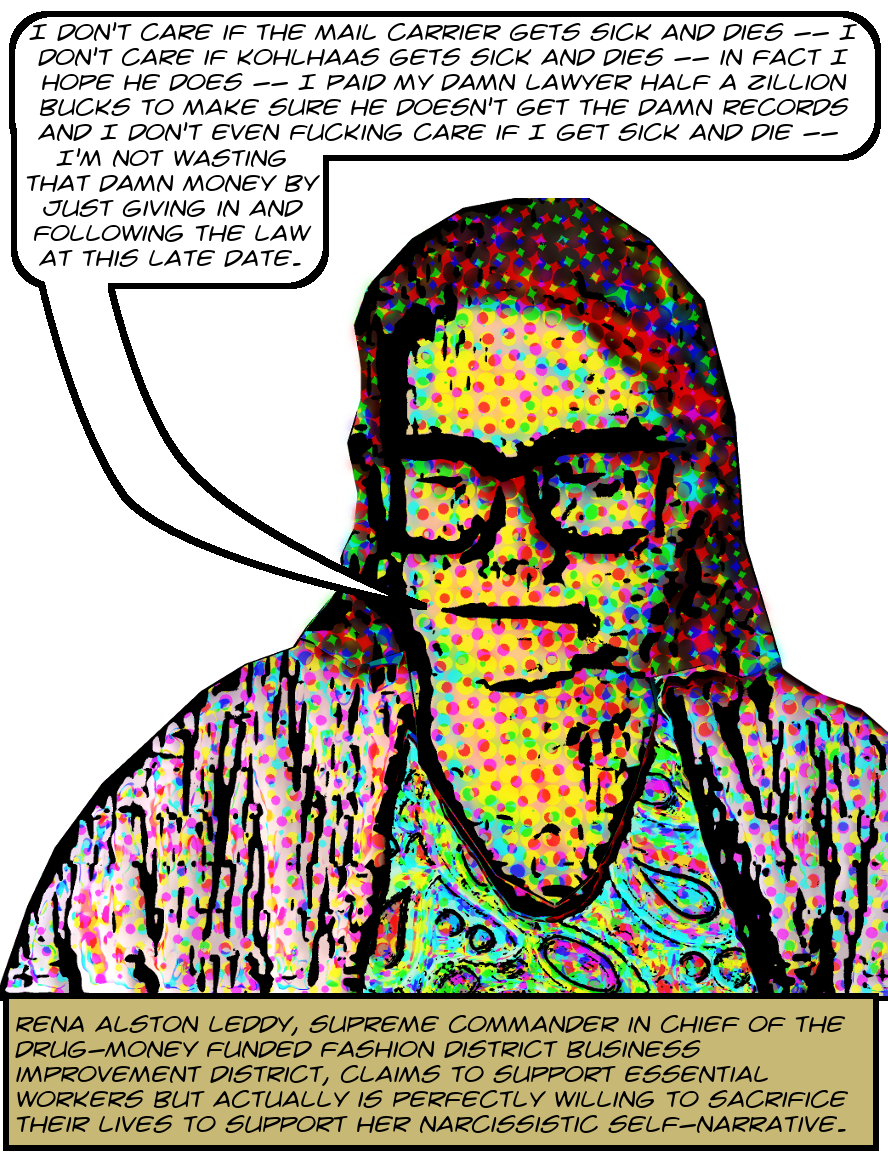 All over the State of California local agencies are using the COVID-19 pandemic as an excuse to deny the public access to records required by the California Public Records Act. I don't, therefore, have nearly as much material to write about so in response I'm writing about the lack of records instead, and the various ways agencies deny access. Here are the first and also the second post not to mention the third posts in this series, and you're reading the fourth!
Rena Leddy, supreme commander of the cartel-drug-money-funded criminal conspiracy known as the Fashion District Business Improvement District, refuses to let members of the public inspect records in person due to the pandemic, which may well be fine and normal.1 But she also insists that in order to protect public health and safety the only way for requesters to get access to electronic records is to mail her a brand new unopened USB drive onto which she will copy the records and mail it back.
This is an element of her pre-COVID program of obstructing access to records by making the process as onerous and costly as possible. But obviously any method which requires physical objects to be transferred between strangers is more likely to transmit disease than a method which does not. This is true not only for the people exchanging the objects but also for all the intermediaries, like mail carriers, mail sorters, staff members who have to open the envelopes, and so on.
Leddy is willing to increase the risk of disease and therefore death for requesters, essential workers, her own staff, and herself for the sole reason of delaying and obstructing access to records, and to do so in the name of protecting their safety. When confronted with these facts Leddy declined to contradict them, merely stating that the narrative was "out of control." And it's certainly out of her control, but where's the lie, Ms. Leddy?
Continue reading Rena Leddy — Executive Director Of The Drug Cartel Funded Fashion District Business Improvement District — Is A Bloodthirsty Psychopath Who Would Rather Kill The Mailman — And Me — And Surprisingly Even Herself — Than Comply With The California Public Records Act — She Apparently Thinks This Is OK Because Her Lawyer Said It Was OK — Which Is A Strange Way For A Self-Proclaimed Adult To Make Moral Choices — But Not Uncommon Among Zillionaires And Those Who Serve Them — Who Have Shown Themselves Willing To Risk The Lives Of Essential Workers For The Most Stupid — And Trivial — And Self-Serving — Reasons Including Haircuts — Manicures — And Unnecessarily Exchanging Physical Copies Of Electronic Data — The Real Question Is — As Framed By The Incomparable Kitty Wells — Will Her Lawyer Talk To God For Her? — Knowing Carol Humiston I'd Say The Chances Are About Zero That She'll Even Get A Chance — Being Much More Likely To Head In The Other Direction When The Time Comes →