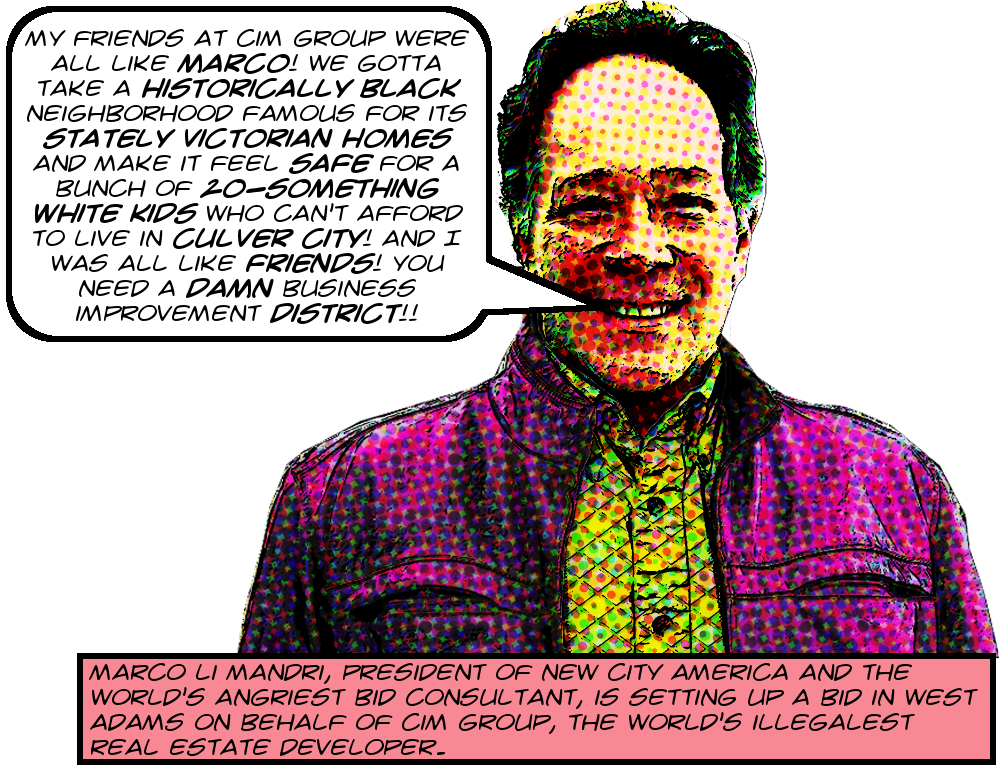 West Adams is famous for many things, its signature Victorian architecture, having been the legendary home of many famous African-Americans in the 20th Century, center of black gay culture in Los Angeles, and so much besides. But none of that really matters in these latter days. Ultimately the fate of West Adams will be determined solely by the fact that it's really close to Culver City but the rent is a lot lower at the very moment when Tech Bro World, having been priced out of Venice, is expanding in that very direction.
Which is why, in case you missed it, the thuggish Trump-buddy real estate zillionaires who call themselves CIM Group have been buying properties all over the neigborhood, developing live/work multi-use monstrosities and and hotels and God knows what-all. CIM Group is famous for its outlaw behavior, what with illegally chasing tenants out of rent-stabilized buildings, and illegally AirBnBing buildings that don't have occupancy permits, and violating the terms of their building permits, and other such shenanigans.1
And CIM Group is also famous for its support of business improvement districts in neighborhoods where it's parking its considerable capital. Just for one instance, there's perennial Hollywood Entertainment District BID Boardie Monica Yamada, vice president for incomprehensible nonsense at CIM. And earlier this month I first learned that BID consultants New City America2 were working on setting up a BID in West Adams and, more recently, that CIM Group seems to be the main proponent.
In particular, CIM groupies Catherine Randall and Geffen Kuba3 seem to be walking point. These facts, and not much more, come from some recently obtained emails relating to the BID formation process. First see this conversation between Marco Li Mandri and Wesson staffer Kimani Black. There's also this short note from Shirley Zawadski to the City Clerk letting them know that the formation process is underway.
According to Li Mandri the plan is to have the engineer's report and the management district plan in to the Clerk's office by the middle of January. I don't know if they have gone to petitions yet. The BID is expected to raise $370,000 in its first year of operation. Turn the page for links to and transcriptions of the emails on which the story is based.
Continue reading West Adams BID Is In The Pipeline — Management District Plan May Be Submitted To City As Early As January — Backed By Thuggish Outlaw Real Estate Trump-Buddies CIM Group — Who Are Developing At Least Three Properties In The Area — Clearly BID Will Support, Enhance Gentrification — Pressure For Which Is Created By Culver City Adjacency And Tech Boom →