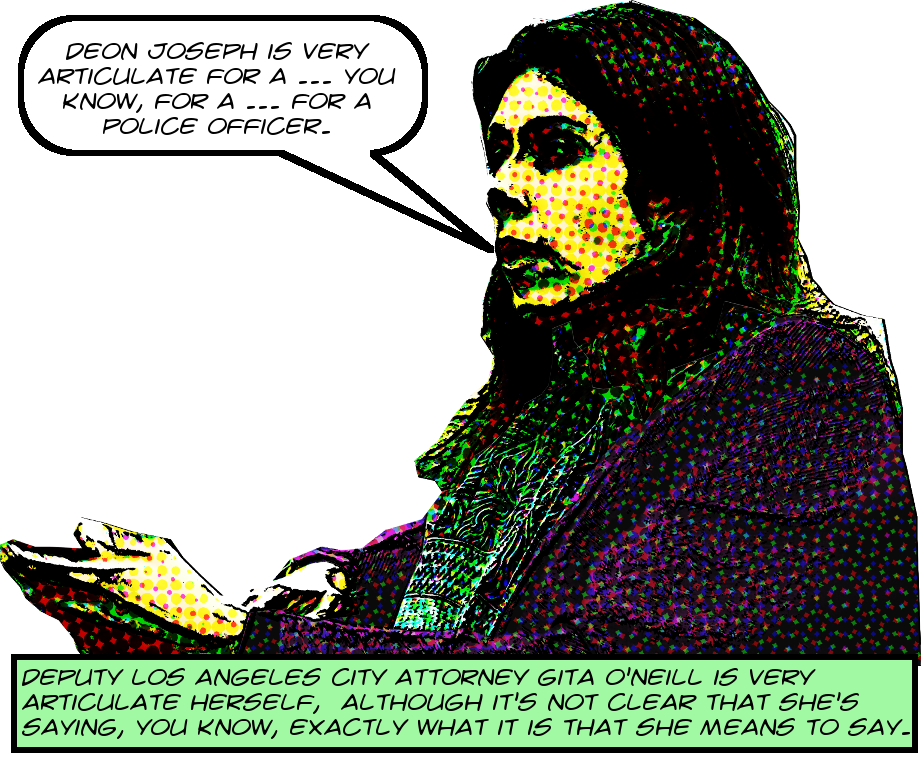 Recall that yesterday I received a huge stack of records comprising emails and other materials from various LAPD officers, other City officials, and some property owners having to do mostly with homeless issues on Skid Row. The whole set is available here on Archive.Org.
I wrote one long post about it yesterday and will write some others soon enough, but today I thought I would tell you about a few short episodes that probably can't support a whole post but are really interesting nonetheless. There's no theme, no subtext, no larger purpose, no moral. Nothing but gossip, really, but interesting!
Return of Safer Cities? Gita O'Neill calls Deon Joseph "Articulate"
As you may know, the LAPD under Bill Bratton introduced a local version of the reprehensible broken windows theory in the form of the quantum reprehensibility shift known as the Safer Cities Initiative. This seems to have faded away for reasons I can't determine, but long-time Skid Row cop Deon Joseph has evidently been drooling copiously for years dreaming of bringing it back.
And evidently present Chief Michael Moore is in favor of reviving this zombie jive crapola as well. At least that's the frightening message found in this June 2018 email conversation between Deputy City Attorney Gita O'Neill and high LAPD muckety Marc Reina. And it's not the only frightening thing in there. Here's how O'Neill describes to Reina the role of Joseph, who is African American: "deon asked the question [about Safer Cities] to the chief, deon was very articulate"
And "articulate" is a problematic word indeed. As the New York Times said in 2007 after Joe Biden caused a scandal by calling Barack Obama articulate, when the word is used "in reference to blacks, it often carries a subtext of amazement, even bewilderment. It is similar to praising a female executive or politician by calling her "tough" or "a rational decision-maker." "When people say it, what they are really saying is that someone is articulate … for a black person," Ms. Perez1 said. Such a subtext is inherently offensive because it suggests that the recipient of the "compliment" is notably different from other black people. So, you know, evidently that's what Gita O'Neill thinks of Deon Joseph.
And turn the page for more postcards from CPRAlandia!

Gita O'Neill: Miguel Nelson ought to stop emailing the cops and hire a damn security guard!
We saw yesterday how in March 2017 Miguel Nelson indefatigably hassled the cops about cleaning out homeless encampments so he and his buddies could install their North Sea branded hostile landscaping. And that wasn't the first time he treated the LAPD like his personal servants and it wasn't the last. And at some point Deputy City Attorney Gita O'Neill had just had enough of it, and here's what she wrote in an email from December 13, 2017 to Marc Reina and some others:

From: Gita O'neill <gita.oneill@lacity.org>
Sent: Wednesday, December 13, 2017 9:50 AM
To: Marc Reina;Shawn Duke;Aloaf Walker
Subject: Fwd: 435 Stanford – Homeless Issue
Attachments: IMG_3144.jpg
Hi all,
You probably already did this before but this property owner really needs to hire security guards. I can't believe the amount he emails requests to LAPD. Other locations hire guards that can do a good job of keeping people off the sidewalks. Unlike the Buddist Temple, he probably has the money to hire 24 hour guards. I will send him an email but wanted to double check with you all first.
Thanks,

And in case you're wondering what pushed O'Neill over the edge, well, it's down in the chain of the above-linked-to email, and it seems to have been Nelson's incredible presumption. Not asking the LAPD if they can help, but asking when they will arrive to help:

From: miguel nelson < miguel@marvimon.com >
Date: Wed, Dec 13, 2017 at 9:46 AM
Subject: Re: 435 Stanford – Homeless Issue
To: James Doizaki <idoizaki@kansasmarine.com >, Estela Lopez < elopez@centralcityeast.org >, Gita O'neill
< gita.oneill@lacity.org >, ALOAF WALKER < 26777@lapd.lacity.org >, Marc Reina <34490@lapd.online>
hi james. this is a bit crazy, i've never seen a loading door 100% blocked that LAPD has not been able to clear immediately, sgt walker, can you please send officers over this morning, we need to clear this entrance so that the building owners can access their entrance and loading doors to their building, they have new tenants trying to move equipment in.
thank you. please respond via email and let us know when you will be there.
Miguel Nelson
Marvimon Productions

If you're interested, here is a copy of the picture that was attached to Nelson's email.
Homeless encampment encroaching on movie location gets highest cleanup priority from CD14
Everyone reading this blog knows that the City's main strategy for dealing with homeless encampments is to break them up and disperse the residents to an as absolutely cruel degree as possible despite the fact that it is life-threatening, unbearably inhuman, and in violation of explicit recommendations of the US Interagency Council on Homelessness. It has the potential to separate homeless people from their medicine, their ID, their clothes, and other life-supporting possessions.
Of course, we all know that the City's highest priority is to serve the interest of the property owners who slake the unholy thirst of our Councilmembers for neverending intravenous campaign money infusions. But nevertheless one expects these dirty deeds to be performed with some kind of show of professionalism, that the City will at least pretend to be weighing the lives of homeless human beings against the insatiable desire to please the zillionaires.
And we do see this kind of rhetoric from the City. For instance, the Operation Healthy Streets website announces grandly that it breaks up encampments as part of "a robust homeless community outreach program designed to provide adequate notice and identify high-risk people in need of services and assistance." One might therefore expect that the City would choose encampments at least to some extent based on the needs of those people living there rather than on less consequential factors such as, e.g., because someone wanted to make a movie and the encampment was in the way.
But, sadly, no. The movies are more important, as we see in this November 29, 2017 email from LA Sanitation staffer Bladimir Campos to various City employees, explicitly giving an encampment the highest priority for precisely that reason:

From: Bladimir Campos <bladimir.campos@lacity.org>
Sent: Wednesday, November 29, 2017 4:23 PM
To: Angel Ibarra;Diana Gonzalez;Richard Young;Pearl Cortez;Arthur Gallegos;Keith Bertonneau
Cc: Janice Murray;Robert Potter;Donald Holt;Victor Hinderliter;Gabriel Miranda;Steven Pedersen;Gonzalo Barriga;Nate Hayward;Russell Zamora;Richard Santa Maria
Subject: Fwd: Encampments for Dec 4th
Hi Angel and Diana
Initial CD14 H.E locations HAVE changed. Below are new CD14 locations to be posted for Monday, December 4th day of service . These are CD 14 priorities. Be minded a filming event is scheduled to start on the fist week of December so it is very important to service areas in question.
Peppermint Location for FilmLA (high priority film) (other locations are below it)
the north/south alley between 9th St and Olympic
running parallel and between Wall St & San Julian Av
the materials to be removed are on the east side of this alley.
and
the north/south alley between 11th St and Olympic
running parallel and between Wall St & San Julian Av
the materials to be removed are on the east side of this alley

And that, friends, is that. I promised that there'd be no moral and I mean to keep that promise. I have enough material for at least one more set of these miniposts, so stay tuned!

Image of Gita O'Neill is ©2018 MichaelKohlhaas.Org. It's an artistic work derived from this photo of Gita O'Neill right here. Note how cutely UCLA attempts to claim that they hold a damn copyright, when clearly it's a public record and there is no copyright in public records in California.