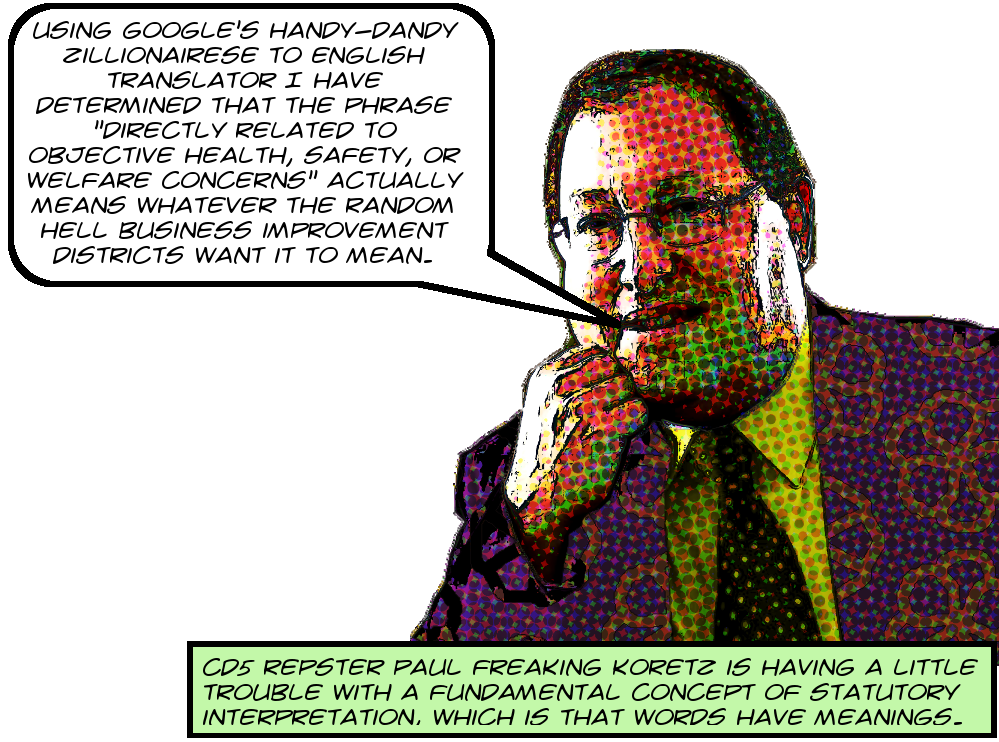 As you no doubt know, the City of Los Angeles has been arguing about legalizing street vending for years in the face of fiercely unhinged opposition to the very idea from business improvement districts and other organized gangs of zillionaire thugs. But then the whole debate was mooted by a lightning strike from Sacramento in the form of Ricardo Lara's SB-946, signed into law by Jerry Brown in September, which imposed a set of really stringent restrictions on the form that municipal street vending regulation can take. And not surprisingly, pretty much every dirty trick that the BIDs and their buddies forced into our City's proposal was banned by Lara's bill.
In particular, the BIDdies had managed to get the Council to agree that street vending could be banned in any neighborhood in Los Angeles merely because their councilmember asked for it. This serves BIDdies well, of course, because their repsters will do whatever it is that they ask in order to keep the firehose of campaign contributions turned up to eleven. By the end there they'd managed to enshrine such indefensible no-vending zones as Hollywood Boulevard and recommend that BIDs should be able to charge vendors for the privilege of operating on public streets.1
But this nonsense was switched right off by Lara's bill, which states unequivocally that:

A local authority shall not require a sidewalk vendor to operate within specific parts of the public right-of-way, except when that restriction is directly related to objective health, safety, or welfare concerns.

And right after the bill was signed it appeared as though our esteemed City Council was taking this matter seriously. They passed a motion ordering the City Attorney to draft an ordinance that would comply with Lara's law. But such sporadic spurts of sanity swiftly scatter around here.
And thus it wasn't really a surprise to hear renowned bigamist and CD9 repster Curren Price on the radio yesterday talking about how Council would be able to keep all the previously proposed no-vending zones and even add more and the only difference would be, according to super-genius Curren Price, that "now we're going to have to base them on health, safety, and welfare concerns."2 And turn the page to read all about the drastically deep dive into the crazy vat revealed by this one little stray comment!
Continue reading The City Council Seems To Have Lost Its Grip On Reality With Its Latest Motions On Street Vending — They Want To Keep All Previously Proposed Exclusionary Zones But Change Justification From "Zillionaires Asked For It" To "Objective Health, Safety, Or Welfare Concerns" — And Paul Koretz — Who Evidently Doesn't Believe That Words Have Meaning — Wants To Exclude A Bunch Of BIDs On The Same Implausible Grounds — This Is Obviously Going To End Up In Court →